Porcini mushrooms add a great depth of flavor to this long simmering Italian-style Porcini Mushroom Beef Stew recipe. The beef marinates for at least 6 hours, so start this recipe the night before you want to serve it, or early on the morning you plan to cook it. Read on for details, or click here to jump down to the recipe. The porcini beef stew is great with a robust red wine. Click here to read about our wine pairing suggestions. Disclosure: We received some the wine as complimentary samples from the winery.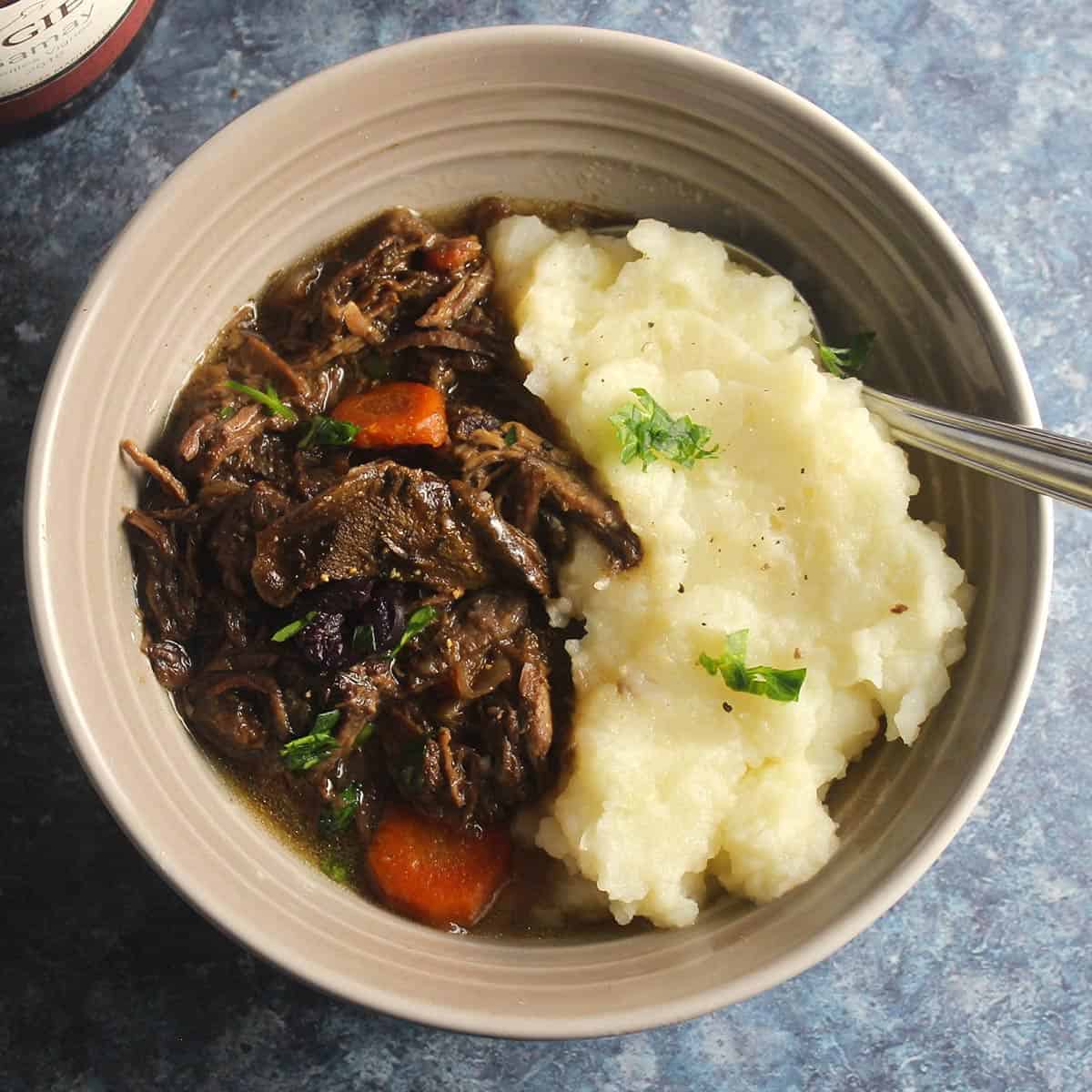 Beef stew is one of my favorite things to make on a cold winter day! Long simmering beef with vegetables and herbs makes such a great smell throughout the house! Adding mushrooms to beef stew deepens the flavor; going with porcini mushrooms takes it to another level!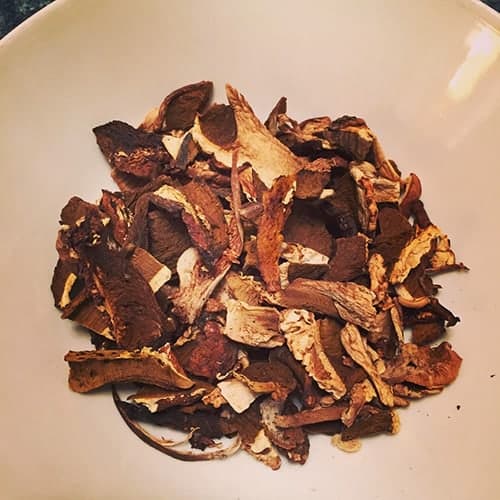 Looking for another recipe for porcini? Check out our Sautéed Porcini Mushrooms for a crowd!
Wine inspiration
Wine was the starting point for this Porcini Mushroom Beef Stew. I had a bottle of Nebbiolo from Demarie, in the Piedmont region of Italy. I was definitely thinking comfort food to go with this big red wine. Making my first beef stew of the season seemed like a good direction; but I wanted to tweak my stew recipe a bit to conjure up the flavor's of Italy's Piedmont region. I associate porcini mushrooms with the Piedmont, and find it pairs well with the regions red wines–see for instance this Porcini Mushroom Risotto that we paired with a Nebbiolo. Beef Stew with Porcini Mushrooms sounded like a promising recipe idea!
After 3 hours of slowly cooking this beef stew, you can settle down for a meal with tender, fall apart beef in a rich sauce flavored by the porcini mushrooms and herbs. We like to serve it with mashed potatoes to double down on the comfort food thing!
During our recent 2020 remake of the porcini mushroom beef stew, we had a chance to test out a couple more wine pairings. We will cover the wine in more detail after we give you some cooking tips.
For another beef stew with mushrooms, try our Chanterelle Mushroom Beef Stew recipe — this one is made in a slow cooker.
Tips for making Porcini Mushroom Beef Stew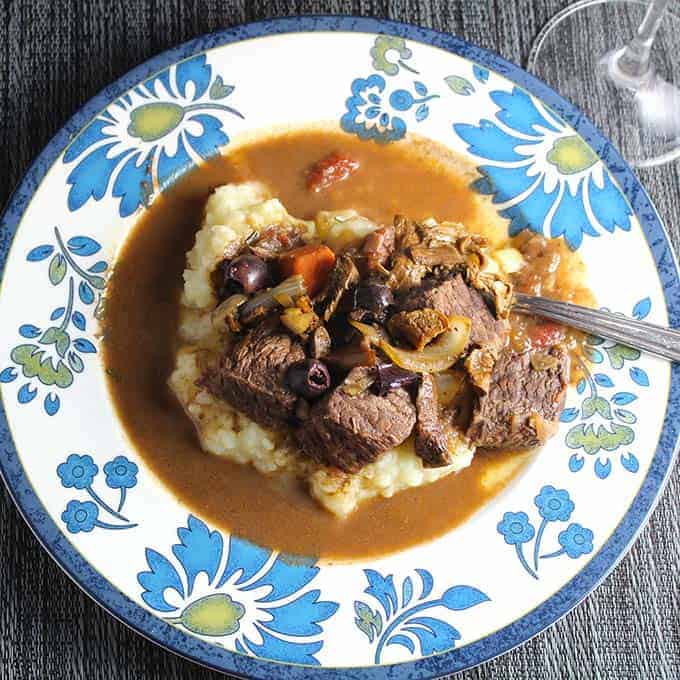 Here are some tips for making this porcini mushroom beef stew; click here to jump down to the recipe for the full details.
What kind of beef to use for stew?
I typically buy beef labelled as "stew beef" which is already cut up into the pieces, making it convenient. At Whole Foods, the stew beef is typically cut from the chuck meat, which comes from the shoulder area. You can also use round beef, which comes from the rear.
You can buy 1 good sized piece of beef and cut it into stew sized portions if you like.
The key to beef for stew is getting inexpensive cuts that have some fat and connective tissue. These cuts will benefit from the long, slow cooking. Please don't try using a lean cut like sirloin for the stew! If you're in doubt, ask your butcher for help.
Dried porcini mushrooms
The porcini mushrooms are the other star ingredient in this stew recipe. I like to get dried porcini mushrooms. They tend to be less expensive this way; plus you get the bonus of the liquid used for reconstituting the dried mushrooms. This liquid great for stews.
They have a big jar of porcini mushrooms for a good price at Pairings, our local wine shop (Winchester, MA). There are a lot of options for dried porcini mushrooms on Amazon (affiliate link provided) if that is more convenient for you.
You could substitute other dried wild mushrooms in this recipe if you like. We also have a delicious Chanterelle Beef Stew recipe on Cooking Chat; the ingredients give it a slightly different flavor profile.
Key steps for making the stew
You will want to start on this beef stew recipe the night before you want to cook it, or early that morning, to allow the beef at least 6 hours to marinate.
Wine for the marinade: Yes, you do need almost an entire bottle of red wine for the marinade! The 2 ½ cups needed for the marinade leave 1 glass left for the cook! I recommend using an entry level Nebbiolo, which you can find for $10 to $12, or a similarly priced Chianti. But you could substitute other dry red wine; stick with an Italian wine if you can!
Make the marinade: Combine the wine with the other marinade ingredients as shown above.. Place the pieces of stew beef into a sealable plastic bag. If you have a helper to keep the bag open while you pour in the marinade; that's great. If not, use something as I do in the picture to prop the bag up and keep it open. After pouring in the marinade, seal the bag and place in the refrigerator for at least 6 hours. I put the marinade bag in a plastic bowl; in case there is any leakage (learned the hard way!).
Prepare the porcini 30 minutes before you are ready to start cooking the stew. Place the dried porcini in a bowl with the hot water and let the mushrooms soak for 30 minutes. When done, line a sieve with a damp paper towel, and place that sieve over a bowl to capture the liquid. Drain the porcini, reserving the liquid. Rinse the mushrooms after draining, then set the mushrooms aside.
Drain the beef: as you get ready to start the stew, drain the beef. Place a strainer in a bowl to capture the marinade liquid. Scrape the herbs, garlic and other solid ingredients off the beef, and set the beef aside. Safety tip: Be sure to wash the strainer used for raw meat carefully before using it for something else.
Brown the beef: First you sauté the onions and carrots. Then it's time to brown the beef! Cook for about 5 minutes per side to get the beef browned.
Braise the stew: Braising is a method for slowly cooking meat in a small amount of liquid. After you've browned the meat it's time to add the liquid along with other ingredients (see the recipe card below for all the details). You can relax for 2 ½ hours as it cooks. By the way Dutch oven is pretty crucial for this task, leaving an Amazon affiliate link here to the one that we use; or we also like to use our copper chef pan for the task. The key is something that can be used on the stove top and the oven.
Convection or conventional: If you have a convection oven, I recommend using the convection roast setting. Start at 300 degrees, then drop it to 275 after an hour. If you are using conventional setting, just leave it at 300 for the whole oven braising period. If you're making mashed potatoes to go with the stew, start working on them toward the end of the brasing time.
Finish the stew. Carefully remove the stew from the oven to the stove top. Add the porcini mushrooms and other remaining ingredients, and simmer uncovered for 30 minutes to finish the stew. This final simmering step helps get the beef stew nice and thick. We like to serve our stew over mashed potatoes!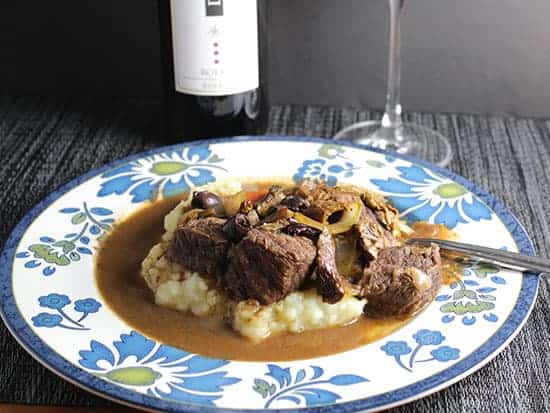 Wine pairings for this beef stew
As I mentioned, we had a bottle of 2011 Demarie Roero Nebbiolo Riserva (provided as a complimentary sample) that inspired us to make this Beef Stew with Porcini Mushrooms. Nebbiolo is the red wine grape used in making Barolo. You can find some very good Nebbiolo produced in areas outside of the official Barolo designated areas. Roero is one of those areas that that produces some good Nebbiolo. Roero is in the heart of the Piedmont, halfway between Asti and Cuneo.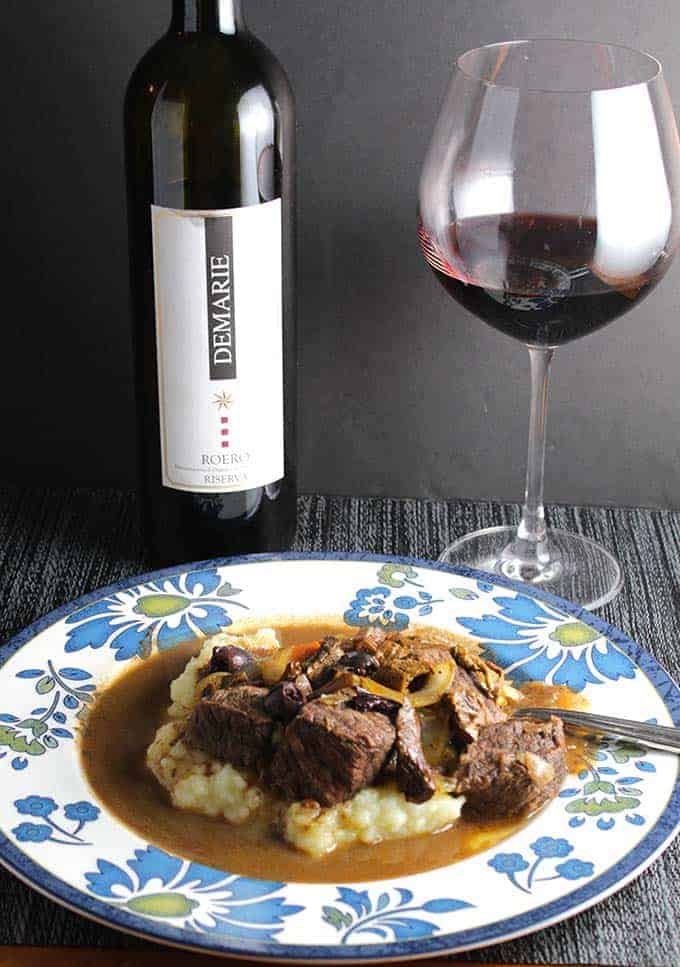 I got lilacs and warm stone on the nose of the wine, bringing to mind a summer afternoon. Taste of good berry fruit with a touch of vanilla. As I suspected, this Nebbiolo is an excellent Italian wine pairing for the beef stew recipe!
New Pairings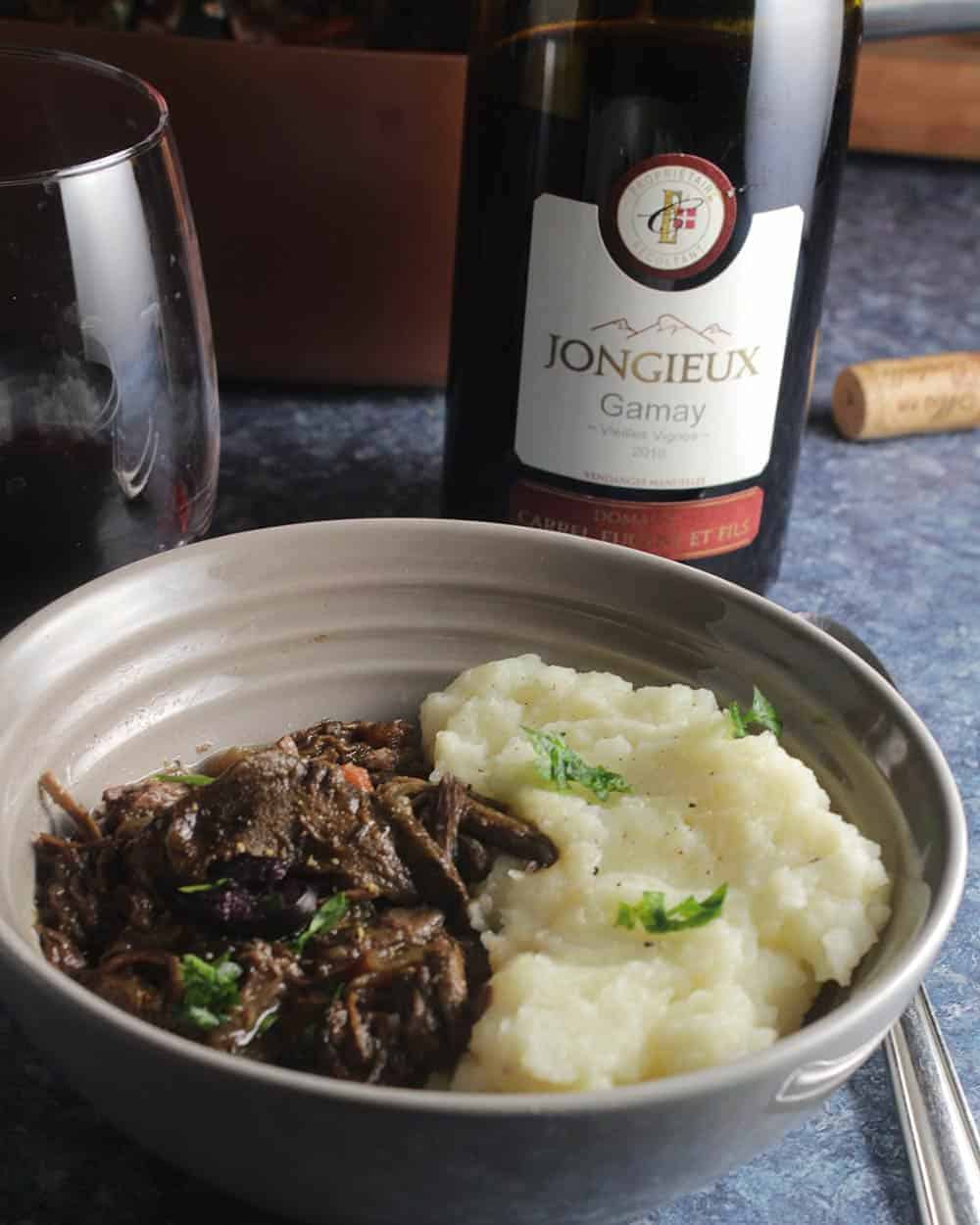 Our 2020 remake of this porcini beef stew gave us a chance to test out some new wine pairings.
One pairing idea came as a result of testing our new Coravin, which enables you to get a glass of wine from a bottle without breaking the cork. I sampled a bit of a Savoie red wine we have for a February Wine Pairing weekend event, and I thought its earthy characteristics would be good with a stew.
So when we were ready to sit down and tuck into our Porcini Mushroom Beef Stew, I opened the 2016 Domaine Eugene Carrel Jongieux Gamay ($15, 12.5% ABV). Earthy barnyard nose, purplish black in the glass. Dense blackberry fruit on the palate, with notes of tar. Definitely has meaty characteristics that make it a good pairing for the stew!
The Gamay was sent as a sample for the Savoie theme we are doing for the February Wine Pairing Weekend event. Get more details on the Savoie region along with our recipe for tartiflette here.
A great thing about making this stew is you get leftovers, especially when you are feeding a family of three! And leftovers mean a chance to test out another wine pairing, as a service to my readers!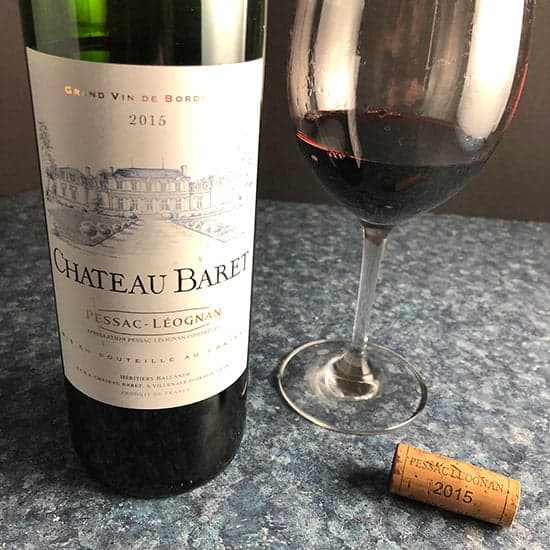 For the leftover beef stew, which is best slowly warmed on the stovetop, we opened the 2015 Chateau Baret Pessac-Léognan ($35, 14.5% ABV). This is a Grand Vin de Bordeaux, a relatively good value for a red Bordeaux. I get forest floor on the nose, cherry fruit and rose petals on the palate, with notes of cedar. Another good pairing for the beef stew! This Bordeaux is a blend of Merlot (53%), Cabernet Sauvignon (41%) and Cabernet Franc (6%).
So we have tested 3 fairly different red wines for this porcini beef stew, and they all worked well. The common denominator — the full bodied red wines, with firm tannins, make for a good beef stew pairing. Earthy elements in the wine can make for a nice match with the porcini mushrooms.

Print
Porcini Mushroom Beef Stew
Porcini Mushroom Beef Stew Beef slowly simmers in red wine, herbs, and vegetables, resulting in delicious Italian comfort food.
Author: Cooking Chat
Prep Time:

30 mins

Cook Time:

3 hours 30 mins

Total Time:

4 hours

Yield:

8

servings

1

x
Category:

Main

Method:

braising

Cuisine:

Italian
FOR THE MARINADE
4 cups

Nebbiolo or Chianti (other dry red wine is OK)

8

sprigs of thyme (or

1 tsp

dried thyme)

6

sage leaves

4

sprigs of rosemary (or

1 tsp

dried rosemary)

1

yellow onion, coarsely chopped

3

cloves garlic, crushed

5

bay leaves

1

cinnamon stick (optional)

2

crushed juniper berries
grind of black pepper
pinch fennel powder
Heaping teaspoon sea salt

2.5

lbs. stew beef, cut into

2

inch cubes
FOR THE STEW
1 ½ cups

water

2

onions, chopped

2

carrots, chopped

1

celery stalk, finely chopped

4

garlic cloves, minced

1 ½ cups

reserved marinade (see notes)

1 cup

of liquid used to reconstitute the porcini

½ cup

coarsely chopped parsley

6

olives, sliced

1 tbsp

of lemon zest
a few grinds of black pepper

1.5 tsp

garlic powder
Instructions
Make the marinade: Combine all the marinade ingredients, from the wine through the fennel powder, in a large bowl. Place the beef in a large sealable plastic bag, then pour the marinade into the bag (having a helper is handy here). Gently shake the beef around a bit to get it well-coated, then squeeze the air out of the bag and seal it tightly. Store the beef in the refrigerator for at least 6 hours or overnight.
Prepare porcini: Reconstitute the dried porcini mushrooms 30 minutes prior to starting to cook the stew. Heat the water in a pan. When it starts to boil, remove from stove and pour over the dried porcini in a bowl that can withstand the hot water. Let the porcini soak in the water for at least 30 minutes.
Drain & rinse mushrooms: Place a sieve over a bowl and line it with a wet paper towel. Pour the mushrooms into the sieve. Reserve the porcini soaking water. Rinse the mushrooms, then coarsely chop and set aside.
Preheat oven to 300 degrees as you get ready to brown the meat and veggies
Drain beef & reserve marinade: To start making the stew, place a strainer inside a large bowl. Pour the beef mixture into the strainer, using the bowl to capture and reserve the marinade. Remove the beef, patting it with paper towel to dry it a bit, and scrape off big pieces of herbs and spices from the marinade. Set the beef aside in a bowl.
Brown vegetables: Heat the oil on medium heat in a dutch oven. Add the finely chopped onion, carrot, and celery to the pan, cook for a few minutes until it starts to soften.
Brown the beef: Add the garlic, cook for another minute. Next, stir in the beef, combining it well with the veggies. Salt to taste. Cook for 5 to 10 minutes, stirring occasionally to brown on all sides.
Add liquid: After the beef has browned, stir in the reserved marinade and 1 cup of the porcini liquid. Bring the liquid to a boil, then reduce to simmer for about 5 minutes, allowing the liquid to reduce a bit.
Cover the Dutch oven / copper pan and move the stew to the oven, where it will braise for a total of 3 hours.
Braise in oven 3 hours: Braise at 300 degrees for one hour. If you are using a convection setting, lower the temperature to 275 after the first hour, and braise for an additional 2 hours at 275. If you are using a conventional setting, leave at 300 degrees for the entire 3 hours.
Finish on stove top: Carefully move the stew back to the stovetop after the 3 hours. Bring to a steady simmer, and add the garlic powder, chopped porcini mushrooms, salt and pepper to taste. Simmer partially covered for 30 minutes reduce and thicken the stew. At the end of this cooking time, stir in the parsley, olives and lemon zest.
Serve: We like to serve the stew over mashed potatoes, or you can serve with noodles or directly in a bowl. Enjoy with a glass of Nebbiolo or other Italian red wine!
Notes
As you can see there are a lot of ingredients in the marinade! Use them all if you have on hand, but the items used in small quantities such as cinnamon stick and juniper berries can be omitted if you don't have on hand.
Similarly, it is nice to use fresh herbs in the marinade, but dried herbs can be substituted. I would use at least one fresh herb. For instance, last time I used fresh sage leaves along with dried rosemary and thyme. Was still very tasty!
Liquid for braising stew: The key is to have about 2 ½ cups liquid for braising the beef stew. The last time I made the stew, I had some homemade beef stock on hand, so I used 1 cup stock, 1 cup reserved marinade and ½ cup reserved porcini. Feel free to vary the proportion of liquids used based on what you have available, to total 2 ½ cups.
If you like, you can scoop out the stew and the sprinkle the parsley, lemon zest and olives over each bowl, rather than stirring those items into the stew. Makes a nice presentation.
Keywords: mushroom beef stew, porcini beef stew, beef with porcini mushrooms, braised beef stew
Recipe Card powered by
Tools to use: Providing an Amazon affiliate link for the Lodge Dutch oven that we use. I would get a percentage of the sale if you choose to purchase using this link. As always, we only share about products we use and recommend based on our experience.