Today we share a Potato Bacon Skillet Casserole recipe based on the Savoie dish, Tartiflette. The recipe was developed to go with a Savoie wine we had to sample for the February Wine Pairing Weekend event. Disclosure: the wines discussed here were provided as complimentary samples.
The Wine Pairing Weekend group is exploring Savoie today, a region in the French Alps. I like this description from importer Kermit Lynch's website:
The Savoie is a picture of fairy-tale perfection: snow-capped peaks, green rolling hills, wildflowers, and cold, sparkling mountain streams."
This beautiful region certainly poses challenges for growing food and wine grapes.
But the results produced by those who persist and make wine in the mountainous region can be excellent, as we will see through this #winePW event.
Unlike some wine regions, which have bountiful produce as a base for their cuisine, Savoie cooking relies on ingredients that can keep when snowed in for a few days…or more. Savoie food tends to be things that would satisfy after a day of skiing!
What is Tartiflette?
Tartiflette is a classic Savoie dish featuring potatoes with a layer of bacon and topped with melted cheese. The recipe was invented as a way to boost sales of Reblochon cheese.
According to this article, tartiflette was the most searched for recipe in France in 2017! And why not–potatoes, bacon and cheese!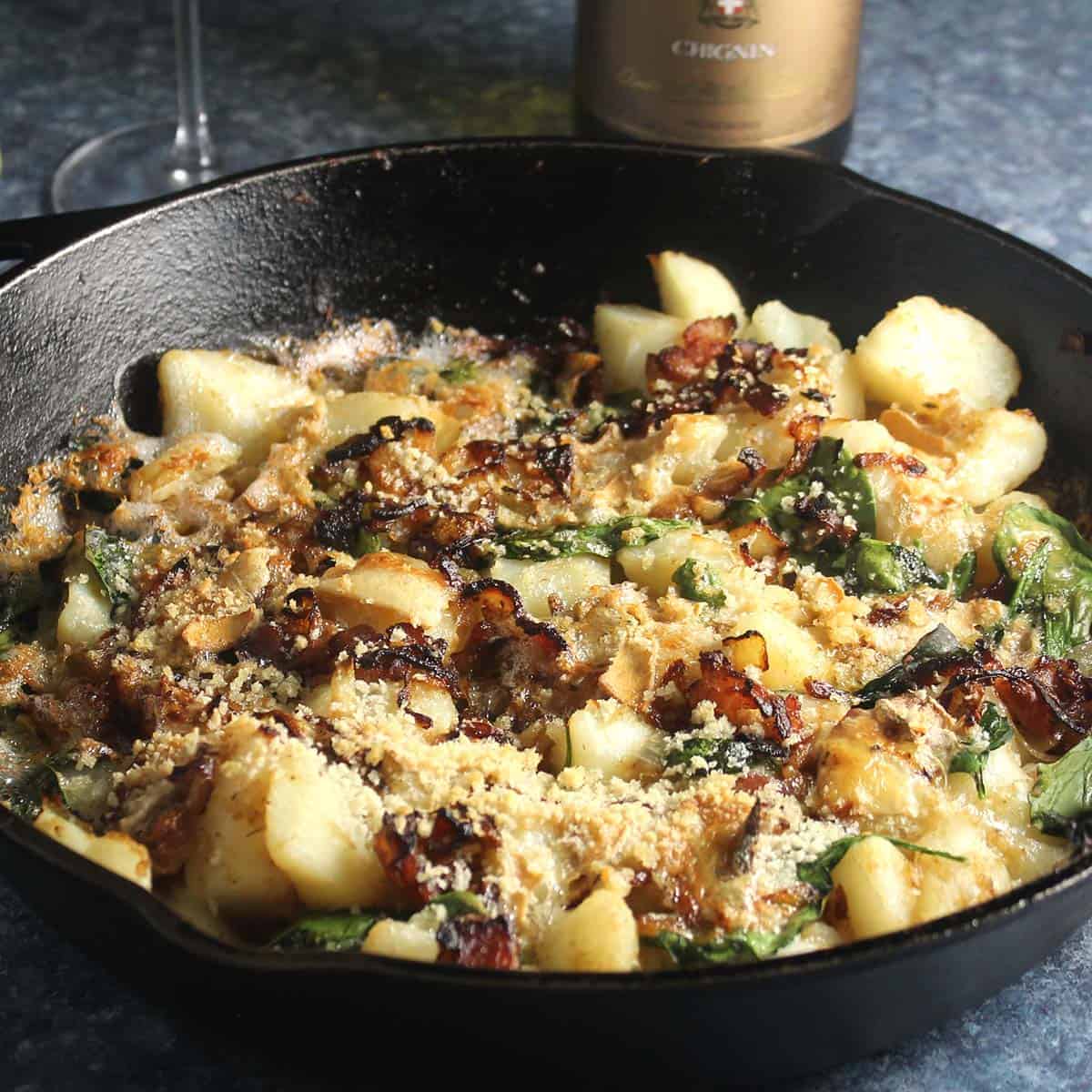 You will note that we have labelled our recipe Potato Bacon Skillet Casserole, and indicated that it is inspired tartiflette.
I have toyed with enough traditional recipes to know the umbrage people take when you veer from how their grandmother made the dish. See for instance some of the colorful comments on our Portuguese Kale Soup recipe.
As I perused a number of tartiflette recipes, I saw a variety of methods for making the dish. I decided I had the basic idea and would make my own version, and make no claims to authenticity. But it would be delicious!
I originally planned to prepare the main ingredients in my cast iron skillet, then transfer them to a casserole dish. But after briefly cooking the parboiled potatoes in the bacon grease left in the skillet, I decided to leave them there and make a nice rustic casserole in the skillet.
Reblochon cheese and potential substitutes
Reblochon is a soft washed rind cheese made in Savoie, made from raw cow's milk.
Did you catch that part about raw cow's milk? Unfortunately, US FDA rules ban the import of cheeses made with unpasteurized milk that are aged for under 60 days. Reblochon is typically aged for 50 days, so I wasn't able to get my hands on it for this recipe.
More on this rule and fancy cheeses impacted by it can be found in this article.
The cheesemonger at Whole Foods said I might be able to track down Relochon at a smaller cheese shop. He suggested one of their strong bries, such as their Brie de Nangis. This suggestion is consistent with other recommendations for Reblochon substitutes I found on the web.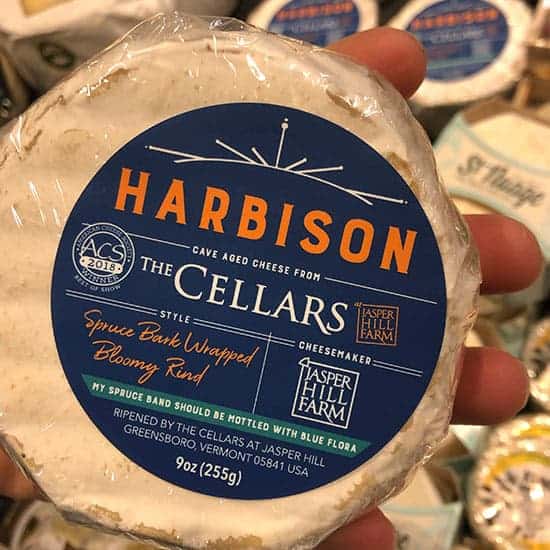 Then I consulted Elisabeth, the cheese expert at Pairings Wine & Food. She pointed me in the direction of the Harbison Bloomy Rind Soft Cheese from Jasper Hill Farm in Vermont. She gave me a little sample of this good stinky cheese. Just a little nibble on the tasting spoon was packed with rich, funky flavor that made me think of mushroom.
I had my cheese and was ready to make a version of tartiflette to serve with our Savoie wine. See the full recipe details below in the recipe card.
Tips for making our potato bacon casserole
Here are some tips for making our version of tartiflette, click here to jump down to the recipe for the full details.
Peel the potatoes, then cut them in half, or quarters if really large.
Parboil the potatoes so they are just starting to get tender — about 15 minutes should do.
As the potatoes boil, cook the onions and bacon in a large, oven-safe skillet. Once both ingredients have browned, you add the wine and garlic. After the wine cooks down, move the bacon mixture to a bowl and set aside. Leave that good bacon grease behind!
After draining the potatoes, let them cool a bit, then cut into bite sized pieces.
Add the potatoes to the skillet, and heat with the bacon grease for a few minutes.
After heating the potatoes, layer the bacon onion mixture over the potatoes, then add the spinach.
Top the dish off the the pieces of creamy cheese, spread around evenly. Sprinkle the breadcrumbs, and you are ready to bake your potato bacon casserole!
Dairy-free tartiflette
OK, I know dairy-free might sound heretical for a recipe developed to boost cheese sales! But our son can't eat dairy.
For him, I pulled out a bit of the potatoes along with the bacon / onion mixture, and put in a small casserole dish. I topped with some dairy free parm cheese, and the bread crumbs. I baked for the same amount of time as the main dish, and he really liked the way his version came out!
Tartiflette Wine Pairing

As I researched various Tartiflette recipes, I noted several mentioned serving the dish with a white Vin de Savoie. Somehow I was thinking that I had received two Gamay samples, so was pleased to realize my remaining bottle was in fact a white.
Here are our tasting notes for the 2017 Quenard Chignin Vielles Vignes ($20, 11% ABV), made from 100% Jacquère grapes.
Eye: golden yellow in the glass.
Nose: honeysuckle and almond on the nose.
Body: medium bodied white wine, underlying minerality providing structure. Medium finish.
Palate: apricot fruit and notes of salinity. Some complexity.
Pairing: As you might expect, this Savoie white wine was excellent with our potato bacon casserole, inspired by the regional dish, tartiflette.
One other note on the wine, they aren't kidding when they say Vielles Vignes — the Jacquère vines for this wine are over 70 years old!
We paired a Pinot Noir with the leftover tartiflette, and that worked well, too. Not as good as the regional pairing though!
About the winery
Michel Quenard and his family farm twenty-two hectares of vineyards along the steep, rocky slopes of the Coteau de Torméry around Chignin. The limestone in the soil leads to great character in the wines.
Michel's grandfather started the domaine in the 1930s, but sold most of the wine in bulk. His father André started making wine under the Quenard label, and Michel joined him in the 1970s after earning his degree in viticulture and enology.
In addition to several other wines made with the Jacquère grape, Quenard makes whites from Altesse and Bergeron, the local name for Roussanne. They also make reds from Pinot Noir, Gamay and Mondeuse. Quenard produces 15,000 cases per year.
For more information, visit the Quenard page on importer Kermt Lynch's website.
The limestone scree that makes up this vineyard land, resulting from millions of years of erosion of the majestic peaks of the Massif des Bauges, lends great character to the wines produced here.
Another Savoie pairing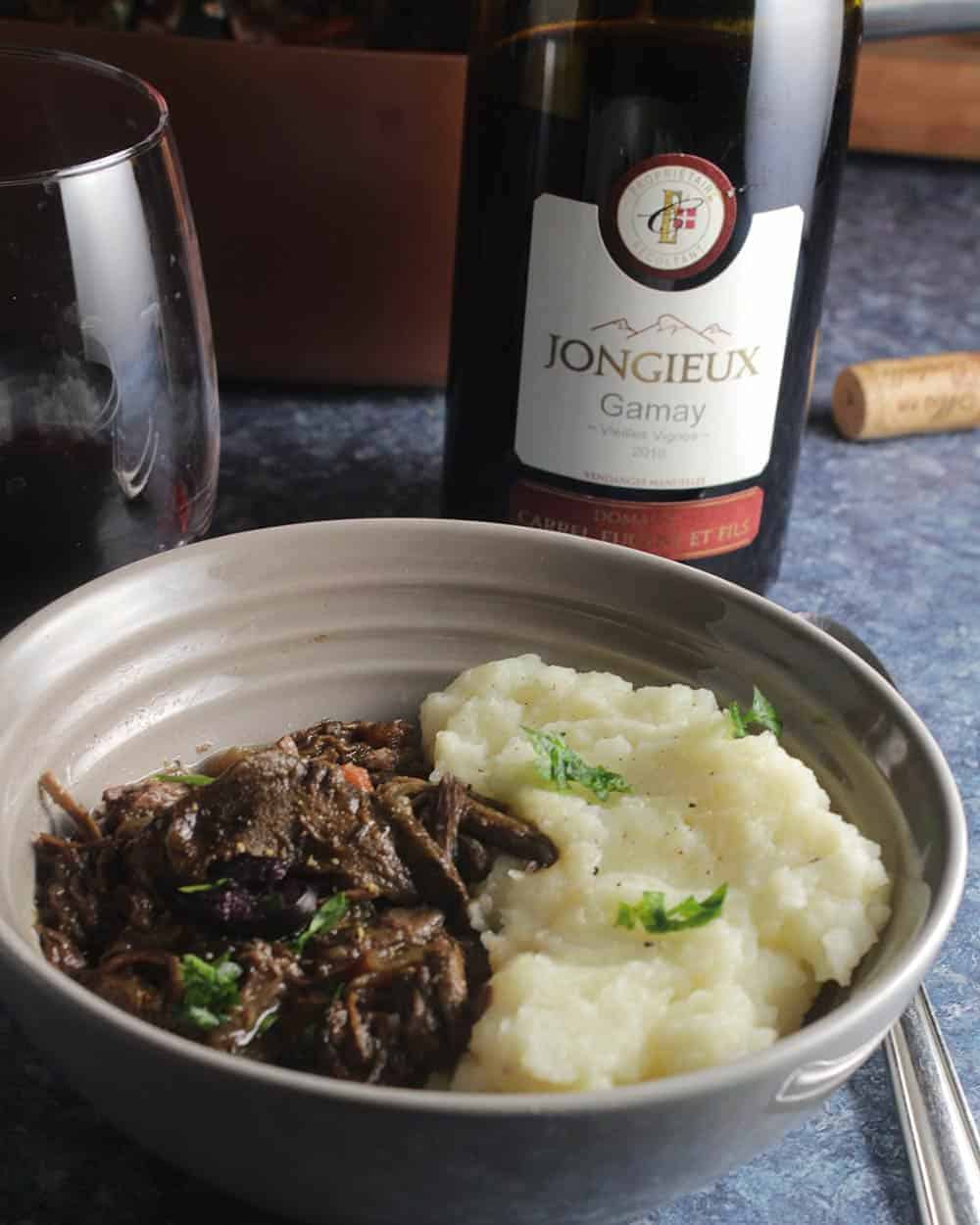 We also had a red wine from Savoie to test out for this event — the 2016 Domaine Eugene Carrel Jongieux Gamay ($15, 12.5% ABV). We paired it with our Porcini Beef Stew, delicious!
This Gamay has an earthy barnyard nose, purplish black in the glass. Dense blackberry fruit on the palate, with notes of tar. Definitely has meaty characteristics that make it a good pairing for the stew!
Print
Recipe card
Potato Bacon Skillet Casserole – Tartiflette
Potatoes covered with a layer of bacon and onions, topped with cheese and baked for a savory dish that is sure to satisfy! Based on the French recipe tartiflette popular in the Savoie alpine region.
Author: Cooking Chat
Prep Time:

10 mins

Cook Time:

35 mins

Total Time:

45 mins

Yield:

5

servings

1

x
Category:

main

Method:

stove top & baking

Cuisine:

French
2 ½

lbs potatoes, peeled (

4

or

5

medium russet potatoes)

1 tbsp

olive oil

1

onion, diced

4

strips of bacon, chopped before cooking

3

cloves garlic, minced

¼ cup

dry white wine

⅓ tsp

dried thyme

1 cup

baby spinach

6

ozs reblochon style cheese — see notes — cut into thin strips

2 tbsp

breadcrumbs
Instructions
Preheat oven to 400 degrees.
Partially cook potatoes: Start some water boiling in a large pot. Peel the potatoes, and cut them in half, or thirds if the potatoes are large. Boil them for about 15 minutes, until just beginning to get soft (see notes). Drain the potatoes, and chop into bite sized pieces.
Start cooking onions: As the potatoes boil, heat the olive oil on medium heat in a large skillet. Add the onions and sauté, stirring occasionally.
Add the bacon to the skillet with the onions, stirring to combine. Cook until the bacon is browned, about 10 minutes after adding bacon to the skillet.
Stir in the wine and thyme, followed by the garlic. Cook for two to three more minutes, until the wine is mostly absorbed.
Scoop the bacon and onion mixture into a bowl, leaving some of the bacon grease behind in the skillet.
Add the potatoes to the skillet, stir gently on medium low heat for a few minutes. This heats the potatoes and gives them some good flavor. Stir in the spinach a few minutes after adding the potatoes.
Make a bacon layer: Remove the skillet from the heat. Make a layer of bacon onion mixture over the potatoes by scooping the bacon evenly over the potatoes.
Add the cheese: spread the strips of cheese evenly over the bacon onion layer. Sprinkle the breadcrumbs over the cheese.
Bake the potato bacon mixture in the oven, uncovered, for 15 to 20 minutes, until the cheese has melted and the top has begun to brown.
Enjoy! Remove the potato bacon casserole from the oven. Scoop out portions, and serve with a salad a Savoie wine.
Notes
Reblochon cheese generally can't be imported into the US due to FDA regulations. A strong brie is a good substitute, or other flavorful soft cheese. We used Harbison Cave Aged Cheese from Jasper Hill Farm, and it worked well.
You want to cook the potatoes until they are just starting to get soft, so that they will retain their shape when they are cut into smaller pieces. About 15 minutes of boiling does the trick. You should be able to stick a fork into the potato to test, but still get a bit of resistance.
Keywords: tartiflette, bacon casserole, bacon and potatoes, reblochon cheese, Savoie
Recipe Card powered by
More Skillet Recipes
I love the convenience of cooking up a skillet meal, quickly melding flavors together. Here are some more of my favorite skillet recipes:
Savoie Pairings from Wine Pairing Weekend
Be sure to check out all of these tasty ideas for Savoie wine pairings!
If you are reading this early enough and would like to join our conversation, we'll be using the hashtag #WinePW at 11 a.m. Easter time / 8 a.m. Pacific time on Saturday. Participating bloggers and others interested in the subject can connect via a live Twitter chat. It's a nice bring way to bring in others interested in the subject. Hope to see you there. Just be sure to use the hashtag so we can see your tweet.