Today we share food pairings for Moldovan wines that we have had a chance to enjoy, along with some background information about wine from Moldova plus links to some other great blogs on the topic. Disclosure: the wines discussed in this article were sent to me as complimentary samples in on conjunction with Moldova Wine Day observances.
I had my first taste of wine from Moldova back in July, and really enjoyed it. So when the opportunity came to participate in a World Wine Travel group event celebrating Moldovan Wine Day today (October 4), I eagerly raised my hand!
I came up with a new recipe for this event, as well as pairing some of the wines with some familiar favorites. My focus here is food and wine pairings, so I am going to get right into that, followed by some background information on Moldovan wines .
Beef and Black Bean Enchiladas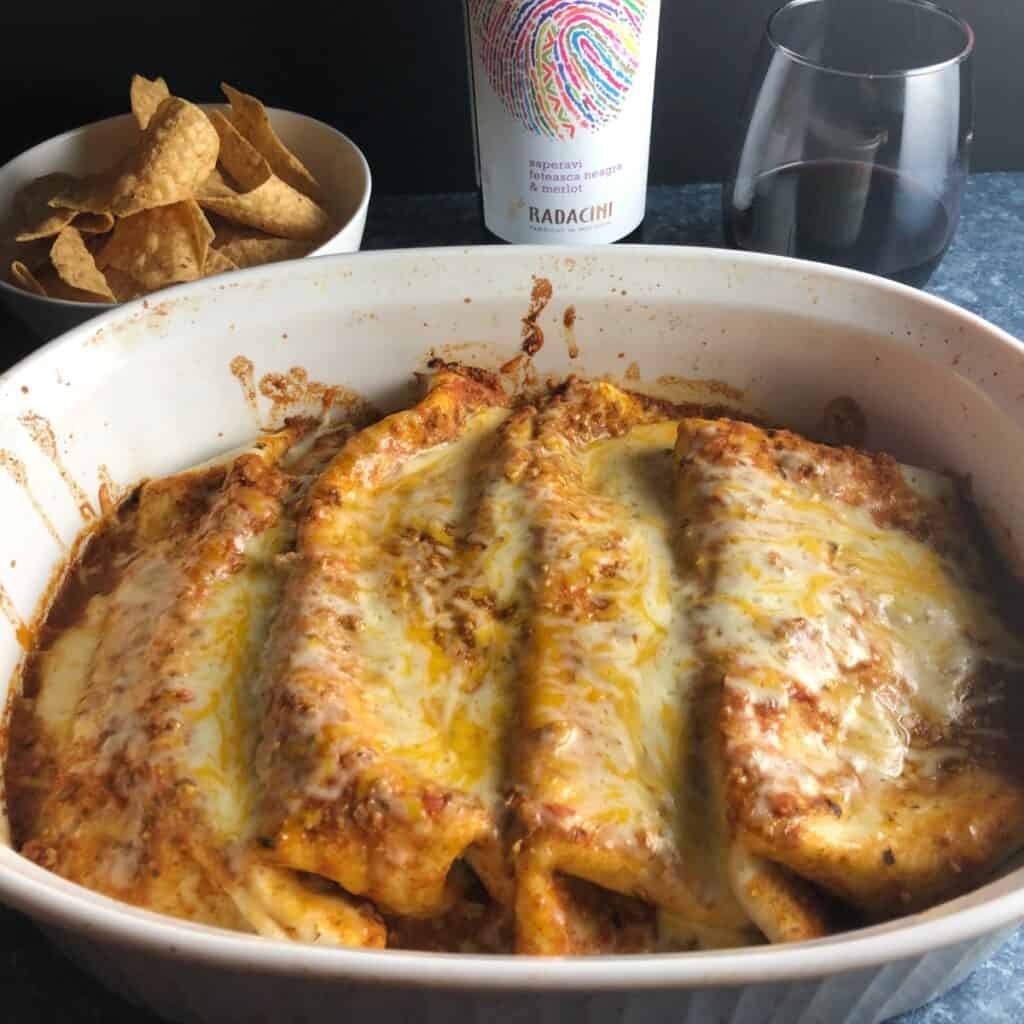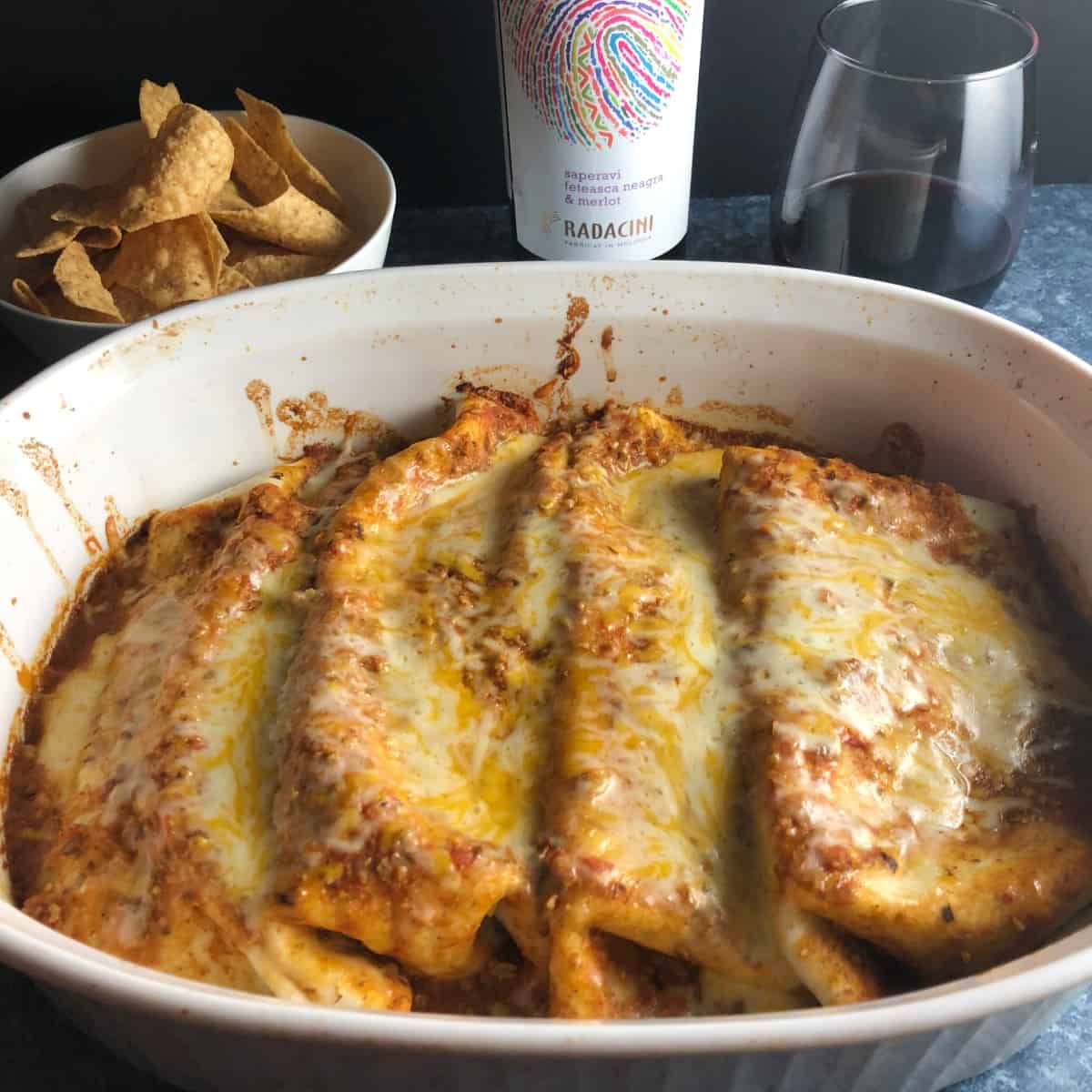 For the July Moldovan wine event, I found that the Saperavi I had for that event paired very well with the spices in our Ground Beef Chili. So I figured a red wine blend featuring Saperavi as the dominant grape might also pair well with some spicy fare.
I cooked up Beef and Black Bean Enchiladas with the Moldovan red wine blend in mind. They came out absolutely delicious, with a hearty filling topped with a spicy chipotle sauce.
I opened the 2018 Radacini Ampre ($20, 13% ABV) to go with our enchiladas. The wine is a blend of 70% Saperavi, 20% Feteasca and 10% Merlot. An intense nose, with the scent of the woods on a warm day along with some black pepper notes.
On the palate, I got blackberry fruit and some notable acidity. The wine tasted young, and benefitted from about 20 minutes of decanting. so I decanted for about 20 minutes while finishing the enchiladas.
Tasting the wine along with our meal, I got black pepper along with the fruit, which made for a nice pairing with the chipotle enchilada sauce.
The Saperavi based blend definitely had the heft to stand up to the beef in the enchiladas as well as the spices. Definitely a great pairing for the meal!
The Ampre is made from hand harvested grapes, grown in the Stefan Voda region. Each of the three grapes are fermented separately prior to blending.
Linguine with Pesto & Tomatoes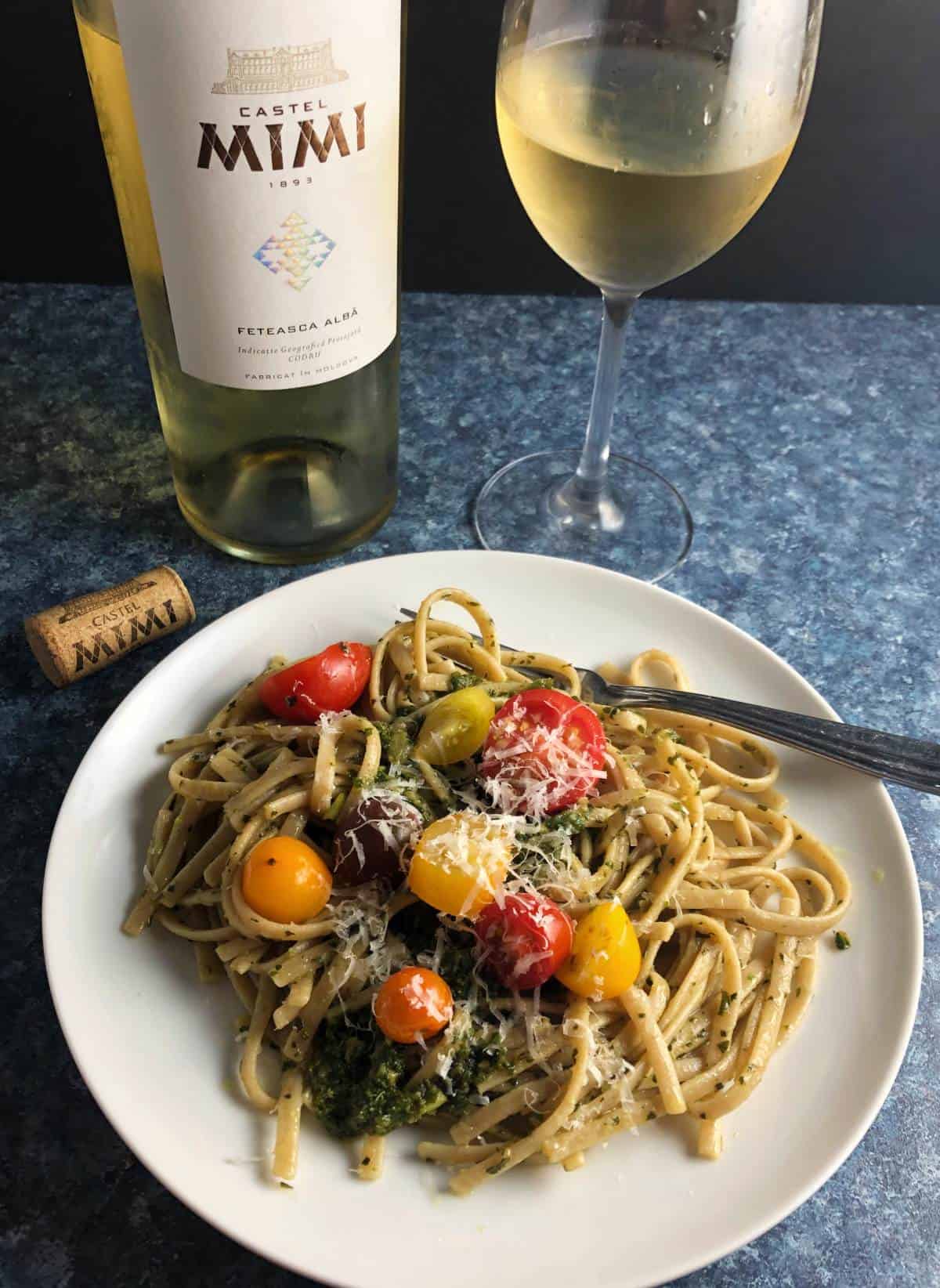 Our first Moldovan wine pairing for this event came about in rather serendipitous fashion.
A wine loving couple that we got to know when they started a local wine shop called Pairings has occasionally organized tastings out on their patio with small tables carefully spaced out a good dozen feet or so apart.
One late afternoon I was over on their patio sampling through a lineup of excellent wines from Mexico, brought in by Tozi Imports. While there, Lori encouraged her guests to help themselves to as much basil as we wanted from the abundance in her garden. I'm not one to pass up fresh basil!
Arriving home from the tasting, the fresh basil in the bag was a siren song calling me to make a supper featuring pesto.
As I started making pesto, I recalled the two Moldovan white wines waiting to be sampled. Let's give one of them a try with the pesto!
I decided to open the 2018 Castel Mimi Feteasca Alba ($19, 13% ABV) to go with the pesto. This white wine is light and flavorful, with lychee and kiwi notes. Enough refreshing acidity to go very well with our linguine with classic basil pesto, topped with fresh tomatoes from our farmshare.
I liked this wine right from the first sip, and would consider it a great choice to grab instead of Sauvignon Blanc, when looking for a change of pace.
Castel Mimi has a long history going back to 1893. Constantin Mimi brought back training he had in Western Europe to start the first chateau in Moldova, according to the winery website. A major restoration project in 2011 has made the chateau a great place for visitors, as well as a source for some excellent Moldovan wine.
Haddock & Pasta with Red Lentils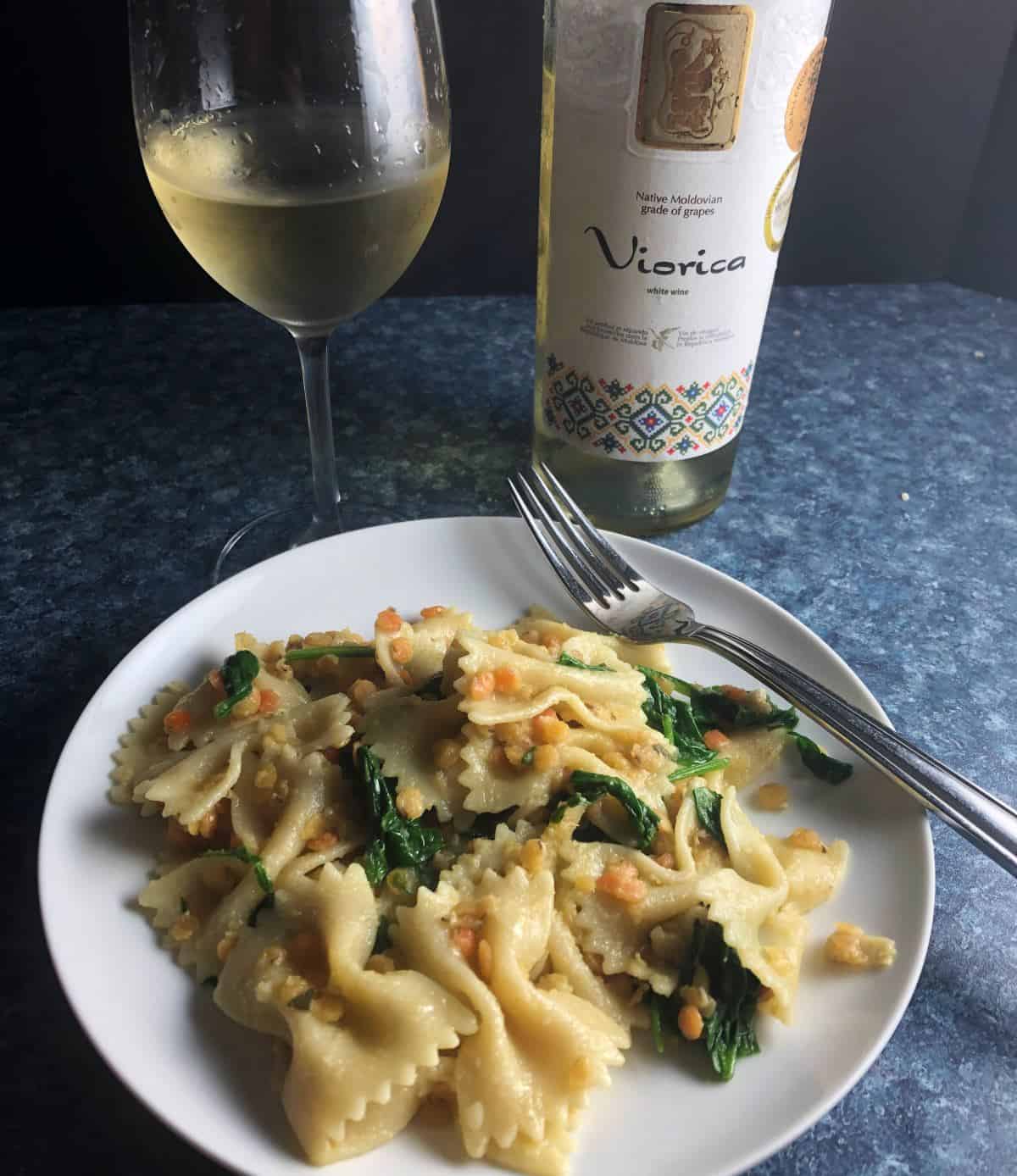 I thought seafood might be a good call for our second bottle of Moldovan white wine. So I planned on cooking up some baked haddock, along with one of my go to pasta recipes, Pasta with Red Lentils and Ginger.
The pasta with red lentils dish is a good one to serve with fish, as Jodi passes on seafood. The lentils provide protein making it a complete meal. Not to mention it is delicious! Based on a recipe from The Vegetarian Planet, with a few adaptations we have made over many times of making it.
We served the haddock and pasta dish with the 2018 Kazayak Viorica ($18, 13% ABV). Viorica is a white wine grape native to Moldova, that was certainly new to me.
This Viorica has a strong citrus element on the nose. On the palate, I tasted lime and notes of pine. As I tasted it more, other complex flavors came to mind, including white tea and chamomile.
Sometimes I will like a wine from a familiar grape right away. Other times, such as this tasting, it to a little while to warm up to the new tastes from the unfamiliar grape.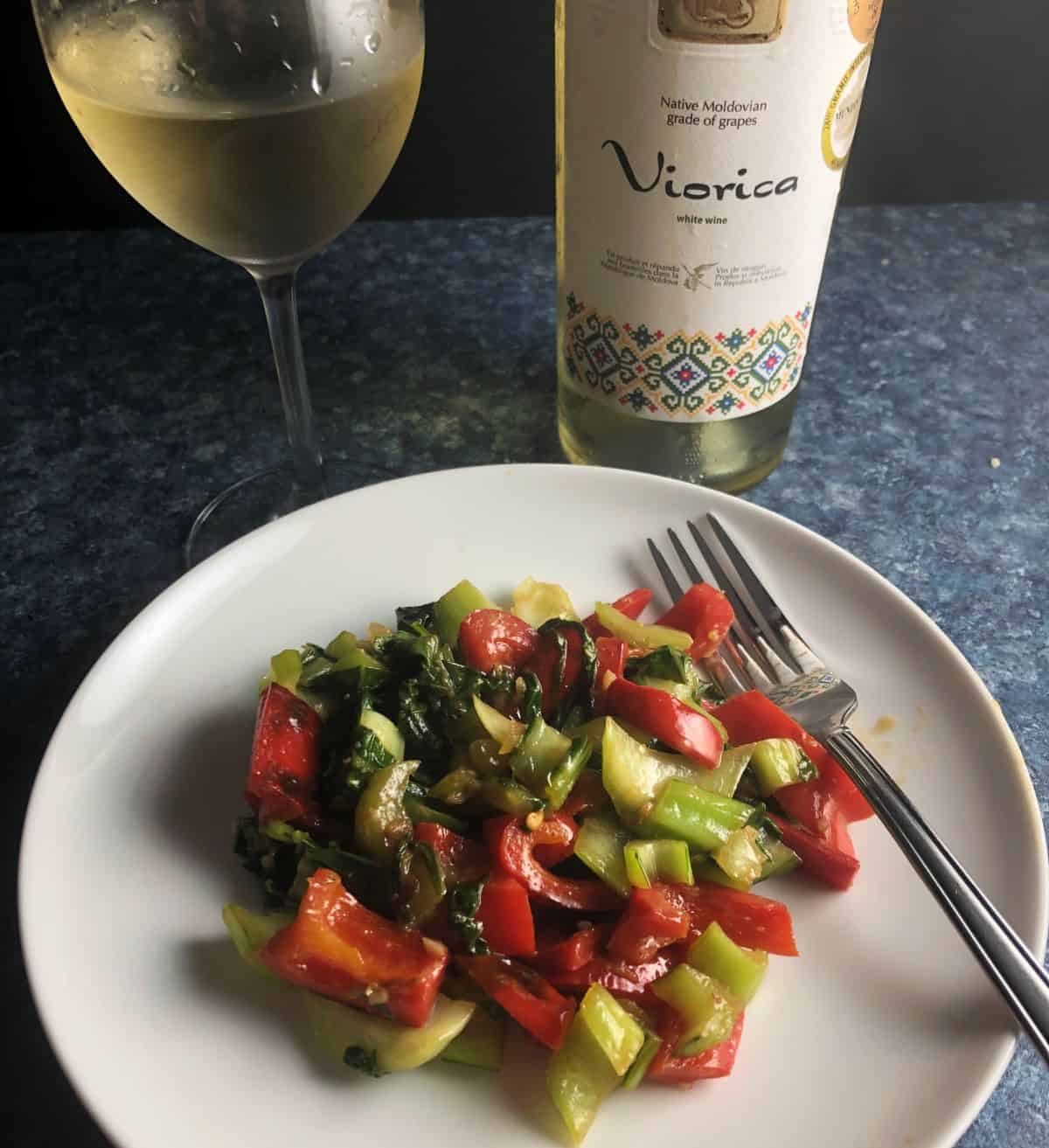 And the Viorica turned out to be a great pairing for our meal! The ginger in the pasta dish, which I also added to our stir fried bok choy side, I think is the ingredient that really bridged nicely to the lively flavors of the wine. So if you have a bottle of Viorica to pair with, try to have some ginger in your dish!
Rosu De Purcari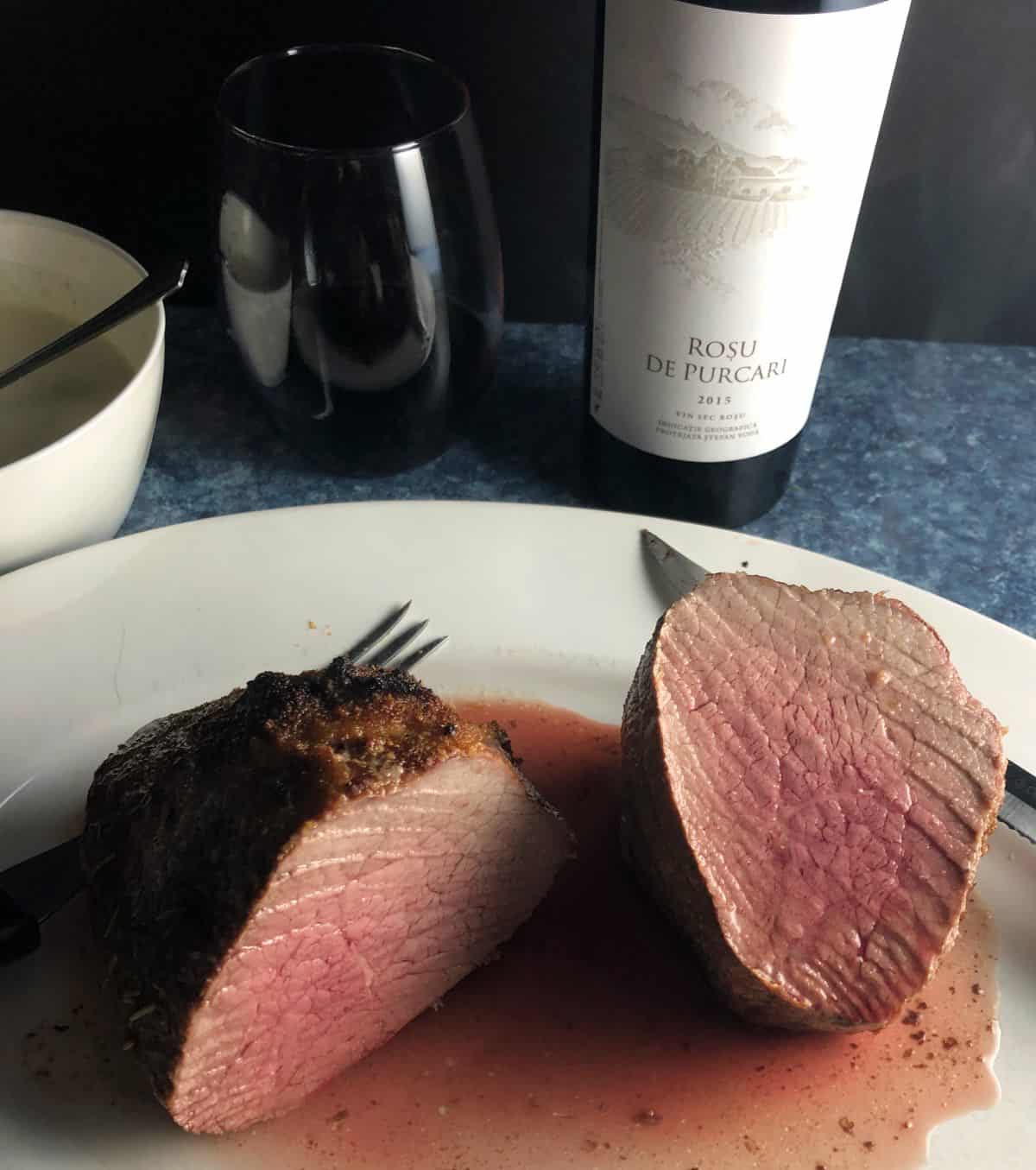 We had been saving the 2015 Rosu De Purcari for the right meal! We opened this blend of Cabernet Sauvignon (50%), Merlot (35%) and Malbec (15%) to go with a roast beef. Turned out to be a great pairing! We had an eye of round cut for the occasion, but topped it with a horseradish cream sauce like we use in this spoon roast recipe. This Bordeaux style blend is from one of the oldest wineries in the region.
Ground Beef Chili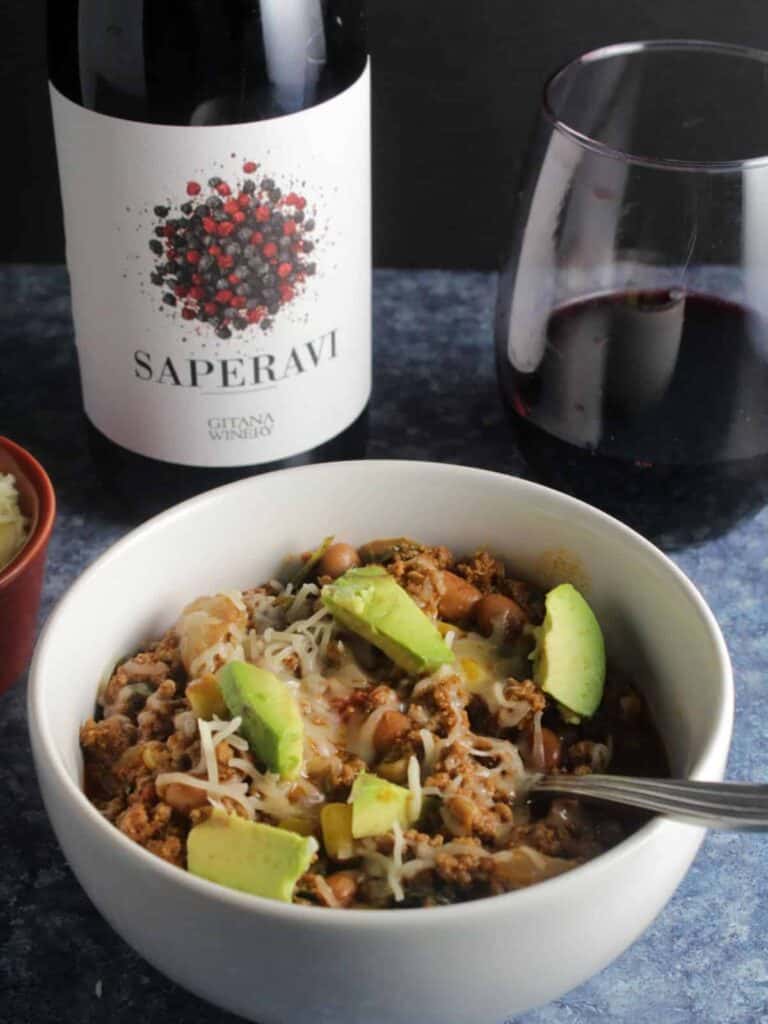 Although not officially part of the sampling we did for this event, the Ground Beef Chili pairing we had with a Saperavi from Moldova is worth a photo and mention here, as it was an excellent combination!
We had the 2017 Gitana Winery Saperavi ($30, 14% ABV) to pair with our chili. The fruit forward aspect of the wine, with moderate tannins, helped make this a wine a good partner for the chili spices. The robust Saperavi has the heft needed to go with the beef. This pairing is definitely a winner that I would recommend!
Background on Moldovan Wines
I'm pretty good with my geography, but I must confess I definitely had to hop online to see where Moldova is located when I was getting ready to sample some of its wines. Quick answer — the former Soviet republic is located between Romania and Ukraine in Eastern Europe.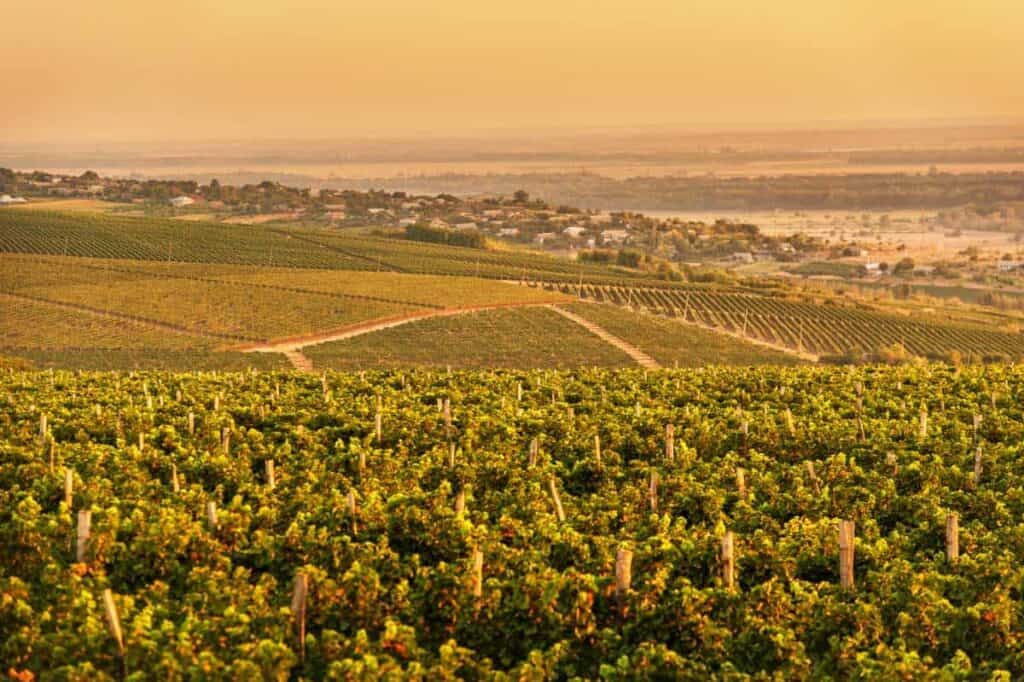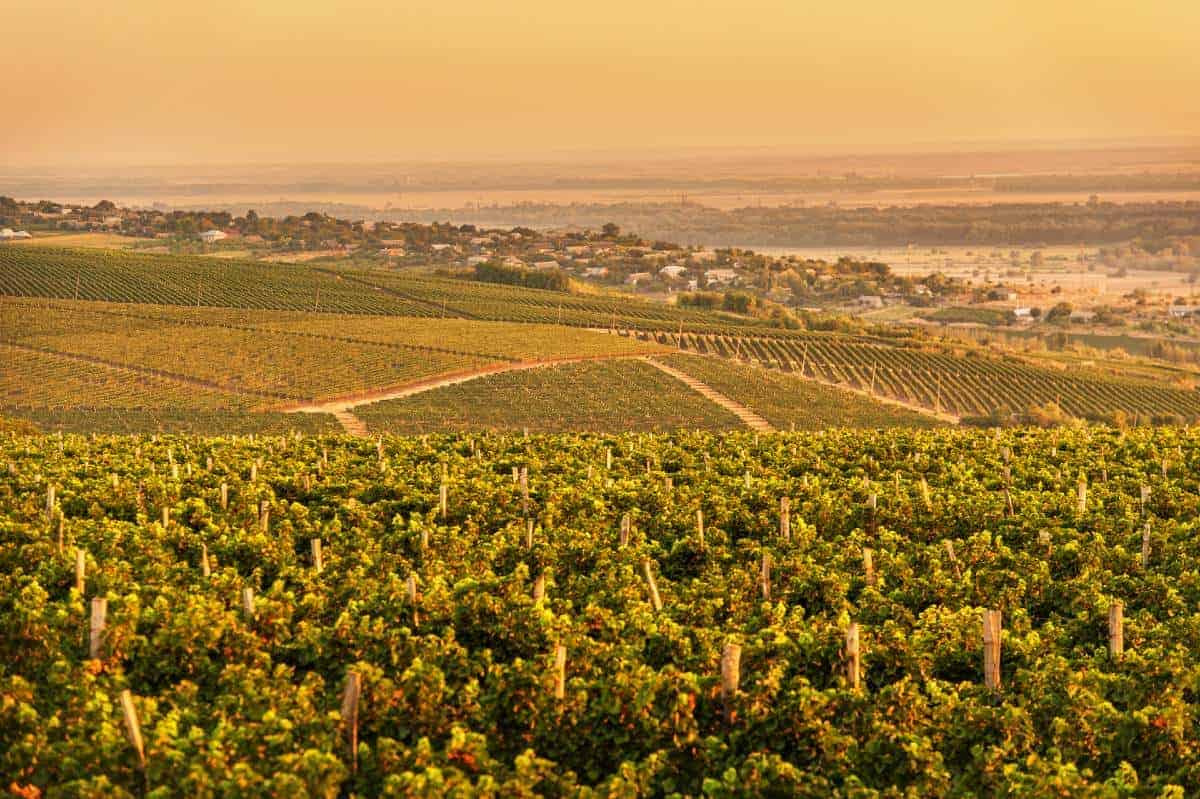 Wine clearly has an important place in Moldova's culture and its economy. The winemaking history goes back some 5,000 years, with references in the Iliad to wines from the region. In the Middle Ages, vineyards owners ruled the country, according to the Wine of Moldova site.
Moldova is the country with the highest density of vineyards in the world, with 81,000 hectares planted in the relatively small country. We might not see too many wines from Moldova here in the US, as top destinations for the country's wine include Romania, Poland and China.
But after more US customers have a chance to try Moldovan wines like we did, I expect there will be more demand for it here!
Some 2% of Moldova's GDP comes from the wine industry. By contrast, you have to add the beer and spirits industry along with wine to get to 1.65% of US GDP, according to this source.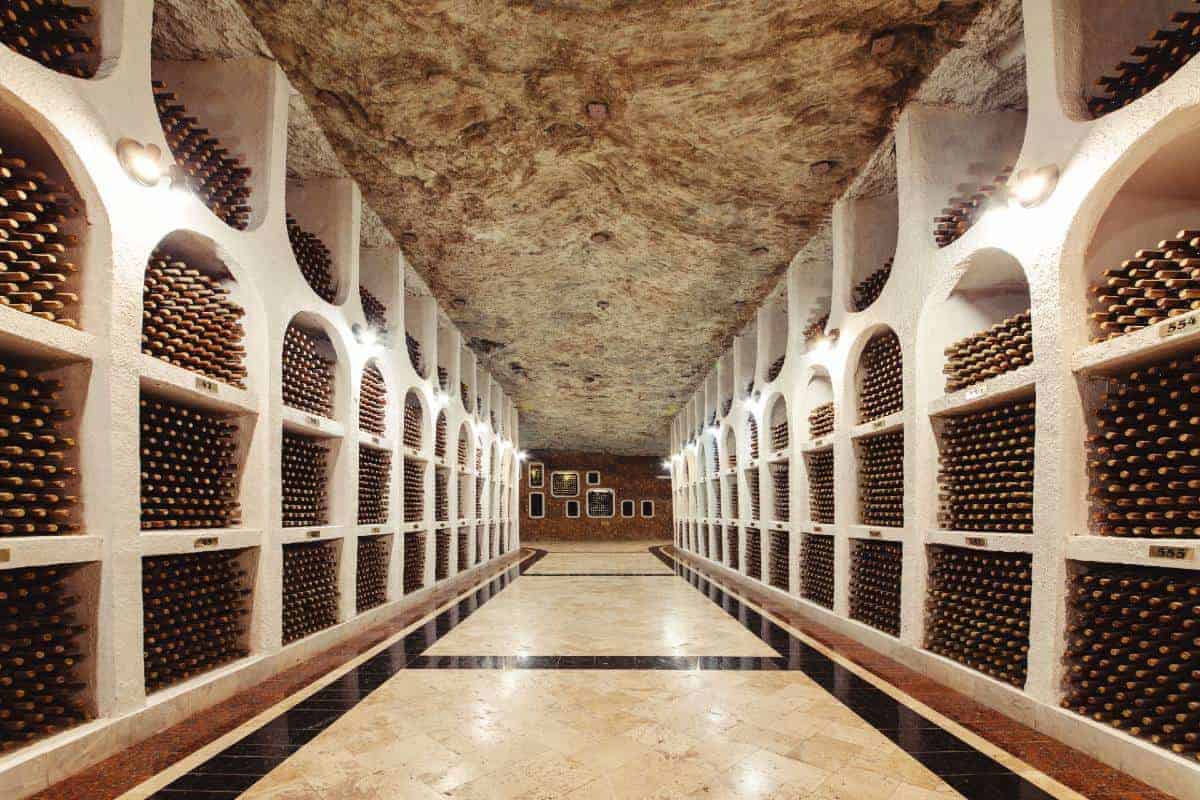 Perhaps even more distinctive are the vast underground wine collections to be found in Moldova. One of those, Mileștii Mici, holds the Guinness record for largest wine collection in the world.
Learn More About Moldovan Wine
Be sure to check out these articles from the World Wine Travel blogging group to learn more about Moldovan wines!
Camilla at Culinary Adventures with Camilla shares "Two Indigenous Moldovan Grapes – Fetească Albă and Fetească Neagră – Paired With Colțunași Harnici (Hard-Working Dumplings)"
Wendy from A Day In The Life On The Farm is "Celebrating the Food and Wine of Moldova"
David from CookingChat has "Food Pairings for Moldavan Wines"
Lori from Exploring the Wine Glass shares "Sitting Down with Master of Wine Caroline Gilby to Discuss Moldovan Wine"
Terri from Our Good Life shares "Moldova Wine Day Celebration!"
Linda from My Full Wine Glass is "Celebrating 'My Wine Day' and the little country that could"
Robin at Crushed Grape Chronicles shares "Moldovan Wine – moving forward while not losing track of the authentic grapes of their past" #WorldWineTravel
Susannah from Avvinare writes "You say Feteasca and I'll Say Moldova"
Jennifer at Vino Travels tells us about "Eye Openers to the Wines of Moldova"
Melanie from Wining With Mel is "Exploring new territory with Moldovan wines"
Jeff from foodwineclick asks the question "Are Local Grapes the Future of Moldovan Wines?"
Here at Savor the Harvest I share "Moldovan Native Wine Grape Discoveries" #WorldWineTravel
Jill from L'Occasion discusses "Wines of Moldova: Worth the Adventure"
Payal from Keep the Peas pairs "Kashmiri Yakhni Pulao and Moldovan Wine"
Nicole from Somms Table is "Celebrating Moldova National Wine Day with More Food and Wine Explorations"
Rupal at Syrah Queen shares "Celebrate Moldova National Wine Day – Exploring Native Varieties"
Liz Barrett from What's In That Bottle shares "Moldova National Wine Day is Here!"
Pinny from Chinese Food And Wine Pairings tells us about "Celebrating Moldova National Wine Day with Chinese Food"
Deanna at Asian Test Kitchen