Today we discuss Pairings That Work With Sicilian Wine, along with one epic pairing failure! Part of the Italian Food, Wine & Travel blogger group return to Sicily.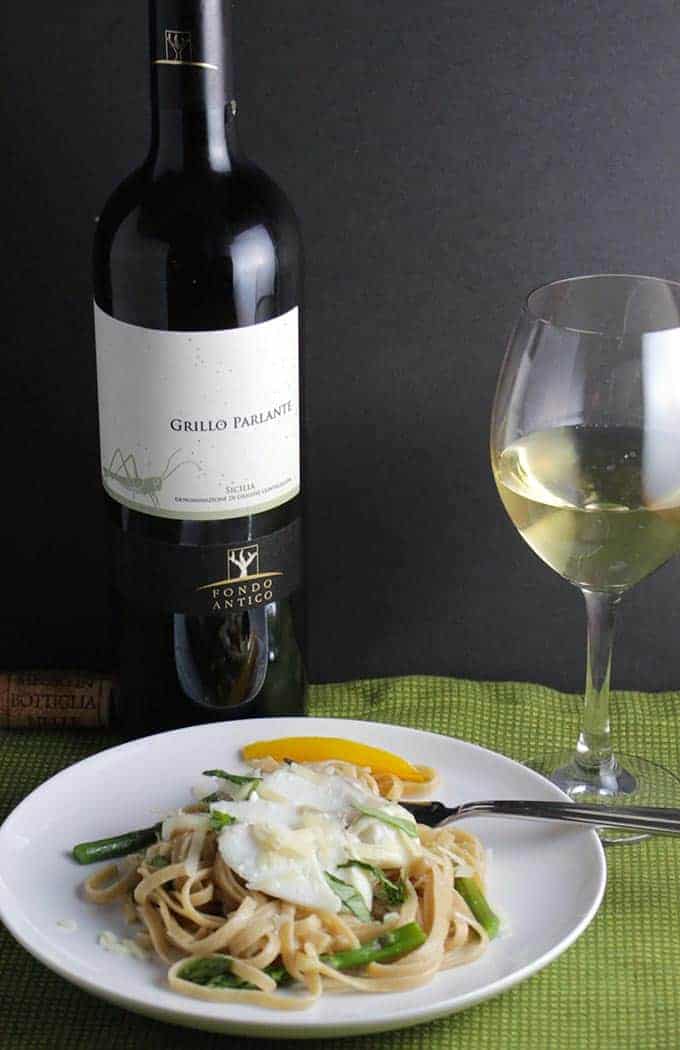 I was looking forward to participating in this month's Italian Food, Wine and Travel event focused on Sicily. After making the rounds to all of Italy's 16 major wine regions with the #ItalianFWT group, my blogging plans haven't synched up with the group lately. But I had a bottle of Grillo from Sicily ready to to go…
The Sicilian Wine Pairing That Didn't Work
Of course, there are many great pairings based on Italian regional classics paired with wine from the same region. Our Porcini Mushroom Risotto paired with a Nebbiolo is one example of such a pairing; this Ligurian Pesto Pasta dish with a wine from the same region is another one. But I've also come to find that food-friendly Italian wines can be great with food from other cultures. For instance, I've done a few very good pairings of Indian curry with Italian wine.
With this versatility in mind, I thought I'd try a crisp Grillo from Sicily with a new recipe for Kimchi Chicken Burritos. I thought the crisp white wine might offset the heat of the kimchi. So I opened the 2014 Molino A Vento Grillo (appx. $12, 12.5% ABV). The nose reminded me of a spring afternoon, with flowers just starting to pop. I'm sure the warm February we've had impacted that description! I tasted honeydew melon and a bit of hazelnut. Complex flavor profile for a moderately priced wine.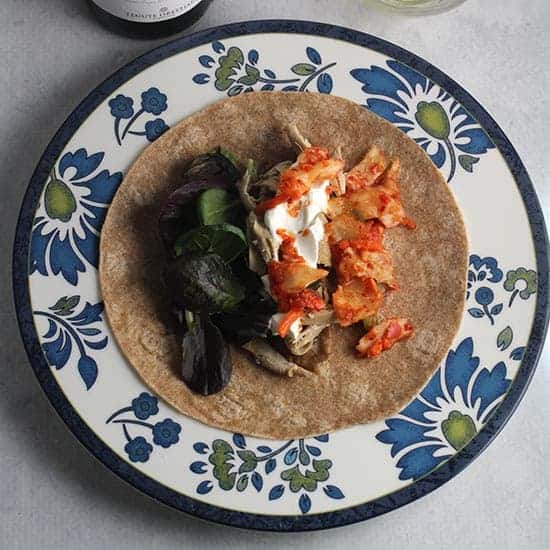 So the wine sounds promising, right? Then the Sicilian wine met the kimchi. In addition to the spice element, the fermented cabbage kimchi has a bit of a sour element. This simply did not play nicely with our Sicilian wine. Rather than complementing the each other, the wine and food clashed on the palate. The Grillo is a fine bottle of wine, but save it for another meal. I'd open a bottle of beer instead–Peroni maybe? At least it's from Italy!
Pairings That Work With Sicilian Wine
Ok, I can't end this article telling you about a pairing that didn't work! Sicilian wine is food friendly and there are certainly many pairings that work with Sicilian wine.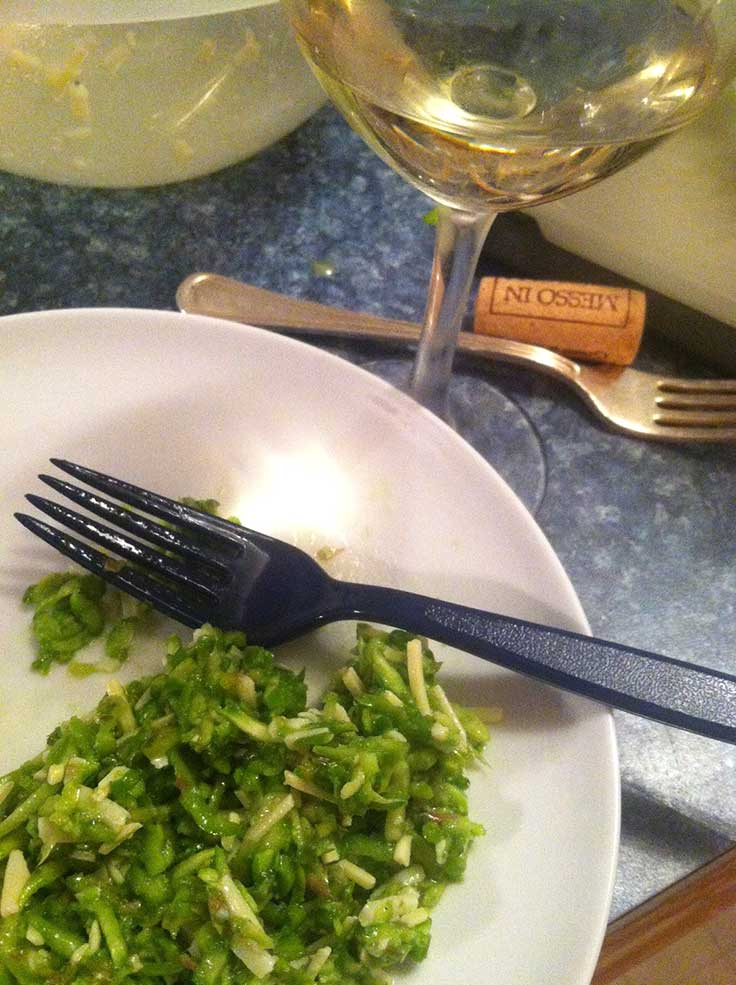 With spring almost here, I'm going to first mention one of my favorite spring pairings. I love this Shaved Raw Asparagus with Parmesan Dressing recipe from Food & Wine. I know, asparagus is hard to pair with wine, but this preparation paired with a Grillo from Sicily really works. I've enjoyed this asparagus salad with the Fondo Antico Grillo Parlante.
The Parmesan cheese dressing that gets tossed with the asparagus provides a great bridge to the wine. The Grillo has a nice fresh crispness that worked with the lemon in the dressing. I also got a bit of salinity in this–perhaps from the vineyard's proximity to the sea? That salinity worked well with the saltiness of the cheese.
Based on the success of the pairing of Grillo with the asparagus salad, I made Linguine with Cod and Asparagus for the first #ItalianFWT trip to Sicily, back in 2015. I opened the same Grillo from Fondo Antico and noted the ice acidity, lemon fruit and mineral undertones. That mineral element and salinity seemed to help make the asparagus match work. So there you go–two pairings that work with Sicilian wine! Both are perfect for spring asparagus.
About Grillo Wine
So what's the story with the Grillo wine grape varietal? I have to confess, prior to writing this post I simply new that Grillo is an easy drinking white wine that I've only had from Sicily. This article from Wine Enthusiast provides some more background on Grillo.
From the article, I learned that Grillo is a crossing of Catarratto and Moscato di Alessandria grapes, and that it was was once used exclusively in Marsala production. It thrives better in Sicily's heat than do many more familiar white wine grapes. Production declined in the 1960s, but it has been making a comeback of late. I can see why–Grillo is a nice alternative to Sauvignon Blanc to pair with Italian food! Try it with a shrimp and pasta dish, or perhaps some pesto pasta.
We love Nero, too, yes we do
When our Grillo and kimchi chicken burritos wound up being a major fail, I came up with the idea of rounding up some good Sicilian pairings past from Cooking Chat. I knew I had some good recipes to pair with Grillo. I also will grab a bottle of fruit-forward Nero d'Avola with some regularity, and felt pretty sure a couple of the 500 plus recipes I have here on Cooking Chat would suggest a pairing with Nero d'Avola. Alas, not a one!
Why no pairings with Nero d'Avola here on Cooking Chat? I realize the Nero I tend to get is a simple, inexpensive every day wine. The kind you open to go with takeout pizza at the end of a busy week. Simple, pleasurable drinking; not so much get out the fancy camera kind of wine. Hey, we all need wines simple wines like that in the mix too!
While it is perfectly reasonable that the simplicity of Nero D'Avola explains why it is not included as the suggested pairing for any recipes here yet, you know now that I'm aware of it I'm going to feature a pairing for Nero soon!
Until then, I can tell you that Nero + pizza definitely works; and I can also see a pairing for Nero D'Avola with eggplant caponata from the lineup of today's #ItalianFWT posts!
Italian Food, Wine and Travel Bloggers Return to Sicily
The posts below will go live on Saturday, March 4th, 2017. Our group will get together for a live chat on Twitter 8-9am PST/11-12 EST that day to discuss Sicilian food, wine and travel. Join us using the #ItalianFWT hashtag on Saturday morning!
Cam of Culinary Adventures With Camilla with be sharing Gnocchi Con Salsa di Pistacchi + Donnafugata Sherazade Rose 2014
Jill of L'Occasion offers a Winemaker Rendezvous: Lucio Matricardi of Stemmari
Susannah of Avvinare will be Discovering Tasca d'Almerita, A Sicilian Icon
Jeff of FoodWineClick with be having Sicilian Fun with Frappato, Grillo, Swordfish and Artichokes
Lauren of the Swirling Dervish – A Week-Night Dinner in Sicily
Gwendolyn of the Wine Predator will be serving up Sicilian Wine and Food by Candlelight