Paso Robles is one of the most diverse wine regions in the United States. We enjoyed the opportunity to created pairings for Paso wines inspired by a diverse set of six wines from A to Z that we received. Disclosure: the wines in this article were sent as complimentary samples by Teuwen Communications.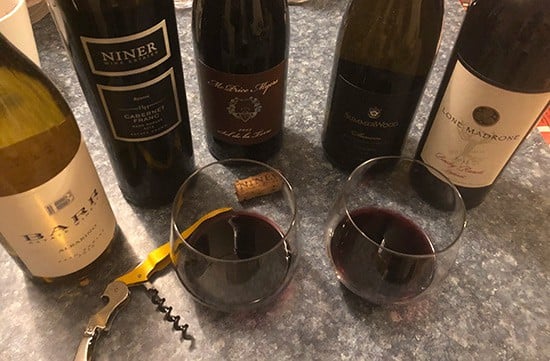 I readily accepted the chance to sample a range of Paso Robles wines, covering the alphabet from A to Z.
I've long enjoyed Paso Robles wines. My immediate association with Paso are bold reds, particular Zinfandels and Rhone style blends. The lineup of six wines gave a chance to appreciate the diversity of Paso wines while also tasting a couple of classics from the region.
Here on Cooking Chat we love bringing wine and food together, so as we tasted through the wines, we naturally gravitated toward coming up with pairings with Paso Wines as our theme.
These Paso wines arrived here during cold winter months, so our initial Paso wine pairing suggestions lean toward indoor cooking. But these Paso wines are great summer sipping and pairing, too! The Albariño and Marsanne are refreshing whites that would be great out on the deck; and the Paso red wines sampled here would be great with meat from the grill as well as with the recipes I suggest.
Pairings with Paso Wines
Easy Baked Cod with Barr Estate Albariño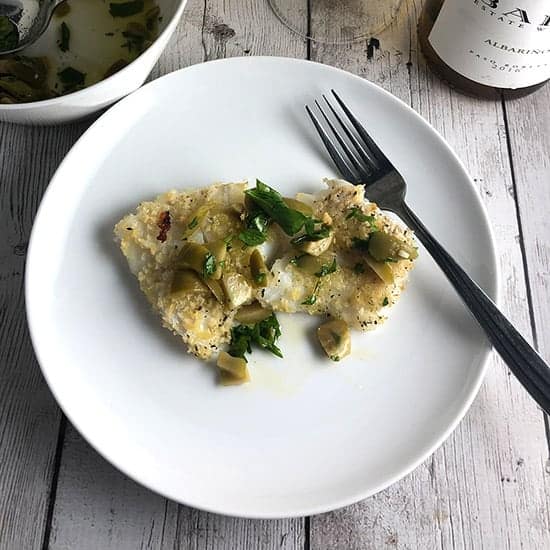 The 2016 Barr Estate Albariño ($17, 12.7% ABV) has a subtle nose, with hints of the sea, making it a natural for a seafood pairing. On the palate, kiwi fruit with racing acidity, and mineral undertones. This Paso Albariño has a bit more fruit and weight than you might get on a Spanish version, but still has that strong sense of the sea that makes it such a great seafood wine. Our Easy Baked Cod with Olive Relish is a tasty preparation for the common fish. The Mediterranean flavors are perfect with this Albariño.
Now that we are heading into summer months, I would definitely keep this Albariño in mind for pairings with shellfish and lighter grilled fish. More about the winery via the Barr Estate Winery website.
Portuguese Kale Soup with Niner Cabernet Franc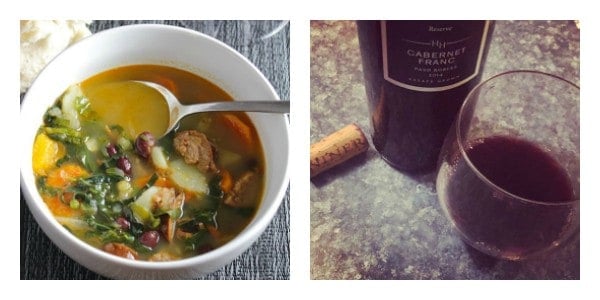 While Portuguese red blends may be my go to choice for my frequently made Best Portuguese Kale Soup recipe, I suspected a Cab Franc might also work with the sausage and greens in this soup. So I opened the  2014 Niner Wine Estates Reserve Cabernet Franc ($65, 14.5%) to go with the soup recently. The Cab Franc has classic bell pepper, some blackberry fruit & slate undertone. This one from Niner Wine Estates is definitely a great choice to elevate the simple, hearty kale soup.
McPrice Myers Grenache Sel de la Terre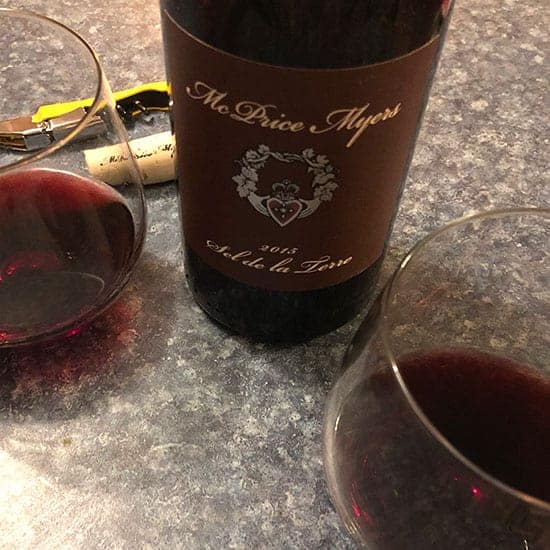 Well, testing pairings does mean sometimes identifying pairings that don't work out too well. I'd been exploring ideas for wine pairings with chili , and someone suggested that Grenache is a red wine that can work with chili. So I opened the 2015 McPrice Myers Grenache Sel de la Terre ($45,15.2% ABV) to try with the chili.
The Myers Grenache is another very good wine from Paso. Violets on the nose, cherry fruit on the palate with hints of #2 pencil. The winemaker notes that Paso creates very good conditions for growing Grenache, with warm days and cool nights leading to a refreshing acidity. More on McPrice Myers on their website.
But alas, this Grenache did not wind up being a good pairing for the turkey chili I served it with. I enjoyed the wine on its own, but the bold flavors and high alcohol didn't play well with the spices in the chili. Maybe I need to try another bottle with some grilled meat or something like that? Let me know what you'd serve with this wine in the comments!
Creamy Cauliflower Pasta with Summerwood Marsanne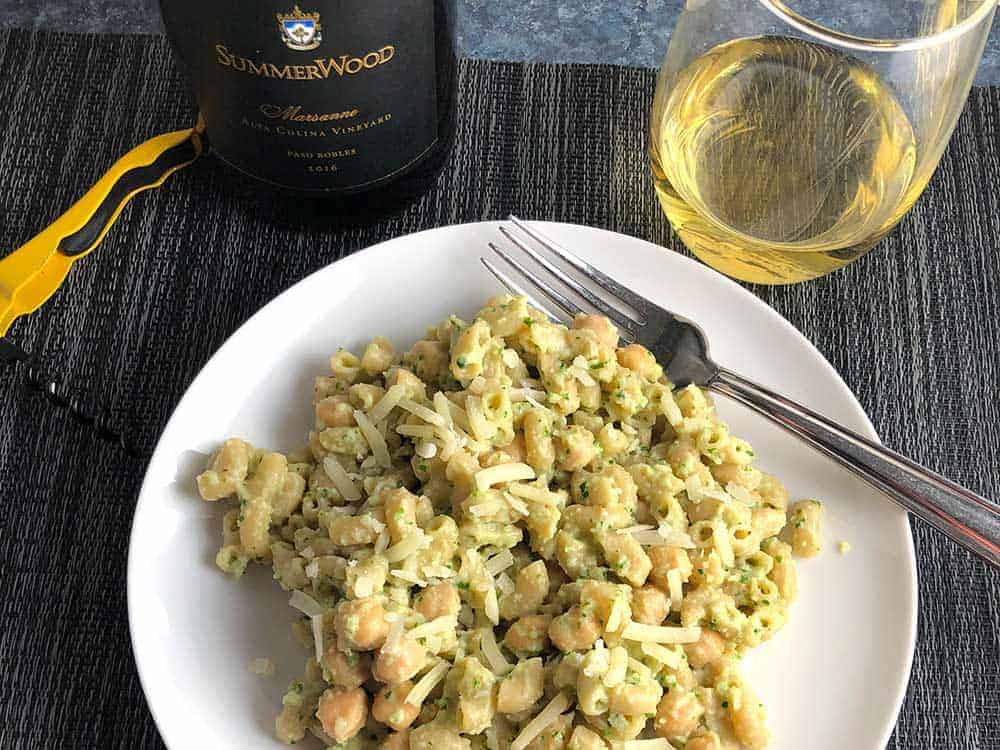 Our Creamy Cauliflower Pasta with Kale and Chickpeas recipe is packed with flavor and nutrition! With both taste and healthfulness going for it, I'm happy to report we found a great pairing for this dish — the 2016 Summerwood Marsanne Alta Colina ($35, 15%). Citrus and wet stones on the nose. Lemon fruit on the palate with a little touch of spice, and a creamy mouthfeel and good finish. A very good wine!
I will often go for a Marsanne or white blend including Marsanne when I want a fairly full-bodied white wine, but a bit lighter than a Chardonnay. As suspected, the Marsanne pairing worked out very well with the creamy sauce. The Paso Marsanne is a bit more full-bodied than its typical Rhone counterpart, which helped it stand up to the texture of the sauce and the garlic kick.
Summerwood Winery focuses on producing small-lot, ultra premium wines available exclusively from the Westside Paso estate.
Clesi Sangiovese with Tomato Based Pasta Sauce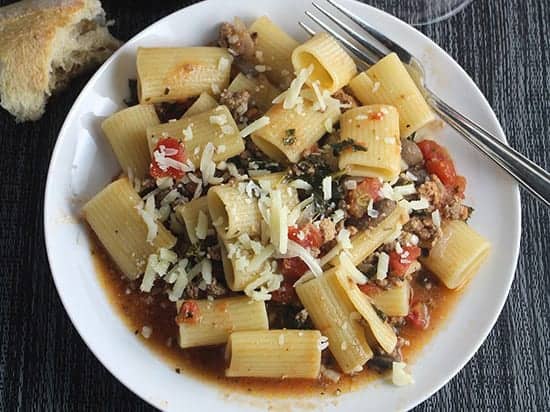 The Clesi Wines Sangiovese ($36, 14.2% ABV) is minty on the nose, with cherry fruit and well balanced tannins on the palate! This bottle shows you can find a good Sangiovese from California. Winemaker Chris Ferrera draws upon his Sicilian roots to bring Italian grape varietals to Central California, noting the similarities in the climate.
This wine may be from Paso, but I still think of Italian food to pair with this Sangiovese! You could try it with our Healthy Bolognese Sauce. Or now that fresh tomatoes will be rolling in soon, maybe try the Clesi Sangiovese with our Farm Fresh Tomato Sauce with Ground Turkey.
Clesi Wines focuses on producing Italian varietals on the California Central coast. I enjoy trying Italian varietals grown in California, so will have to sample more from Clesi.
Lone Madrone Zinfandel with Chili (or grilled meat!)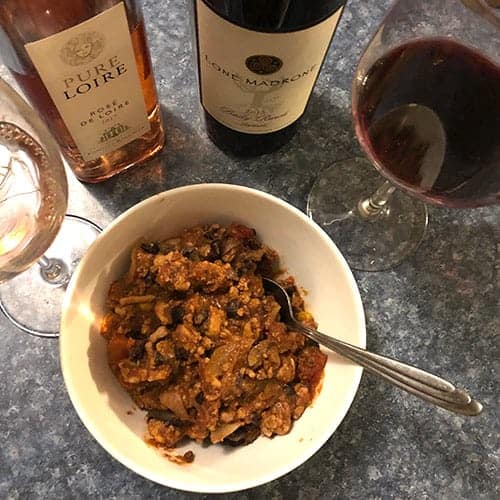 We were testing some various options for wine with chili and a couple of people suggested trying a Zinfandel. We had the 2015 Lone Madrone Bailey Ranch Zinfandel ($45, 15% ABV) from Paso on hand, so decided to try it.
I got cedar and menthol on the nose of the Lone Madrone Zinfandel. Blackberry fruit on the palate with notes of vanilla and oak. We really enjoyed this Paso Zin. Despite the 15% alcohol content, it definitely works with the chili. The fruitiness of it without a lot of tannins helps it play nicely with chili. We tried it with our Easy Black Bean and Turkey Chili recipe, I bet this Paso Zinfandel would be even better with a beef chili. The Zin would also be great with just about any grilled meat now that it is season for grilling!
The Bailey Ranch Vineyard has Zinfandel vines planted in the early 1970s on northeastern facing slopes. The grapes are dry farmed organically. For more on the vineyard and winery, visit the Easy Black Bean and Turkey Chili.
The Diversity of Paso Robles Wine
Paso Robles is home to over 60 grape varietals, making it one of the most diverse wine regions in the the United States. So there's a lot more to try from A to Z, in addition to the six wines that I sampled.
Paso has 11 AVAs (American Viticultural Area), which you can learn more about here. These AVAs range from calcareous hills to sand, loam and alluvial soils set in a range of elevations. These diverse conditions lead to California's greatest diurnal swing, with a the difference between day and night temperature producing great conditions for growing wine grapes.
Of course, the best way to appreciate the diversity of Paso wine is to try some for yourself! Any of the six bottles discussed here would be a great place to start. Or, if you've focused primarily one one type of Paso wine, make a point to branch out and see how much of their wines from A to Z you can try! And let me know if you find any Paso pairings you'd like to share.