Today we share a local wine and brie pairing. Our contribution to today's Local Wine, Local Food event, hosted by Wine Predator…Gwendolyn Alley.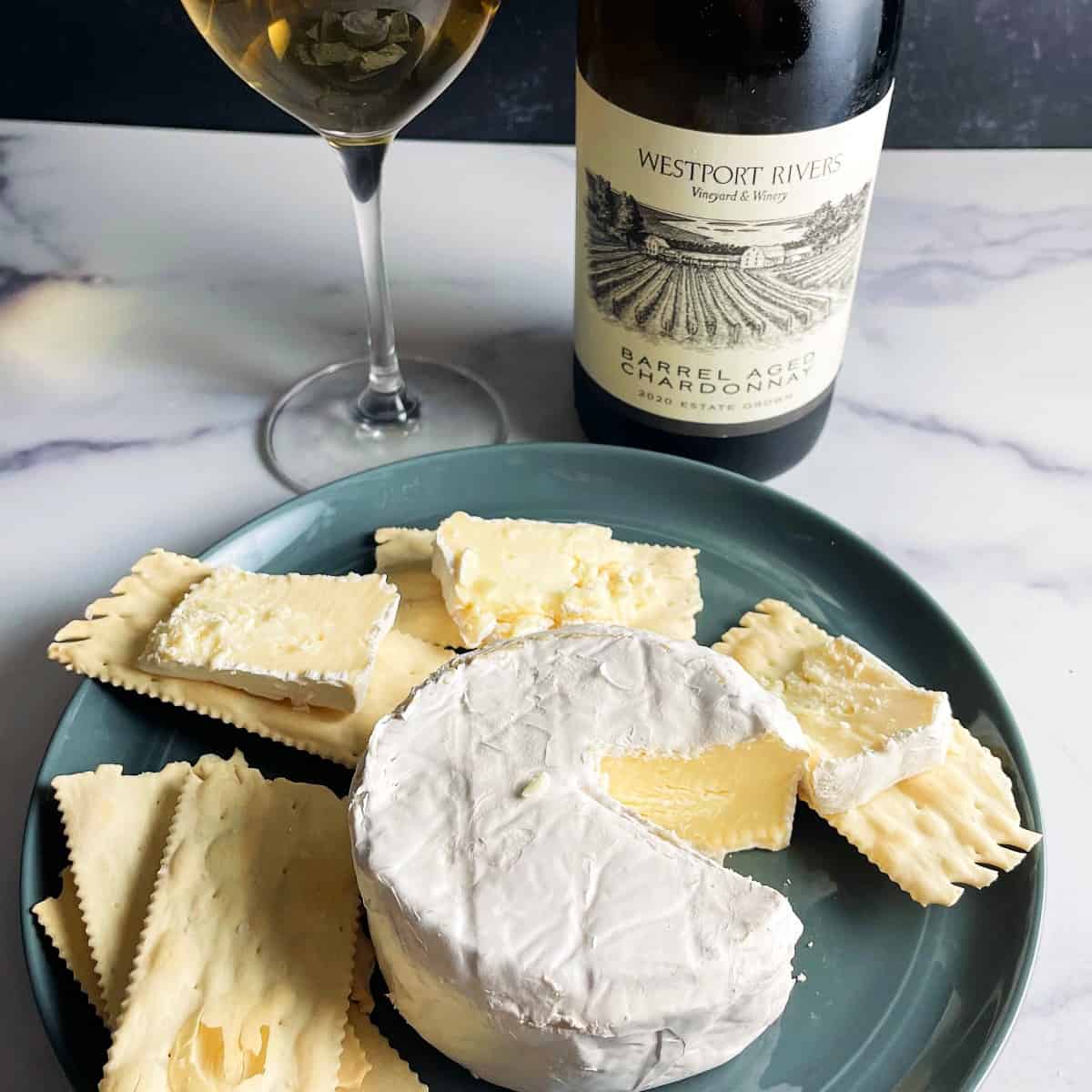 I'm very focused on eating local food. So much so, that I started a podcast last year called Cook Local Eat Local.
New England is definitely not wine country! It's much easier to find local craft beer than wine around here. But I have found a few good New England wineries that I like to support. In particular, I'm in the wine club at Westport Rivers Vineyard, and have visited several times. Our featured wine today is from Westport.
A local brie from Vermont
When I saw this local wine, local food event on the calendar, I initially figured I'd be cooking up something good with some local produce and/or meat. But it's been a particularly busy stretch at work, and time was running short.
Then I remembered I had a brie from our Family Dinner local food share — you can learn more about them on our podcast episode 12. Here's a referral link you can use to try Family Dinner with 50% off your first order.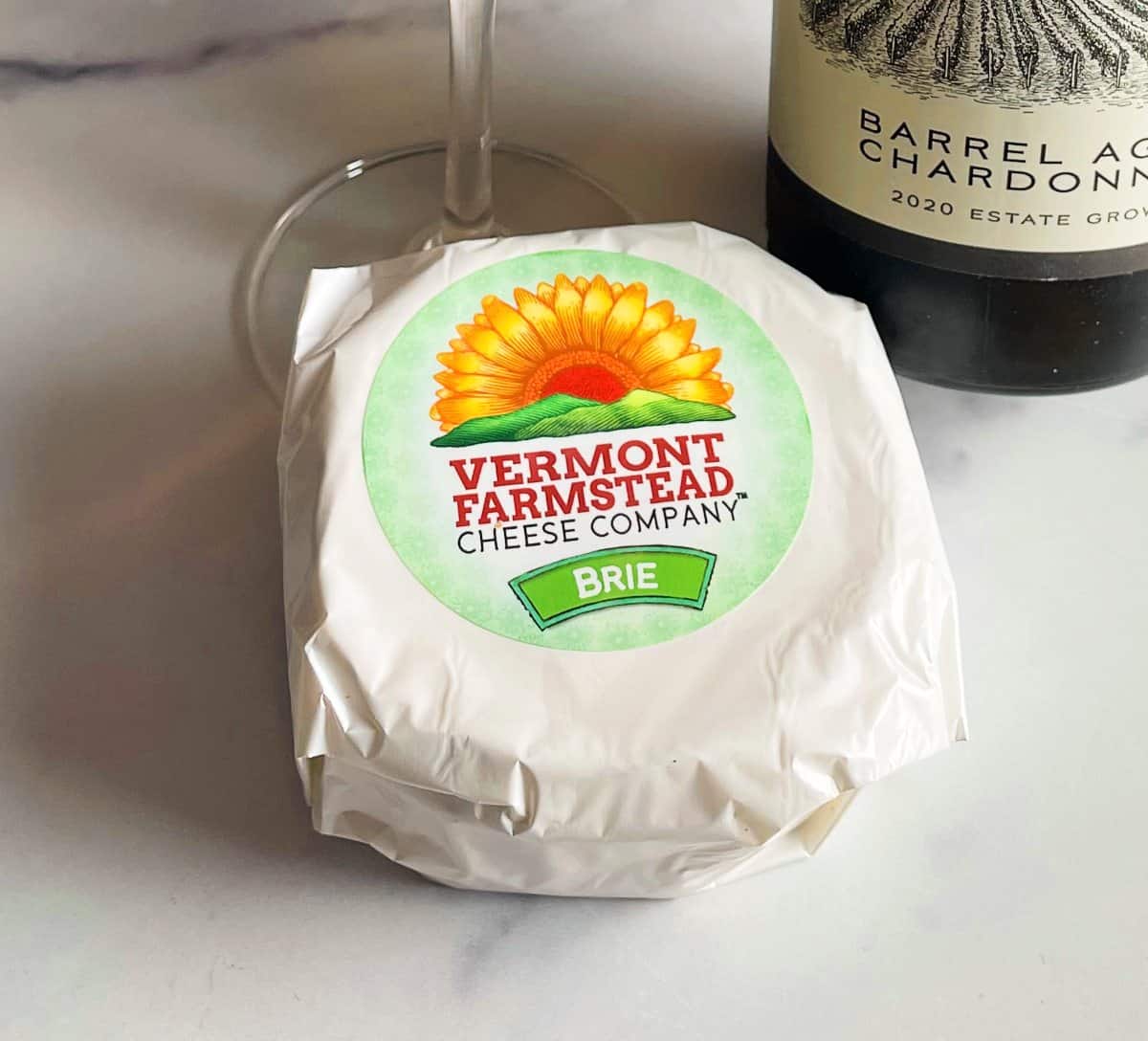 The brie we had was from the Vermont Farmstead Cheese Company. They are based in South Woodstock, Vermont, and have as their mission to "nurture its land and animals, and embrace a spirit of community in order to produce and provide fresh, quality, artisanal cheese, crackers, and local products to all."
Vermont Farmstead Cheese Company also produces award winning cheddars and partners with local breweries to make some of their cheeses with local beer.
Best wine to pair with brie
My first choice for pairing with brie has always been a Chardonnay. The full bodied white wine works nicely with the creaminess of the soft brie cheese.
I've occasionally poured a sparkling wine to go with brie and other soft cheeses.
Other wines I've seen suggested as brie pairings include Pinot Noir, Sauvignon Blanc and Riesling. I'm going to have to branch out and try some new pairings and report back!
A local Chardonnay pairing
For this event, I went with my old tried and true brie pairing — a Chardonnay. Of course, a local Chardonnay in this case!
I had the 2020 Westport Rivers Barrel Aged Chardonnay on hand for a bit, and this was the perfect time to open it!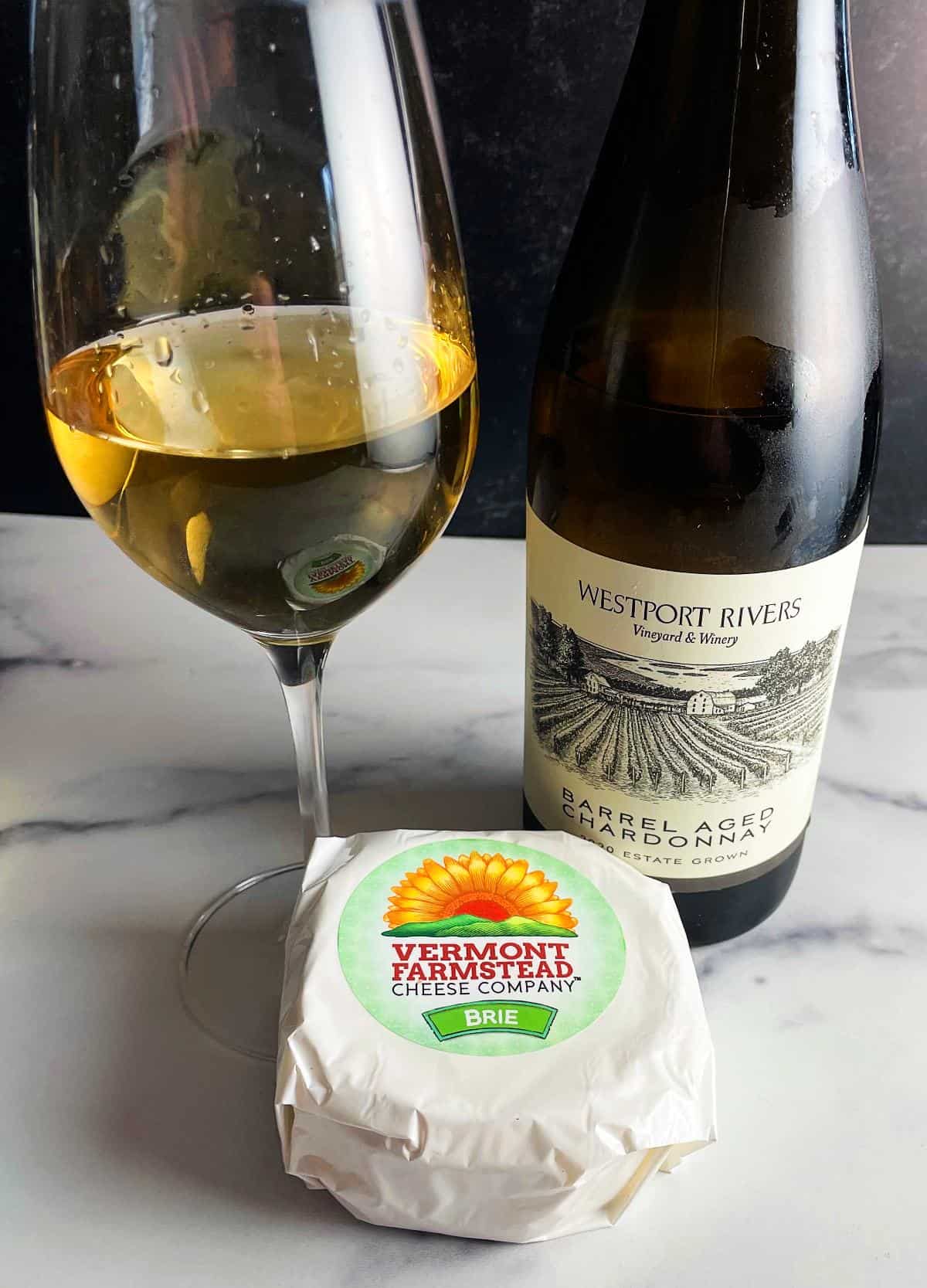 The Chardonnay has notes of apricot on the nose. On the palate, butter, honey, a bit of a crème brûlée thing going on here. I note a bit of minerality on the finish. This is definitely more full bodied than I recall other Westport Chardonnays, which tend to be leaner given the cool climate.
As anticipated, this barrel aged Chardonnay is an excellent pairing for the Vermont Farmstead brie! The cheese package suggests notes of mushrooms in the flavor profile of the brie. I'm not sure I would have noted that without the prompt, but definitely picked it up. It's a tasty brie, a bit more mild than some French soft cheeses. But definitely made for an enjoyable snack along with the local Chardonnay!
The fruit for the Chardonnay is estate grown. That is the case for most of the Westport wines, but they do occasionally use some grapes from a partner vineyard in Long Island if the season doesn't produce suitable Chardonnay grapes.
About Westport Rivers
Westport Rivers Vineyard & Winery was founded some 35 years ago by the Russell Family. As they tell their story on the winery website, they place a big emphasis on their goal of preserving 400 acres of working farmland. The family also owns Buzzard Bay Brewing, located near the winery.
Westport is a coastal town in Southern Massachusetts. The winery notes that the climate and soil conditions are conducive to "aromatic, crisp wines".
While Westport Rivers makes an array of white and red still wines, they are probably best known for their excellent sparkling wines.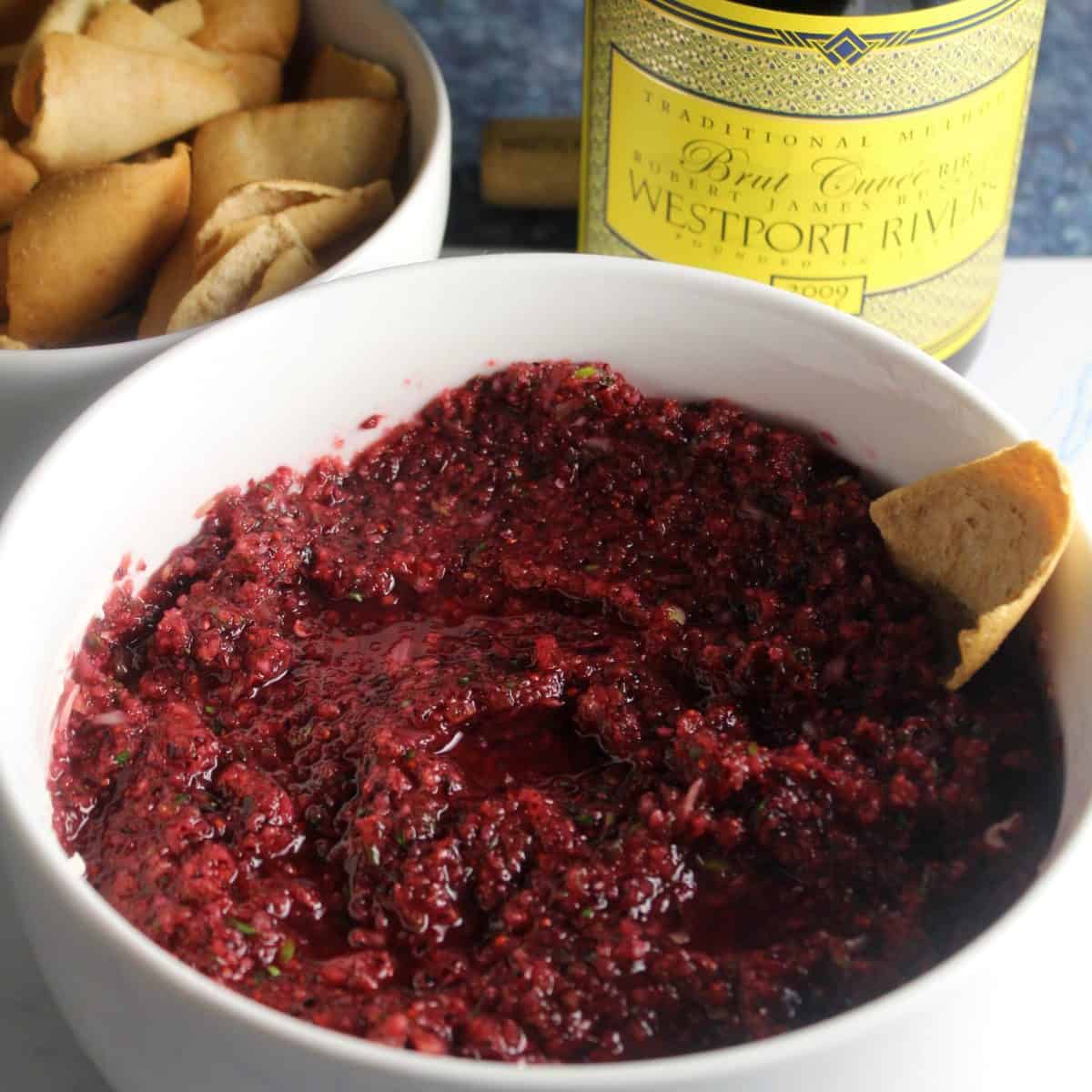 Keeping with the local pairings theme, we have enjoyed their Westport Rivers Brut Cuvée with our Cranberry Jalapeño Dip, featuring one of New England's most popular crops.
Westport Rivers is an enjoyable winery to visit. Check out my article on Visiting Westport Rivers Winery for more details on the winery.
Recipes featuring local food
Although I didn't cook up a new recipe for today's event, I can't let this theme pass without sharing some of the delicious recipes I've made recently with the bounty of various local food share programs.
More Local Wine, Local Food articles
Check out these articles from my colleagues for more local wine and food inspiration!