Today we share some Great French Wines that you might not know yet, but they are definitely worth checking out! This is part of the French Winophiles exploration of indigenous French wine grapes. Disclosure: Some of the wines discussed here were provided as complimentary samples; the opinions are my own.
You might think that great French wines need to come from a famous region like Burgundy or Bordeaux, and come with a big price tag.
Today, I join my fellow French #winophiles in exploring indigenous French grapes that tend to go under radar. You will find in this article and that of my colleagues (links at end of post) that great wines can be had from all over France, without breaking the bank.
This topic follows the January exploration of "Godforsaken Grapes", when I wrote about Cesanese, Schioppettino and More Interesting Wine".
As you might gather from the title, Italy is certainly a great source for interesting wine grapes you might not have heard.
But France, too, has some great wines to try when you venture down the wine road less travelled. I am excited to share some of my favorite finds with you today to encourage your won French wine adventures.
Thanks to Culinary Adventures with Camilla for hosting today's fun event!
Recent explorations — Wines of the French Alps
Last week we explored the Savoie region in the French Alps. That prompts me to start off with two grapes I've come to love from mountainous regions of eastern France.
Jacquère
Jacquère is by far the most planted grape in the Savoie region, but you aren't likely to find it if you stray very far from the area.
I have found wines from Jacquère to be aromatic, and can be quite complex and nuanced.
The 2017 Quenard Chignin Vielles Vignes ($20, 11% ABV) we enjoyed with our Tartiflette recipe, made from 70 year old vines, is a great example of that complexity.
As you may know, French wines typically go by the region as opposed the grape name. So in the case of Jacquère, you need to look on the label to see that the wine is from Savoie or one of the appellations with the region, such as Chignin or Apremont.
Inspired by the chat about Savoie last Saturday, I decided to grab a bottle of the 2017 Domaine des Ardoisières Argiles Blanc (11% ABV). This Savoie from the shadows of Mont Blanc is an interesting blend of 40% Jacquère, 40% Chardonnay and 20% Mondeuse Blanche.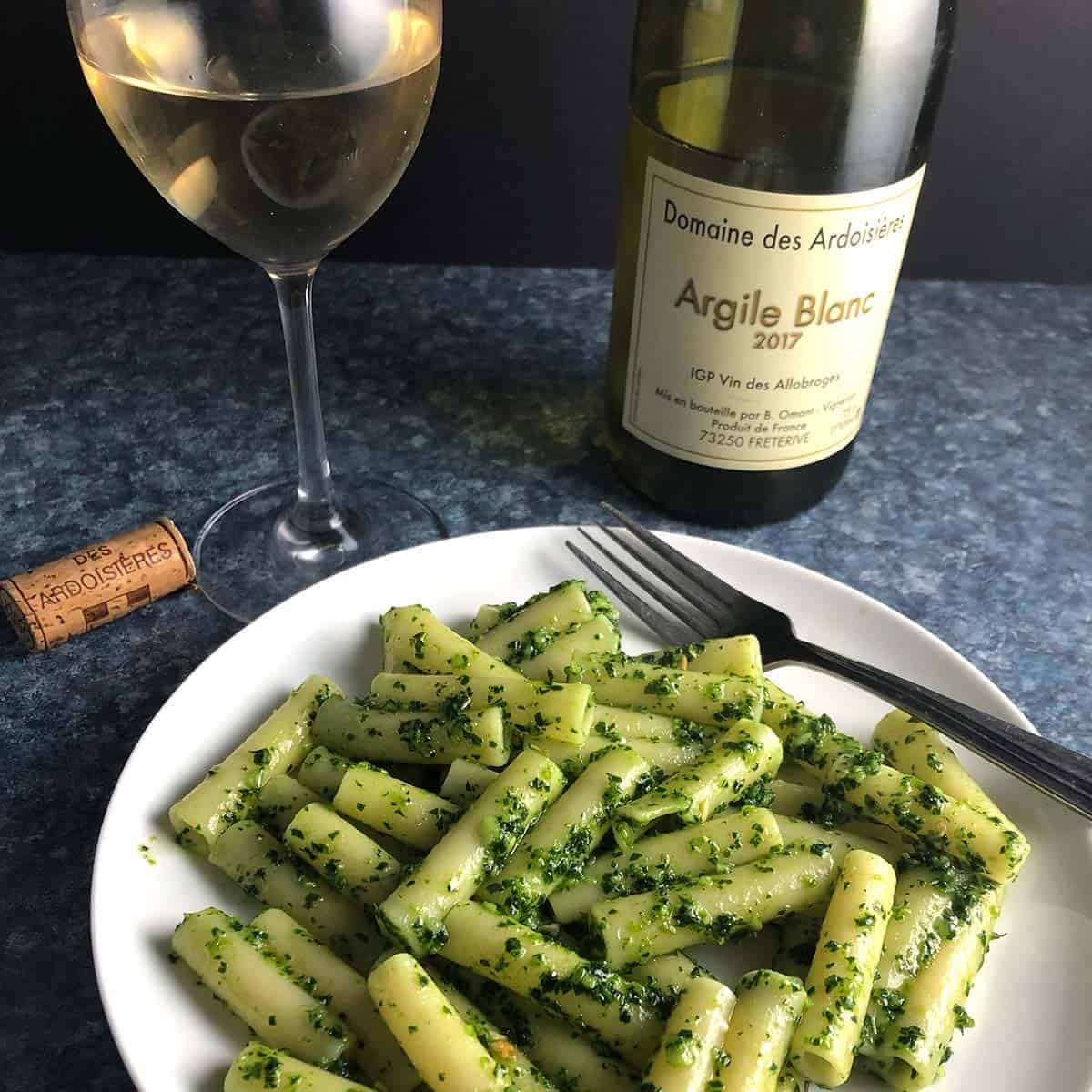 Mondeuse Blanche
Now this bit of Mondeuse Blanche in the blend is definitely worth some discussion. According to the grape's Wikipedia entry, there was just 12 acres of production in 1999 — certainly Godforsaken grape status! Another fun fact — Mondeuse Blanche is the "mother" of the much more widely planted Syrah.
The Argile Blanc has an earthy barnyard nose and notes of limestone. Lemon peel and notes of salinity on the palate. This white wine was good paired with kale pesto pasta and baked haddock.
Trousseau
I first tried Trousseau at one of my favorite restaurants in the area, Craigie on Main. Chef Tony is a big fan of under the radar French wine. The earthy qualities of red wine made from Trousseau complement his hearty fare nicely.
After having Trousseau dining out, I was eager to find a bottle to pair with at home. I tracked down the 2014 Chateau L'Etoile Cotes-Du-Jura ($17, 11.5% ABV) and paired with our Pulled Pork and Cabbage with Bacon for a past Winophiles event.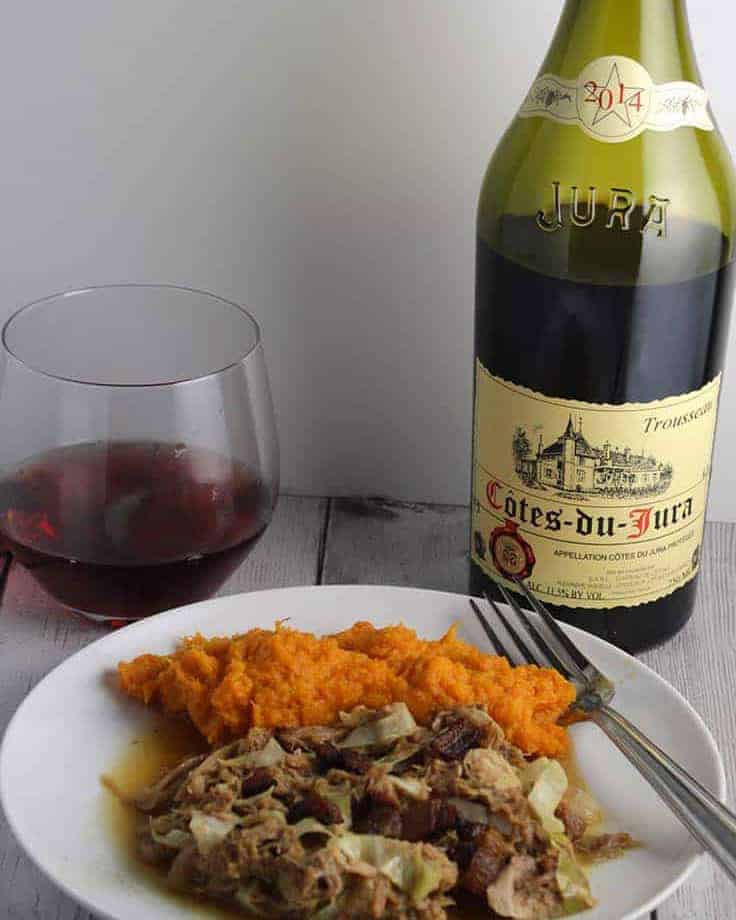 I found it interesting to compare two Trousseau wines, here's what I had to say after trying them:
The bottle from Michel Gahier that we had at the restaurant was brooding and funky, with notable tannins. The Trousseau from Chateau L'Etoile is more straightforward, something I would describe as a younger wine. However, they are both from the same vintage. The Michel Gahier bottle seems to be more in keeping with other references to Trousseau I found online, suggesting that it is a complex and unusual wine typically. Either bottle I tried makes for good pairing with pork!
Trousseau is native to the Jura, but I learned researching for this article that the grape has found its way to Portugal, where under the name Bastardo it is used in fortified wines.
I also found references to Trousseau recently being planted in California and the Pacific Northwest.
Trousseau may have traveled, but I would say the earthy red wine grape definitely deserves a spot in this Great French Wines you might not know article!
Savignan
Another grape worth trying from the Alps is Savignan. I don't recall too much about this one other than that I liked it!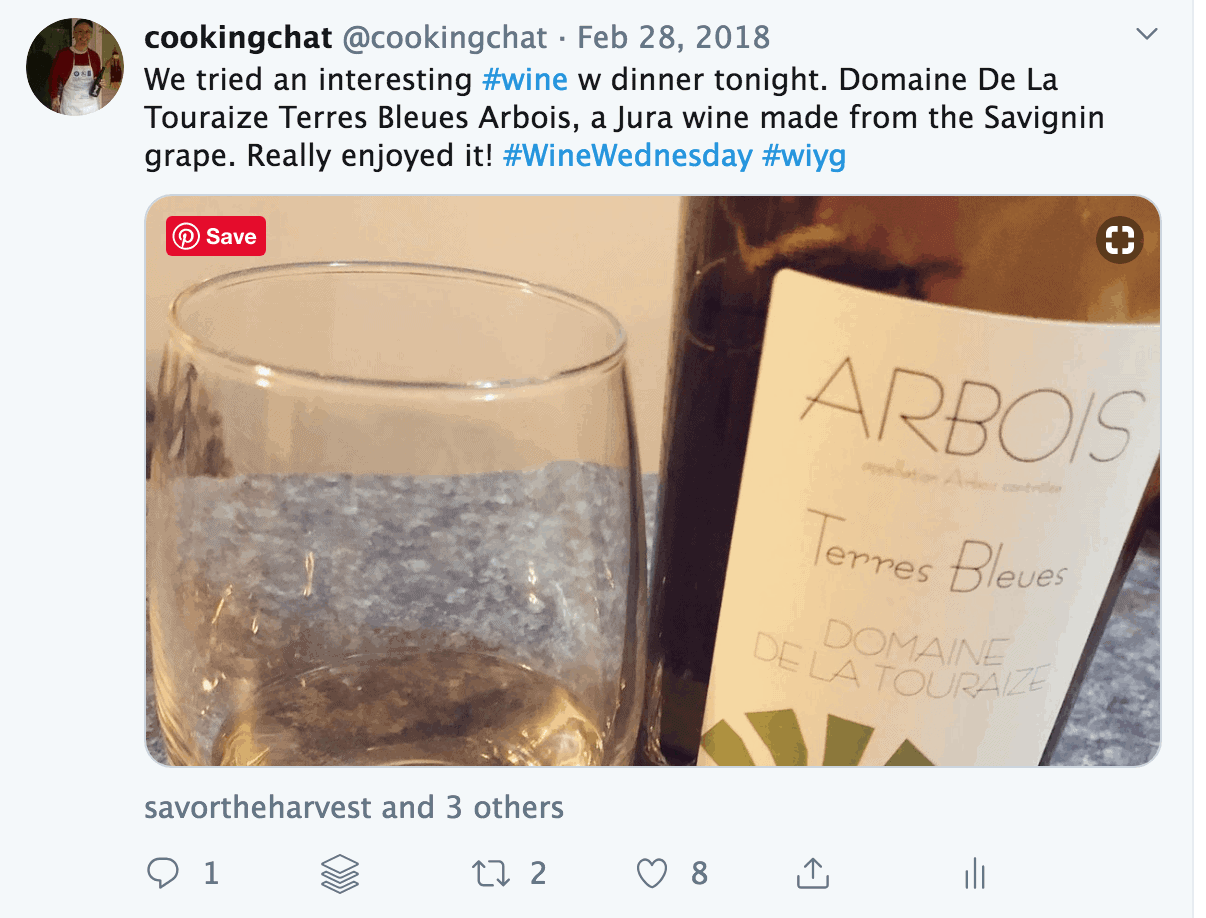 Picpoul
Picpoul definitely deserves its own section in this article!
If you are a Sauvignon Blanc fan and haven't tried Picpoul de Pinet yet, you need to get on it fast! The Saint-Peyre Picpoul de Pinet (13% ABV) is a white wine I grab regularly — at about $10 a bottle at our local shop (Pairings, in Winchester, MA) this is a no brainer.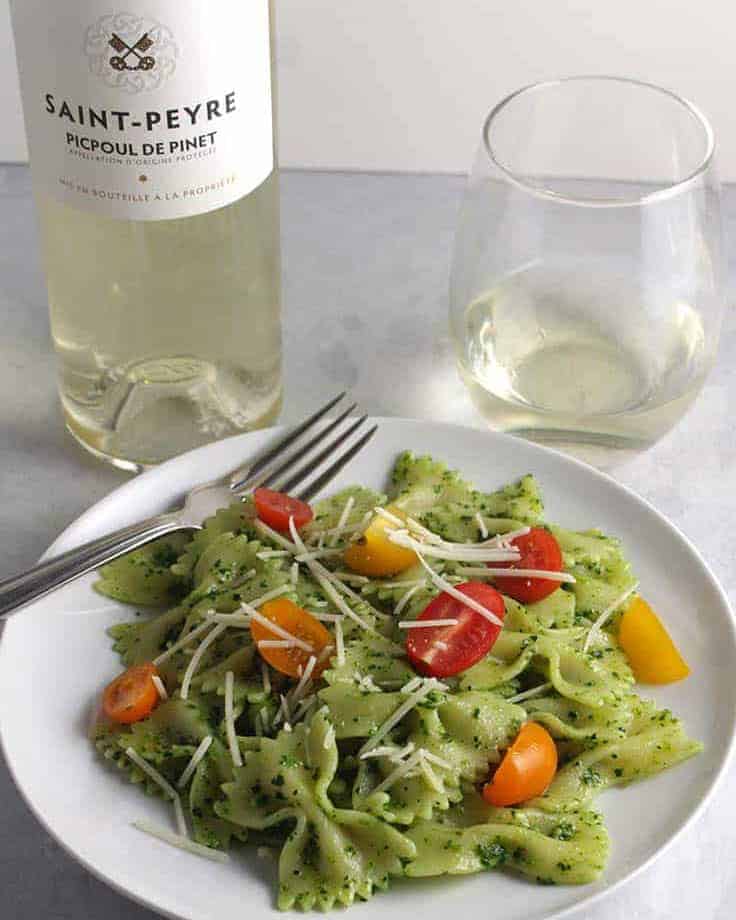 This crisp white wine also has a bit of minerality to it, making it a great partner for seafood. As shown in the photo above, I often serve Picpoul with the kale pesto I am making frequently.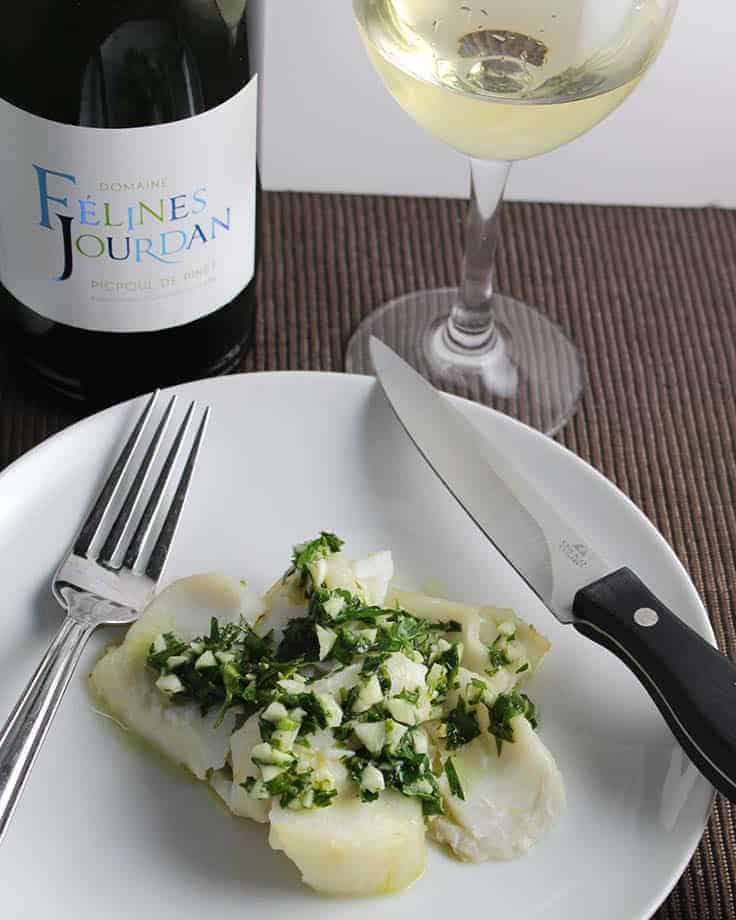 Another Picpoul, from Domaine Feline Jourdan, paired well with our Roast Cod with Herb Pesto recipe. And be sure to check out our article on Picpoul Wine with Pesto and Other Pairings for more ideas.
Background on Picpoul
I've been going on about Picpoul de Pinet, a white wine from a particular AOC in the Languedoc. But I should step back and explain that Picpoul is a wine grape that comes in both dark skinned and light skinned varieties, Picpoul Noir and Picpoul Blanc, respectively. Picpoul Blanc is more prevalent as a varietal wine, while Picpoul Noir is more likely to be used as a blending grape.
I associate Picpoul with the Languedoc, but it can also be found in other parts of France as well as Spain and California.
Picpoul Noire is more often used as a blending grape. If you'd like to try Picpoul Noire, I recommend the Clos du Centilles Minervois. This bottle is a blend but Picpoul Noire is the principal grape, and the producer is excellent.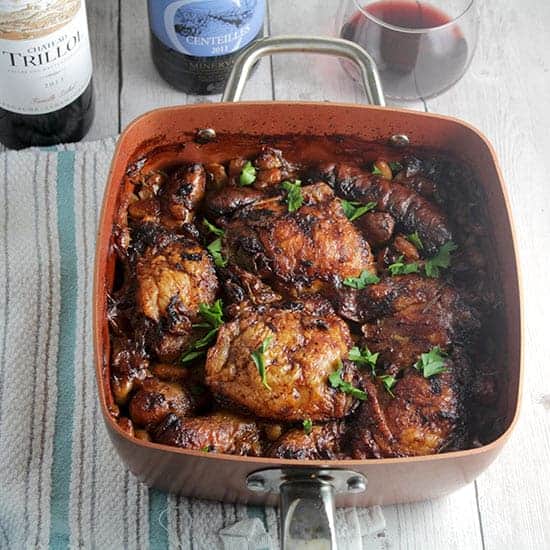 We served this Minervois with our Chicken Cassoulet recipe, and it was an excellent combination!
Indigenous French Grapes with the French Winophiles
If my coverage of great under the radar French wines, has merely whet your appetite for the subject, be sure to check out all the articles from my French Winophiles friends!
If you read this article in time, join our live Twitter chat on Saturday, February 15, at 11 a.m. Eastern time. Just tune into the #winophiles tag.