Thanksgiving is almost here, so it is time once again to bring you our Thanksgiving Wine Picks. This article starts with new picks for this year, and we have also included our  previous Thanksgiving Wine Picks to give you some additional ideas. Some of the vintages recommended in previous years might still be good options, but you could also go with the newer vintages of the same wine. The article includes some Cooking Chat favorites along with Thanksgiving wine picks from other food and wine bloggers.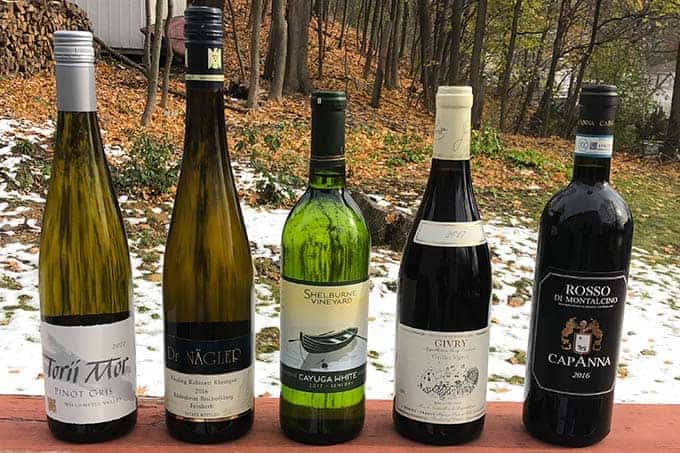 My parents host the Thanksgiving feast, so my primary contribution is wine. Sharing our Thanksgiving wine picks is probably the best way I can be a resource for you on Thanksgiving!
I used to be all red wine for Thanksgiving, mostly Pinot Noir. But the last few years I've started to see the benefits of some white wine types as being good for the Thanksgiving table. Last year, Albariño worked well, and the year prior a Furmint from Hungary.
So our 2018 Thanksgiving wine lineup starts with three whites, followed by two reds. I like to bring a variety of wines to explore which pairings work best, to inform future pairing picks. But you could do well with just one or two these bottles for your table.
This is the order I will probably serve the wines. We might try some of the whites with our appetizers, but will try to save some for the main meal!
2017 Tori Mor Pinot Gris ($22, 13% ABV) – This crisp and elegant Pinot Gris from Oregon's Willamette Valley seems like a great way to start the Thanksgiving feast! I just tasted this yesterday at Pairings, if you happen to be near the Winchester, MA, shop this wine is on sale this week for $17.59.
2016 Dr. Nagler Rüdesheimer Bischofsberg Riesling Kabinett Feinherb ($19, 11% ABV) We are focusing on German wines for the December Wine Pairing Weekend; this is one of 8 bottles I've gotten to sample for the event. This is a drier style Riesling. As I'm gravitating to more white wine for Thanksgiving, seems like the super food-friendly Riesling grape should be in the mix!
2017 Shelburne Vineyard Cayuga White ($15, 11.5% ABV) I picked this bottle up when visiting Shelburne Vineyard near Burlington, Vermont. That's right, wine from Vermont! I'll be sharing more about the winery shortly after Thanksgiving. Cayuga is a grape well-suited to Vermont's cold climate. This is a semi-dry style, meaning there's some sweetness. I was thinking I might pair it with curry, but like the idea of having a New England wine on the Thanksgiving table, given the holiday's origins here.
2017 Givry Vielles Vignes Bourgogne ($24, 13% ABV) from Parize Pere et Fils. OK, so I'm not all Pinot any more for Thanksgiving but have to open one! Why not a well-priced Burgundy?
2016 Capanna Rosso di Montalcino ($27, 14.5% ABV) Jen from Vino Travels was asking about Italian wine ideas for Thanksgiving, so that planted the seed. My first thought was a number of Italian whites could work nicely, but I already had quite a few whites waiting in the wings. This might seem like a bit over the top for Thanksgiving given the high alcohol content and tannins. But this Sangiovese based wine has a lot of elegance, drinking well above its price point. I tasted it yesterday at Pairings with some salame, and they were great paired together. I plan to bring some of that salame to nibble on along with this wine and all the other food.
Keep reading from our picks for Thanksgivings past for more wine pairing ideas for the big day! Our 2017 Thanksgiving wine picks have notes about how they actually worked out with the turkey and other holiday food.
Oh yes, do you like to start your Thanksgiving day off with some bubbly? Check out the Crémants d'Alsace I sampled recently, or maybe you would like to start with the Maple Cinnamon Prosecco Cocktail?
2017 Thanksgiving Wine Picks
Recent Turkey Tested Wine Parings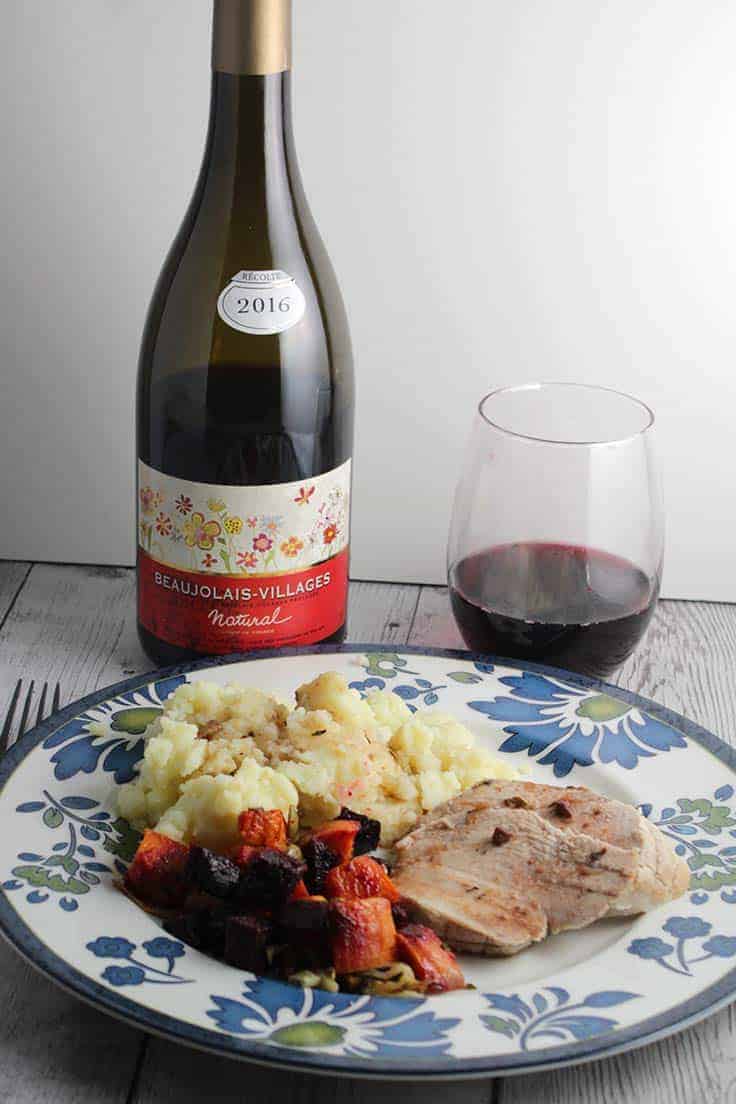 We are going to start off this year's Thanksgiving wine picks with the bottles that we have actually opened to pair with turkey recently. We only had a chance to make one turkey breast this fall, but with leftover nights did get a chance to test out a few ideas for you!
2016 Beaujolais-Villages Natural ($12, 12.5% ABV) from Vignerons de Bel Air. Cherry fruit, with some tart acidity, making it a food-friendly red wine. We enjoyed it with leftover roast turkey. A good quality Beaujolais (not the Nouveau!) can definitely be a good option for Thanksgiving. Wine sent as a complimentary sample.
2015 Novelty Hill Columbia Valley Merlot ($23, 14.4% ABV) We opened this Merlot the first night we had this Roast Turkey with Cranberry Merlot Sauce. Merlot is not a wine I would tend to think of for Thanksgiving, but I decided to give it a try for an "American wine for an American holiday" themed event. The Novelty Hill Merlot worked reasonably well with the turkey, in part because it is a more old world style wine in my estimation. But the Merlot worked even better with the Roasted Beets and Butternut Squash side dish.
2016 Hawthorne Grove California Chenin Blanc ($15, 12.5%) Chenin Blanc in general can be a good choice for Thanksgiving. We included a Chenin based Vouvray on our Thanksgiving table last year. This month we also tested out this Chenin Blanc from California with our turkey breast.  This Chenin Blanc has citrus fruit taste, with honey on the finish and some minerality.
More New Thanksgiving Wine Picks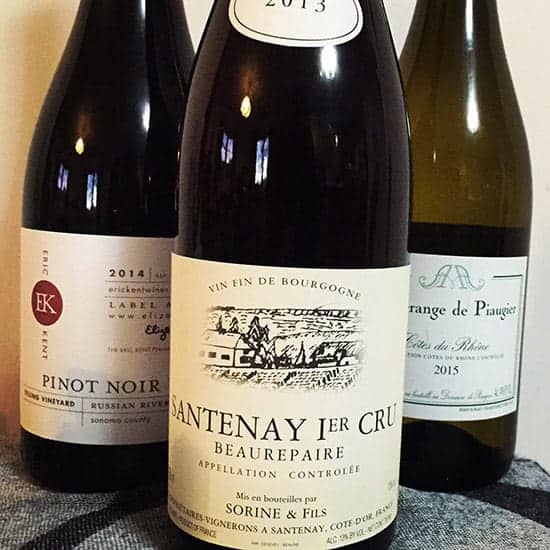 2016 Benito Santos Albarino ($20, 13% ABV) This nice crisp Albarino is going to be one of our Thanksgiving options. I don't believe I've tried this Spanish grape with the Thanksgiving feast, but it struck me as a good option during a recent tasting at Pairings Wine & Food. Report: This crisp Albarino worked quite well, especially with things like the squash and cranberry sauce.
2015 Le Grange de Piaugier Blanc ($15, 14% ABV) This white Rhone blend is a go-to white for us. I'm thinking it could work well on the Thanksgiving table!
2013 Beaurepaire Santenay Premier Cru ($29, 13%) This is a classic red Burgundy for a reasonable price (in fact you can get it 20% off Thanksgiving week at Pairings in Winchester, MA). While I have been diversifying from doing all Pinot for Thanksgiving, I always like to bring at least one Pinot. This Burgundy is definitely coming along Thursday! Report: This was a hit on Thanksgiving, definitely a good option for turkey dinner pairings.
2014 Eric Kent Russian River Valley Pinot Noir ($57, 14.6% ABV) If you want to splurge on a good Pinot, this one from the Russian River is worthy of consideration. This bottle stood out for me among 28 bottles opened at the Grand Pairing event a few weeks ago. Big, fruit forward yet nuanced American Pinot. Report: We wound up opening this Sonoma bottle with our leftovers the day after Thanksgiving. What a treat! Fruit forward, with notes of chocolate and a long finish.
2016 Thanksgiving Wine Picks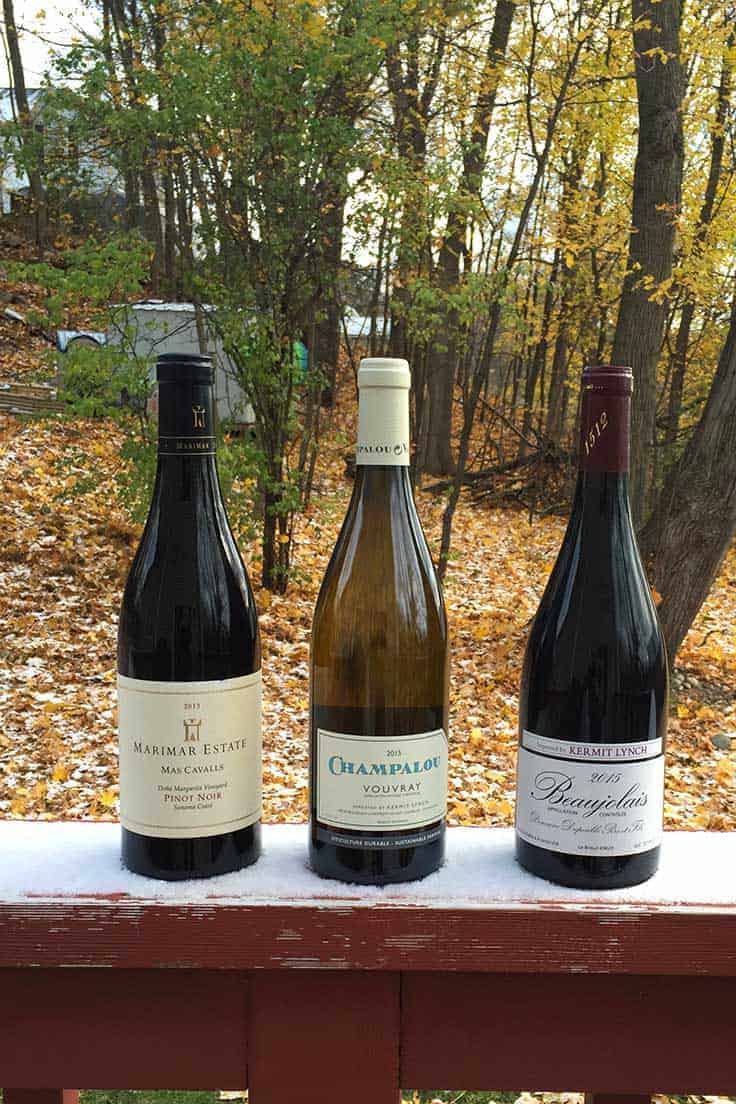 For several years, I had honed in on Pinot Noir as my choice for Thanksgiving wine. But last year, talking with Ray at Pairings Wine and Food about the merits of some white wines with the turkey dinner, I decided to open some white wine for Thanksgiving along with some Pinot. Sure enough, a white topped my list of favorites in terms of how it paired with the variety of foods we had on the table. So for our 2016 Thanksgiving wine picks, I am going to lead off with several white wine options for your holiday dinner.
2011 Royal Tokaji Furmint This white wine from Hungary was great with the turkey during our Thanksgiving dinner last year. I get stone on the nose and a smoky fruit quality that worked nicely with the gravy. Furmint is the grape, often used in a sweet dessert wine but delicious in this dry white wine. This is a white that clearly has some longevity so the 2011 might still be good if you can find it, but it looks like 2013 is the latest vintage available.
2015 Champalou Vouvray ($18, 12.5% ABV) This was my favorite white wine in the lineup of potential Thanksgiving wines I sampled the other day at Pairings. I plan to bring this as my white wine pick for Thanksgiving. This 100% Chenin Blanc has a freshness and delicate fruit that I think should go with a variety of dishes on the table. It is a Kermit Lynch selection, always a good sign.
2015 Peter Zemmer Pinot Grigio ($16) This Pinot Grigio selection from Cindy at Grape Experiences rounds out our white wine picks for Thanksgiving this year. Cindy likes its "depth and full body on the palate accompanied by lively acidity, crisp green apple, juicy pear flavors, minerality, spices, and a broad finish." Cindy has more suggestions for you in her post, 6 Impressive Wines for the Thanksgiving Feast.
Though I'm starting to appreciate the benefits of white wine picks for Thanksgiving, I do still like to have some good red wine options as well.
2013 Anaba Pinot Noir ($36, 14.1 % ABV) I haven't tested this Pinot from the Sonoma Coast with turkey yet, I suspect it will work nicely. This Pinot was perfect with our Grilled Salmon with Mushroom Sauce, something to try if you are looking for something other than turkey! Sweet cherry fruit, supple mouthfeel.
2013 Marimar Estate Mas Cavalls Pinot Noir ($44, 14.2% ABV) Another Pinot pick from the Sonoma Coast. This was one of my favorites at the semi-annual grand pairing event at Pairings, which meant it stood out from about 25 wines I sampled that day. I picked up a bottle figuring it could be a nice Thanksgiving option, and have managed to resist the temptation to open it sooner!
2015 Domaine Dupeuble Beaujolais ($17, 13.5%) Beaujolais is a food friendly wine that can be a good alternative to Pinot. I liked this bottle when I sampled it the other day, and decided to try it out as one of our Thanksgiving Wine Picks for this year. Will let you know how it goes!
2014 Troon Vineyard Sangiovese Rogue Valley Southern Oregon ($35): Michelle from Rockin' Red Blog goes with Sangiovese from Oregon, a creative choice. Her notes "Notes of tart red fruit, spice notes leading with cinnamon, dried savory herbal notes, and dusty earth with a tickle of orange zest on the back of the palate; elegant, textural, well-balanced, full-body, lingering finish."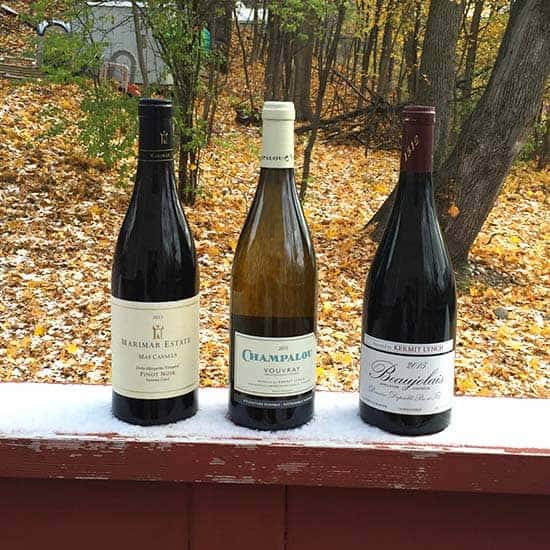 2015 Thanksgiving Wine Picks
Well, we are just a few days away from Thanksgiving! If you are hosting, you are probably getting ready for the big cooking effort, and perhaps have started on a few things. Hosting or visiting, you might also be considering your Thanksgiving wine picks. There's a lot of variety on the Thanksgiving table, so what wine to serve with the feast can seem daunting. To provide some help, today we bring you 10 Thanksgiving Wine Picks from #winePW Bloggers. The Wine Pairing Weekend bloggers are thinking and writing a lot about food and wine pairings, so it's a good group to tap for Thanksgiving wine pairing advice! Whether you are ready to splurge a bit or looking for a bargain, we've got you covered.
The Thanksgiving wine picks start with a couple of bottles meant to pair with starter courses. Then we move on to a group of wine choices for a fairly traditional Thanksgiving turkey dinner. But turkey isn't for everyone, so we have a couple of other options for you. And don't forget about dessert! We conclude our Thanksgiving wine picks with a delicious dessert pairing.
For each pick, we try to provide some of the insights behind the wine pairing choice. Text in quotes indicates the voice of my fellow bloggers; in other instances, I have summarized their recommendations. I hope these picks are helpful! If you would like individualized wine pairing guidance for Thanksgiving or other upcoming holidays, check out the wine pairing services we offer.
Michelle from Rockin' Red Blog
Thanksgiving Wine Pick (starter course): Acquiesce 2014 Viognier ($23)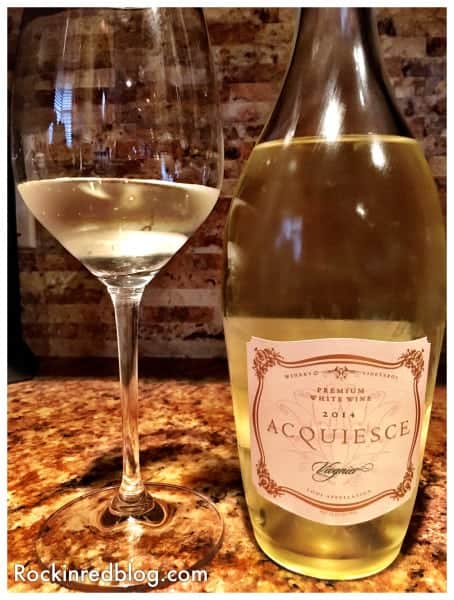 About the pairing: Michelle paired this Viogner from Lodi with a Roasted Butternut Squash Bisque and a Fall Harvest salad, and was pleased with the results. Michelle describes the wine: "soft gold; aromas of honeysuckle, stone fruit, citrus and grassy notes; surprisingly acidic for a varietal that tends to lack acidity, round on the palate with a nice mineral spine, clean and crisp with a lingering dry finish; an elegant and pleasing wine. Get more wine ideas from Michelle, and links to the recipes she paired with them. 
Culinary Adventures with Camilla
Thanksgiving Wine Pick: 2014 Montmassot 2014 Picpoul de Pinet
About the pairing: Camilla paired this Picpoul de Pinet, a white wine from the Languedoc, with her Beurre Noisette-Braised Radishes which sound like they could be a delicious first course or an additional side dish for the Thanksgiving. She was also sampling a red wine from the Languedoc with the radish dish, visit her site for more details on the wines and recipe.
David from Cooking Chat (that's me!)
Thanksgiving Wine Pick: 2012 Ellipsis Pinot Noir ($20, 14% ABV)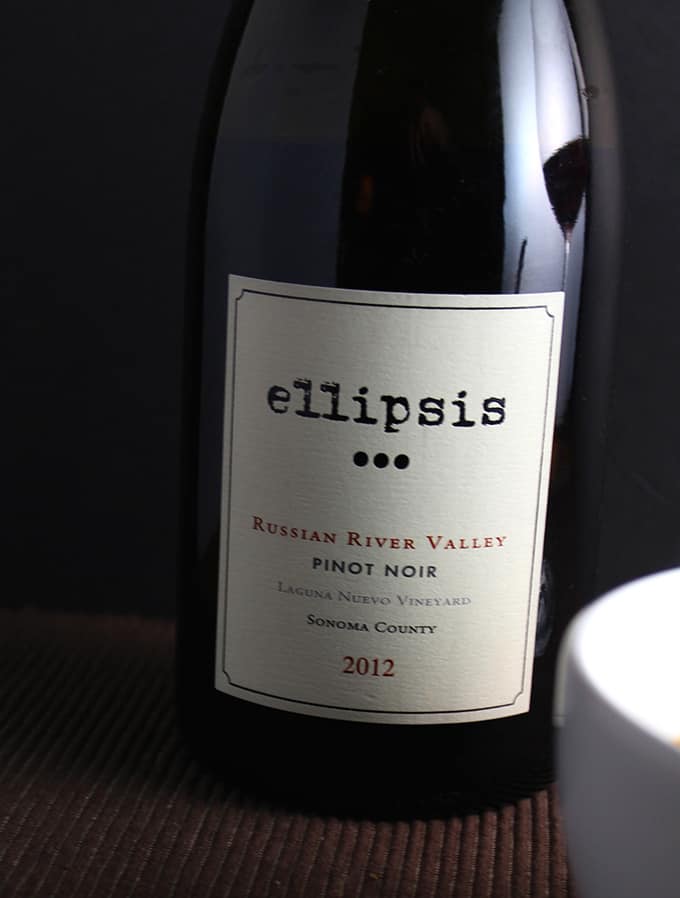 About the Pairing: I've experimented over the years with different Thanksgiving wine pairings, but I always seem to keep coming back to Pinot Noir as my favorite choice for the holiday. With a lot of folks and a lot going on around the table, this isn't the time for a splurge Pinot. Rather, I want something that tastes great and complements the food nicely. I tried the Ellipsis Pinot Noir from Sonoma County and immediately pegged it as one I'd bring with me to the Thanksgiving feast this year. I noted it tasted of "chocolate and strawberries". I'll have report back on how it goes with the meal! I'm not cooking the turkey, but if you're looking for my version of roast turkey, you can get that recipe here.
Jade from Tasting Pour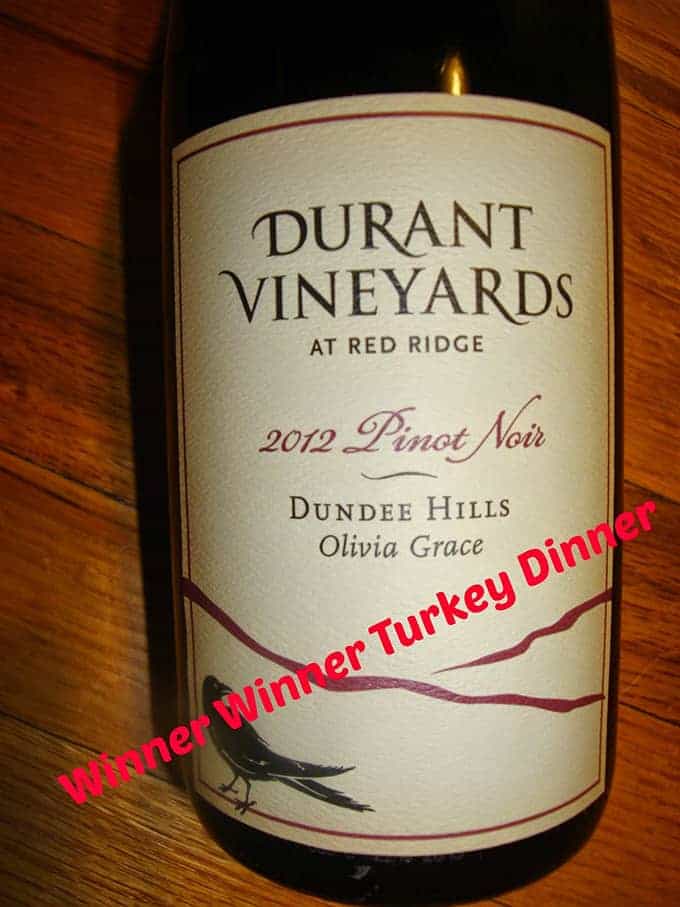 Thanksgiving Wine Pick: 2012 Durant Vineyards Dundee Hills Pinot Noir ($42
About the Pairing: It's no surprise that Jade recommends Oregon Pinot Noir for Thanksgiving; she's a great advocate for the region. (though the wine speaks pretty well for itself!) In particular, she recommends the "elegant yet rich" 2012 Oregon Pinot Noir vintage for a traditional Thanksgiving turkey meal. After sampling several good options for Thanksgiving, Jade gave the nod to the  2012 Durant Vineyards Dundee Hills Pinot Noir. More about this wine and the others Jade sampled to arrive at her pick.
Me again!
Thanksgiving Wine Pick: 2013 Domaine Terres Georges Minervois Et Cetera ($14)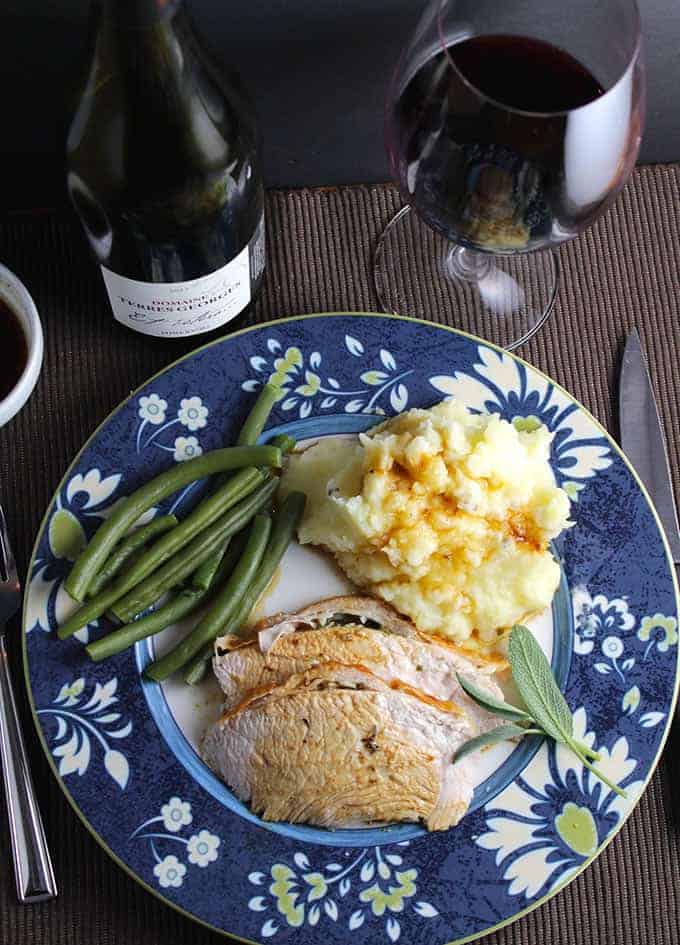 About the Pairing: I made Garrigue Roasted Turkey Breast with a butter flavored by the herbs you might smell driving with the window down in the countryside of Southern France. Those "garrigue" herbs set up a great pairing with a wine from the Languedoc region. The Domaine Terres Georges wine has earthiness and fresh herbs on the nose. Tastes of plum fruit, lavender and stone. Those garrigue herbs really come through, and make for a great pairing with the herb roasted turkey breast. This wine is a blend ofa blend of Carrignan (40%), Grenache (40%) and Syrah (20 %). Though I mention earlier that I gravitate toward picking Pinot for Thanksgiving, I will definitely think about Languedoc blends like this one for the holiday, too. Just cooking the turkey breast can be a nice option if you are having a smaller gathering–or don't have anyone that eats the dark meat!
Ellyn, from the Wine Pairing Weekend group
Thanksgiving Wine Pick: 2014 Chateau St. Michelle Riesling ($9, 12% ABV)
About the Pairing: This dry Riesling from Washington's Columbia Valley "works well with the sensory complexity of the holiday table," Ellyn commented on our Wine Pairing Weekend Facebook group. I picked up on this idea in part noting that we didn't have any other white wine suggestions for the main course. Many people do like the way a food-friendly white wine works with the traditional Thanksgiving spread.
Jeff from foodwineclick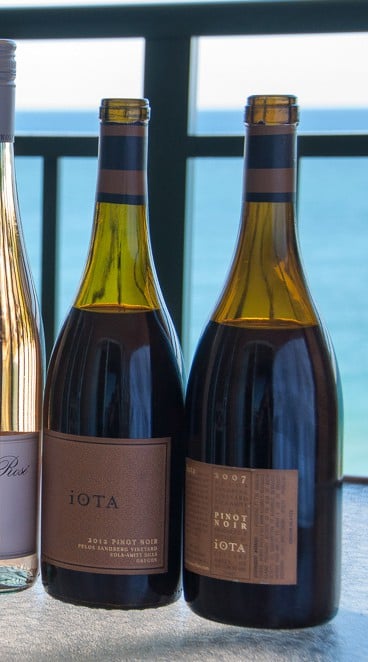 Thanksgiving Wine Pick: iOTA Cellars Pelos-Sandberg Vineyard Pinot Noir  ($40 ABV varies with the vintage, typically 13-14%)
About the Pairing: "As a medium bodied red wine, Pinot Noir complements a wide variety of foods without overpowering the food.  I especially love Pinot Noir from the Willamette Valley in Oregon as they tend to be a bit less powerful and more elegant than many California Pinot's.  Finally, Thanksgiving is all about family and friends and the Pelos – Sandbergs are close friends of ours for many years, how better to celebrate!" More about iOATA Cellars on the winery website.
Cindy from Grape Experiences
Thanksgiving Wine Picks: 2012 Michaels Cuvee from Cornerstone Cellars ($75) and  2011 The Oracle from Miner Family Vineyards ($90).
About the Picks: Cindy offers two rich and luscious red wine choices for those that might be serving a special beef dish or some other hearty alternative to turkey. Sound like you? Visit Grape Experiences for more details on these special wines. 
Nancy from Pull That Cork
Thanksgiving Wine Pick: 2012 Storm Pinot Noir ($49, 13%ABV)
About the Pairing: Nancy prepared Seared Duck Breast for two, which sounds like a delicious idea if you are simply enjoying Thanksgiving as a couple. The Storm Pinot Noir from South Africa sounds like a delicious and intriguing wine. Nancy calls it "one of the most complex examples of Pinot Noir I have tasted in some time." Head over to Pull That Cork for more details on the wine and the duck breast recipe.
Martin from ENOFYLZ Wine Blog
Thanksgiving Wine Pick: R.L. Buller Premium Fine Muscat  ($13.99, ABV 18%)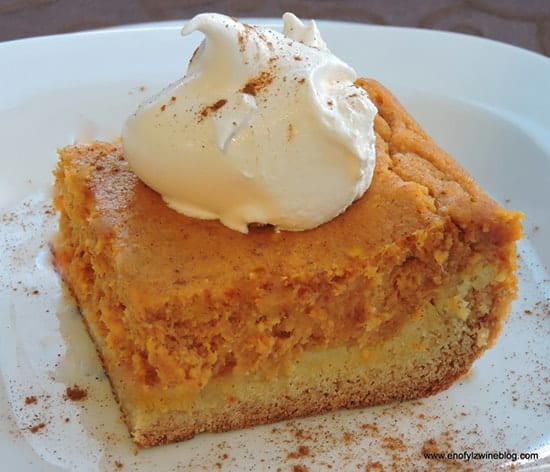 About the Pairing: "Don't forget about a dessert wine this Thanksgiving.  And this rich, unctuous fortified dessert wine from the Rutherglen region of Australia is the perfect compliment to your sweet potato, pumpkin, pecan, or in my case, Sweet Potato Pecan pie.  This wine is full-bodied, and rich, with vibrant acidity to keep it from being too cloying.  Its molasses, date, caramel, orange peel, baking spice, and slightly nutty character will put an exclamation point on your dessert!  And it won't break the bank at $14!" More about this wine pairing on ENOFYLZ.