Vegetarian Stuffed Acorn Squash recipe features roasted acorn squash stuffed with farro, portobello mushrooms, garlic and spinach. A hearty meatless meal, perfect for autumn! We paired this recipe with the Duckhorn Napa Valley Merlot as part of #MerlotMe month observances with Wine Pairing Weekend. Disclosure: Wines discussed here sent as complimentary samples.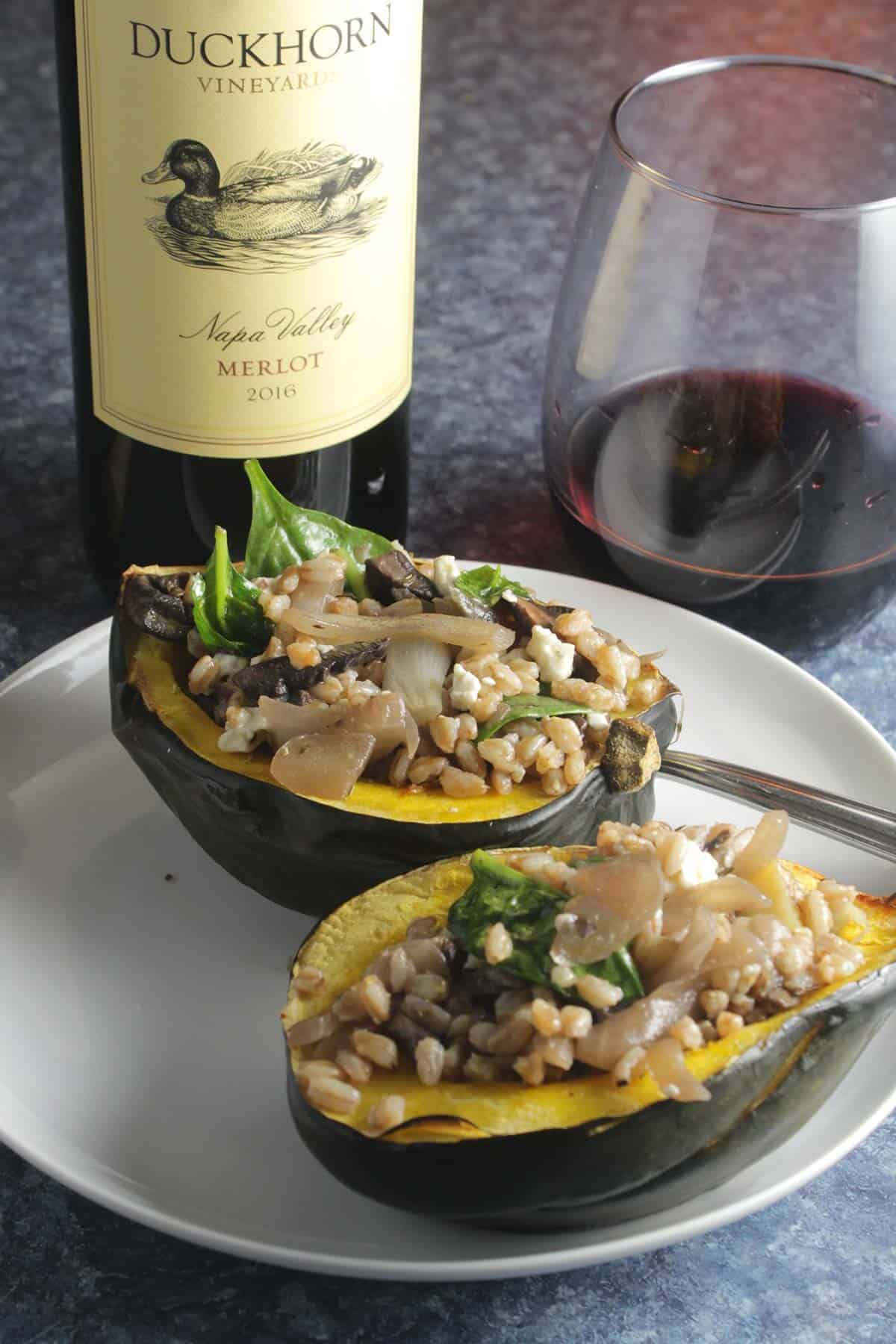 This is now our 5th year for the Wine Pairing Weekend group to observe October as #MerlotMe month! In Jeff's invitation post on foodwineclick, you can find links to all the #MerlotMe pairing articles the group has done over the years.
My first instinct is to go with beef or pork for a Merlot pairing — such as the BBQ Beef Stew I shared last year, or the Roasted Rosemary Pork Chops. With the Garlic Thyme Crusted Tuna, we showed that Merlot can also go with fish.
This time I wanted to come up with a vegetarian dish that would pair with Merlot. Mushrooms are Merlot friendly, so I figured combining some with hearty farro grain would have the potential to be a good match for Merlot. And being autumn, serving that farro mushroom mixture in a roasted acorn squash seemed perfect for the season!
Making Vegetarian Stuffed Acorn Squash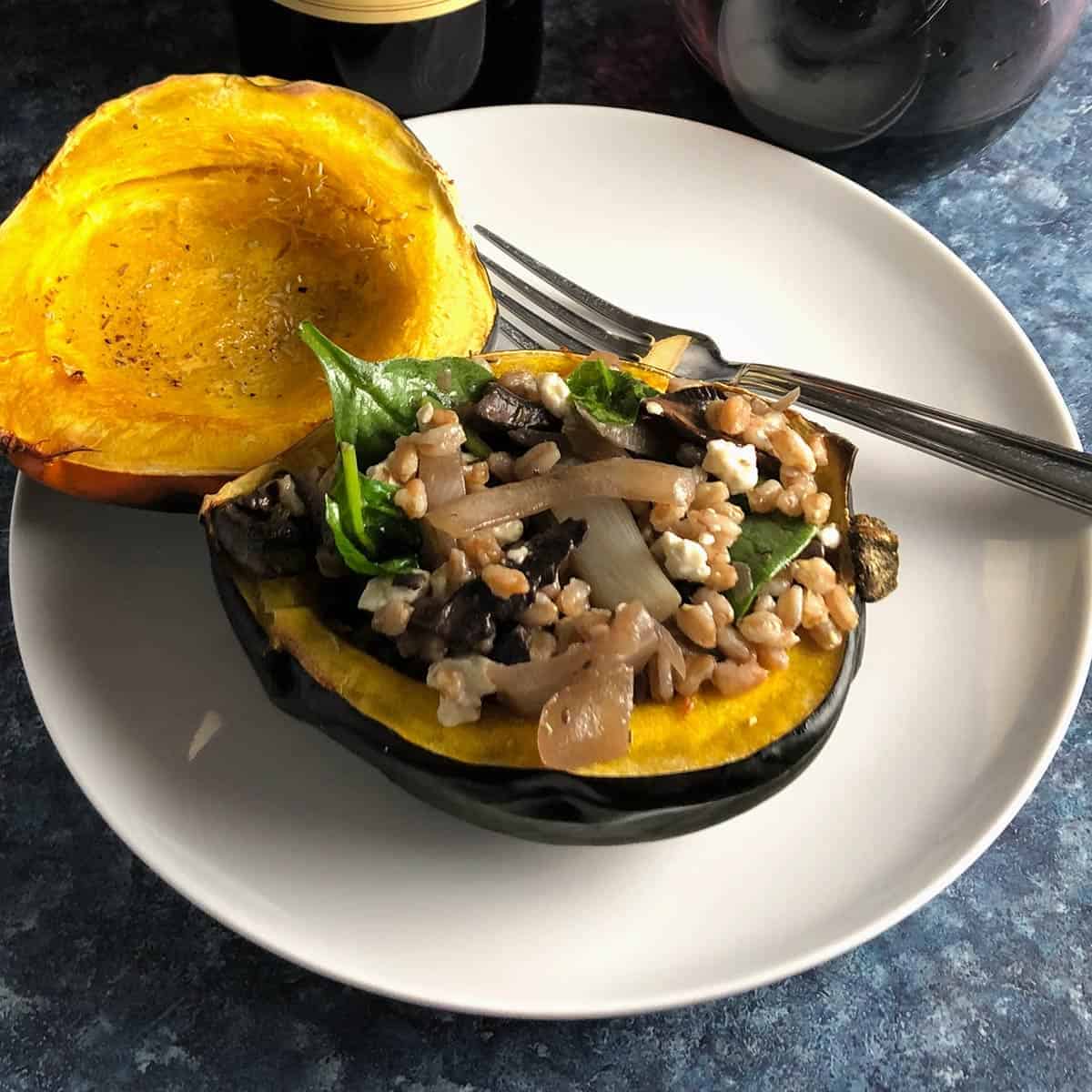 The roasted acorn squash is great for presenting, but the filling really makes the meal! I like the hearty farro grain in this dish, but you could definitely substitute quinoa if you prefer or have it handy.
Here are some tips for making our stuffed acorn squash recipe:
Start by prepping the squash. After cutting the acorn squash in half, I like to use an ice cream scooper to remove the squash seeds (Amazon affiliate link used for the kind we have).
You can get the the filling ingredients–farro plus the mushroom mixture–made as the squash roasts along with the garlic.
Farro is an ancient whole grain. We used pearled farro, that is easier to find. Here is a an Amazon link to get some Farro grain if you need some.
I had seen portobello mushrooms mentioned specifically as a good match for Merlot, so that is what we used. You could go with other types of mushroom, but if you are aiming to pair with Merlot I would stick with a mushroom that will give deep flavor. Porcini or shiitake come to mind.
Baby spinach rounds out the squash stuffing in our preparation. You could use other greens on hand if you like.
Combine the farro with the mushroom mixture when ready, then stuff the acorn squash.
Half a squash with the mushroom farro stuffing makes a nice presentation. But cutting that half in half (i.e. a quarter of the squash), then serving as shown above along with a bit extra farro probably works better in terms of portion size. Unless you are very hungry for acorn squash!
OK, check out the recipe card for full details, it is time to talk about the wine pairing!
Duckhorn Napa Valley Merlot with Stuffed Acorn Squash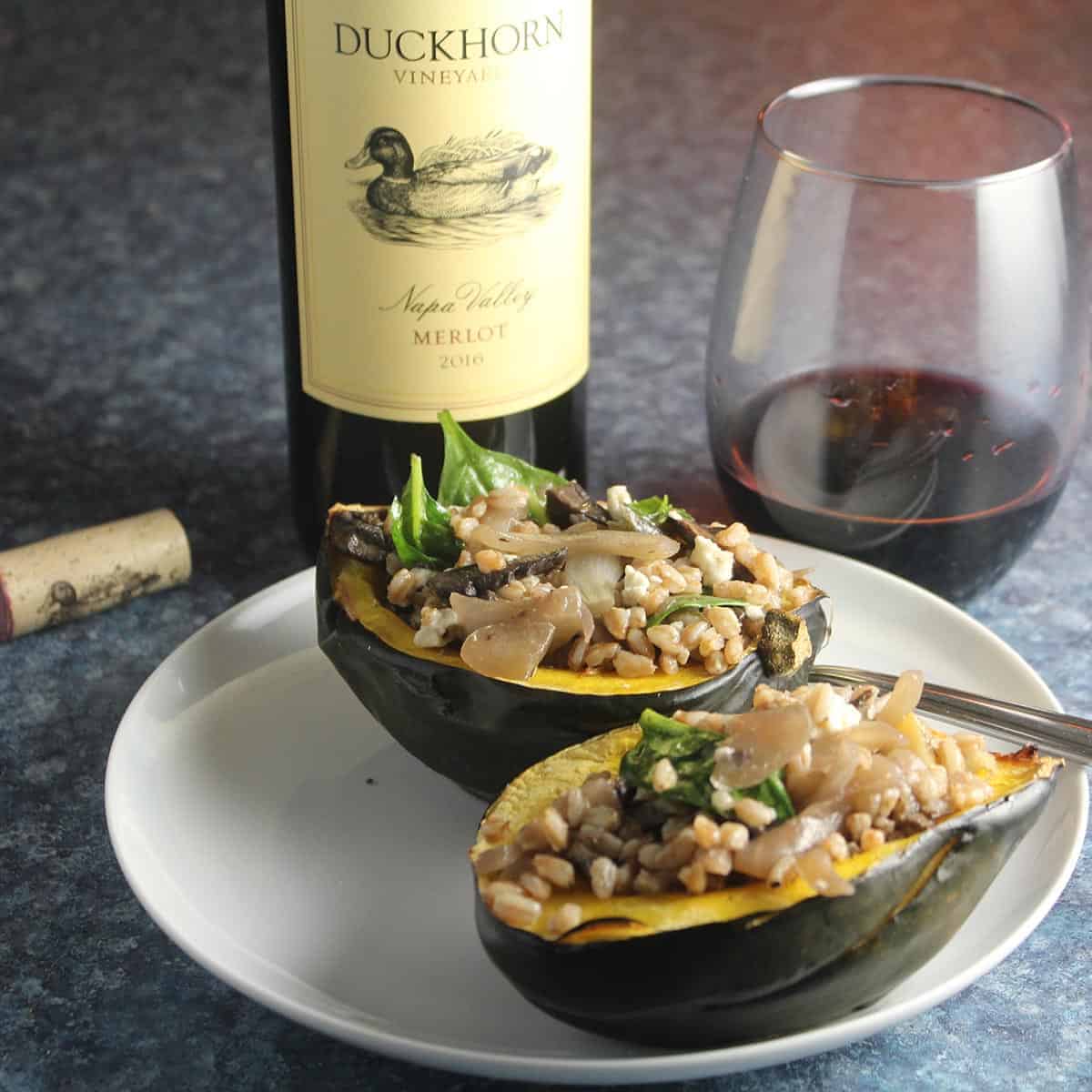 We were excited to once again receive a #MerlotMe month care package from Duckhorn! Led by founder Dan Duckhorn, the winery has been at the forefront of showing the potential of the quality that can be achieved with Merlot grown in United States. In fact, their 2014 Three Palms Vineyard Merlot was awarded the 2017 Wine Enthusiast wine of the year honors. We enjoyed that award winning wine with Roasted Lamb Chops.
This year we opened the 2016 Duckhorn Napa Valley Merlot ($56, 14.5% ABV) for the #winePW observances. The wine is comprised of 77% Merlot, 22% Cabernet Sauvignon and 0.5% each Malbec and Petit Verdot. The wine is a blend of several individual Napa Valley vineyards lots, both estate vines and some other top vineyards. Our tasting notes:
Eye: deep brick red in the glass.
Nose: Cigar box and cloves on the nose.
Body: A full bodied red wine with lingering finish.
Palate: Cherry fruit and notes of cinnamon spice on the palate. A very enjoyable wine to drink on its own, as well as being food friendly.
Winemaker notes: 15 months aging in French oak, 40% new and 60% neutral. Harvest dates August 31 – October 19.
Pairing: The flavor profile of the wine and the dish match up nicely–fruity roasted acorn squash and hearty farro mushroom mixture are matched by the fruit aspects of the wine and the silky tannins. However, even with heartiness of the dish, this big red wine is just a bit heavy for the vegetarian recipe. Strict vegetarians, avert your eyes for a moment — the pairing became perfect when I added a few bits of our carnivorous son's pork chop into the mix! To perfect the vegetarian pairing, I might try adding a bit of seitan or perhaps some Beyond Meat sausage.
More #MerlotMe Month Fun
We have a bottle of Decoy Merlot waiting in the wings to open soon. I think I'm going to try it paired with our roasted beet dip, stay tuned for the results!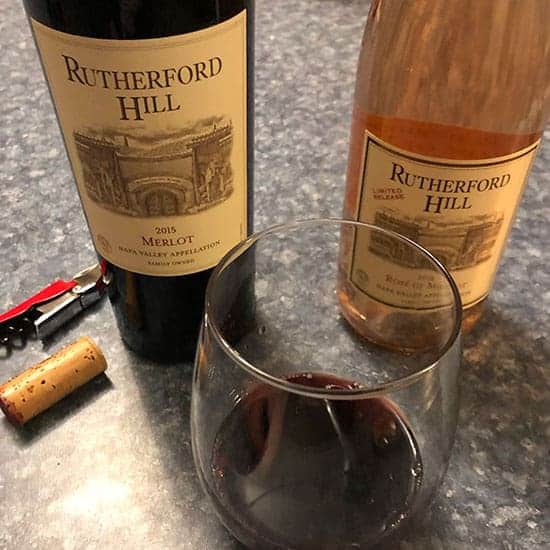 This year's #MerlotMe month deliveries also brought us a pair from Rutherford Hill, another Napa Valley producer. I especially liked their 2018 Rosé of Merlot ($34, 13.5% ABV), with a lively floral nose and peach fruit and a touch of kiwi on the palate. The tasting sheet noted it was made as a Provence style rosé. I took the hint and paired with with some olive tapenade, and it was delicious! So if you want to #MerlotMe on one of those warm October afternoons, I definitely would encourage you to grab the Rutherford Hill Rosé of Merlot!
Print
Recipe card
Vegetarian Stuffed Acorn Squash
Vegetarian roasted acorn squash stuffed with farro, portobello mushrooms, garlic and spinach. A hearty meatless meal perfect for autumn!
Author: Cooking Chat
Prep Time:

10 mins

Cook Time:

40 mins

Total Time:

50 mins

Yield:

4

servings

1

x
Category:

main

Method:

roasting + stove top

Cuisine:

vegetarian
1

acorn squash

2 tsp

extra virgin olive oil, divided

½ tsp

rosemary
salt and pepper to taste

1

head of garlic

2 cups

of water

1 cup

of farro grain, rinsed

2 tbsp

extra virgin olive oil, divided

1

onion, chopped

2

medium portobello mushroom caps, sliced

⅓ cup

dry red wine

½ tsp

dried thyme

1 tbsp

butter

1

to

2

cups baby spinach

⅓ cup

feta cheese
Instructions
Prep the squash: Preheat oven to 400 degrees. Cut the squash in half, and lay them flesh side up. Scoop out the seeds — I like to use an ice cream scooper. Sprinkle 1 teaspoon of the oil over the squash flesh. Place the squash flesh side down on a baking sheet and place in the oven. The squash will take about 40 minutes to roast at 400.
Prep the garlic: Cut the root end off the head of garlic, exposing the bottom of the garlic cloves. Drizzle exposed cloves with 1 teaspoon of the olive oil. Wrap the garlic in aluminum foil, place on the baking sheet next to the squash in the oven.
Cook the farro as the squash roasts. Bring the water to a boil, then add the farro grain. Simmer covered on medium low heat until the water has been absorbed, about 20 minutes. Get the mushroom mixture going as the farro cooks.
Sauté the mushrooms: Add 1 tablespoon olive oil to a sauté pan on medium low heat. Add the onions, and cook for about 5 minutes until they begin to soften. Stir in the portobello mushrooms, cook for about 5 minutes until they begin to soften. Add the red wine and the dried thyme, cook another 5 minutes. The wine should be mostly absorbed. Stir in the butter and spinach, cook for another minute, then set the mushroom mixture aside.
Check squash and garlic: The squash and garlic will take about 40 minutes to roast. The squash will pierce easily with a fork when done, and the garlic should be soft and golden brown. Set the roasted vegetables aside when ready.
Combine the farro and mushrooms: When the farro has absorbed the water after about 20 minutes, stir in the mushroom mixture. Squeeze out 1 tablespoon of roasted garlic and stir into the mixture along with the cheese.
Plate Vegetarian Stuffed Acorn Squash: Place one of the roasted acorn squash halves face up on a plate. Fill with a scoop of the farro and mushroom mixture. One stuffed squash half makes a nice presentation, but you can cut it in half to share for a more modest serving size. We did this and added a little bit extra of the farro mushroom mixture on the side. Enjoy!
Notes
Farro is an ancient whole grain, a hearty and nutritious choice. We've been getting pearled farro lately and the cooking time is based on that; if you are using the whole farro grain follow the package cooking instructions, it will take longer.
Use a good sized chopping knife to cut the acorn squash in half.
I like to use an ice cream scooper to remove the squash seeds (Amazon affiliate link used for the kind we have).
Clean the portobello mushrooms by gently scrubbing the mushroom caps with a vegetable brush under cold running water.
Keywords: vegetarian stuffed squash, acorn squash, farro and mushrooms, merlot pairings
Recipe Card powered by
Hungry for more ways to enjoy acorn squash? Try our Creamy Roasted Acorn Squash Pasta recipe!
2019 #MerlotMe Month Pairings from Wine Pairing Weekend
Thanks to the generous help of the #MerlotMe producers, many in our Wine Pairing Weekend group received samples design pairings around. Join us this weekend as we blog, tweet and chat about the wonders of Merlot! Our blog posts will go live on Friday and Saturday, October 11-12. We'll host an hour long chat on Twitter on Saturday, Oct. 12 at 11am EDT, 8am PST. Come and join us at the #MerlotMe and #WinePW hashtags on Twitter. We love visitors. We even love hecklers, join us!
Take a look below at all the great ideas for your next bottle of Merlot.