A delicious sesame free hummus recipe with plenty of flavor. Homemade hummus is so easy to make! Excellent paired with white wines from the Middle East.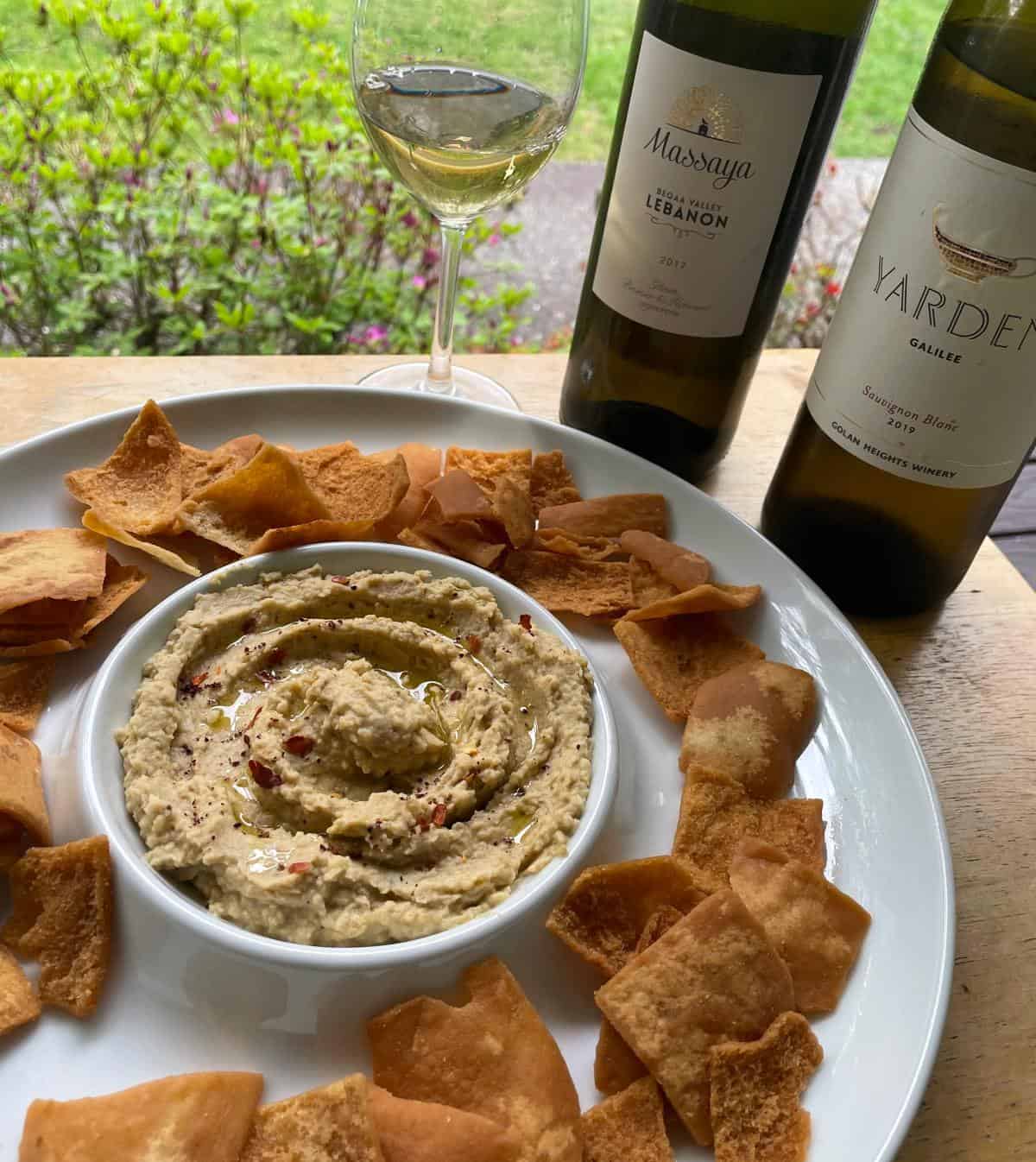 Today's article combines two of our major interests here on Cooking Chat — tracking down interesting wines, and creating recipes that work with our son's food allergies.
Jump to:
Making hummus without tahini
Tahini is a paste made from sesame seeds, and is typically used in hummus and other Middle Eastern dishes.
Sesame seeds are tricky when it comes to food allergies. With over 1 million Americans allergic to sesame seeds, it is in the top 10 food allergens. However, it is not currently required to be listed as an allergen. Good news — recently legislation changes requires sesame to be listed as in allergy warnings starting in 2023. Some companies are getting out in front of that and already including sesame warnings.
What can I use instead of tahini?
The first time I prepared homemade hummus I simply skipped the tahini. It was definitely tasty, but for this sesame free hummus recipe I wanted to experiment with some tahini alternatives.
I reviewed this article about tahini substitutes, and Sun Butter caught my eye as something to try. I thought the nutty flavor of this butter made from sunflower seeds could be a good option.
Peanut butter is also mentioned in the tahini substitutes article, too, but we have a nut allergy here, too. So that wasn't going to work, and I would suspect the flavor would be a bit much for the hummus.
I didn't want to overwhelm the hummus with the Sun Butter flavor, so I went easy on it. I added 1 teaspoon of the Sun Butter, and I liked the extra depth of flavor it added to the hummus. Unless you are are huge Sun Butter fan, I wouldn't sue more than that small amount.
I do list the Sun Butter as an optional ingredient, as you can skip it and still have tasty hummus.
Other hummus ingredients
Ok, so we have covered one common hummus ingredient, tahini, along with substitutes for it. Hummus is a simple spread, with just a few standard ingredients:
Chickpeas: I suppose there are other kinds of hummus out there, but it always starts with a can of chickpeas for me!
Garlic: Most hummus recipes I reviewed have one clove of garlic. That's what I used, but I'm thinking I might experiment with two! You can also try adding roasted garlic — check out this Roasted Garlic Hummus recipe from Intentional Hospitality, which also has tips on roasting garlic.
Extra virgin olive oil: Some good quality evoo is key!
Lemon juice: Freshly squeezed lemon juice is key part of most hummus recipes — and it sets up the wine pairings we test nicely too! How much lemon juice you use is a matter of taste. I saw recipes call for between ¼ of a lemon to a whole lemon. We split the difference, and used ½ a lemon.
Cumin is a common spice added to hummus. We recently tracked down some sumac, a tart, fruity tasting Middle Eastern spice ground from dried berries. I added a bit of sumac to the hummus while pureeing it, then also sprinkled a bit on top for the presentation. Sumac makes a nice addition, but I have also made this without it, so list it as optional.
What to serve with hummus?
I like to serve our sesame free hummus with pita chips. I typically buy store bought pita chips, here's a homemade recipe from Butter & Baggage if you're inclined.
You can also simply warm some pita bread. Maybe you want to try tome make some homeade pita bread? Recipe link from That Skinny Chick Can Bake.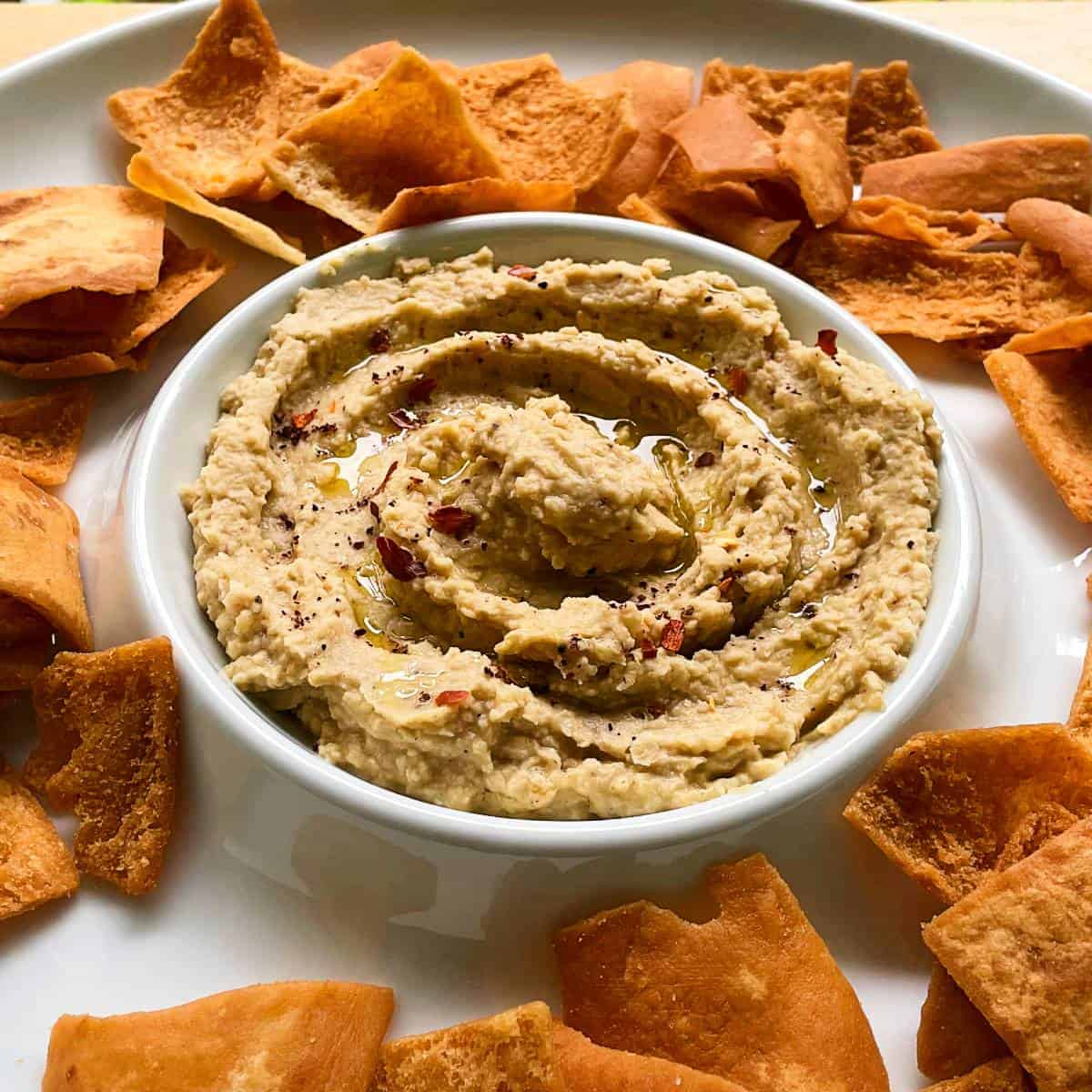 Serving hummus with sliced raw vegetables is also very tasty and healthy. I especially like to serve hummus with sliced red bell peppers.
More Middle Eastern flavored recipes
I've been cooking more with Middle Eastern ingredients lately. Sharing a few of my favorites — some might be more North African, strictly speaking. But the tend to use some of the similar ingredients and spices.
Wine pairings
I thought it would be fun to test out two wine pairings for our hummus recipe.
I started out with the 2019 Yarden Sauvignon Blanc ($15, 13.5%). This wine comes from the Golan Heights, which is a relatively cold climate, with high altitude and volcanic soil.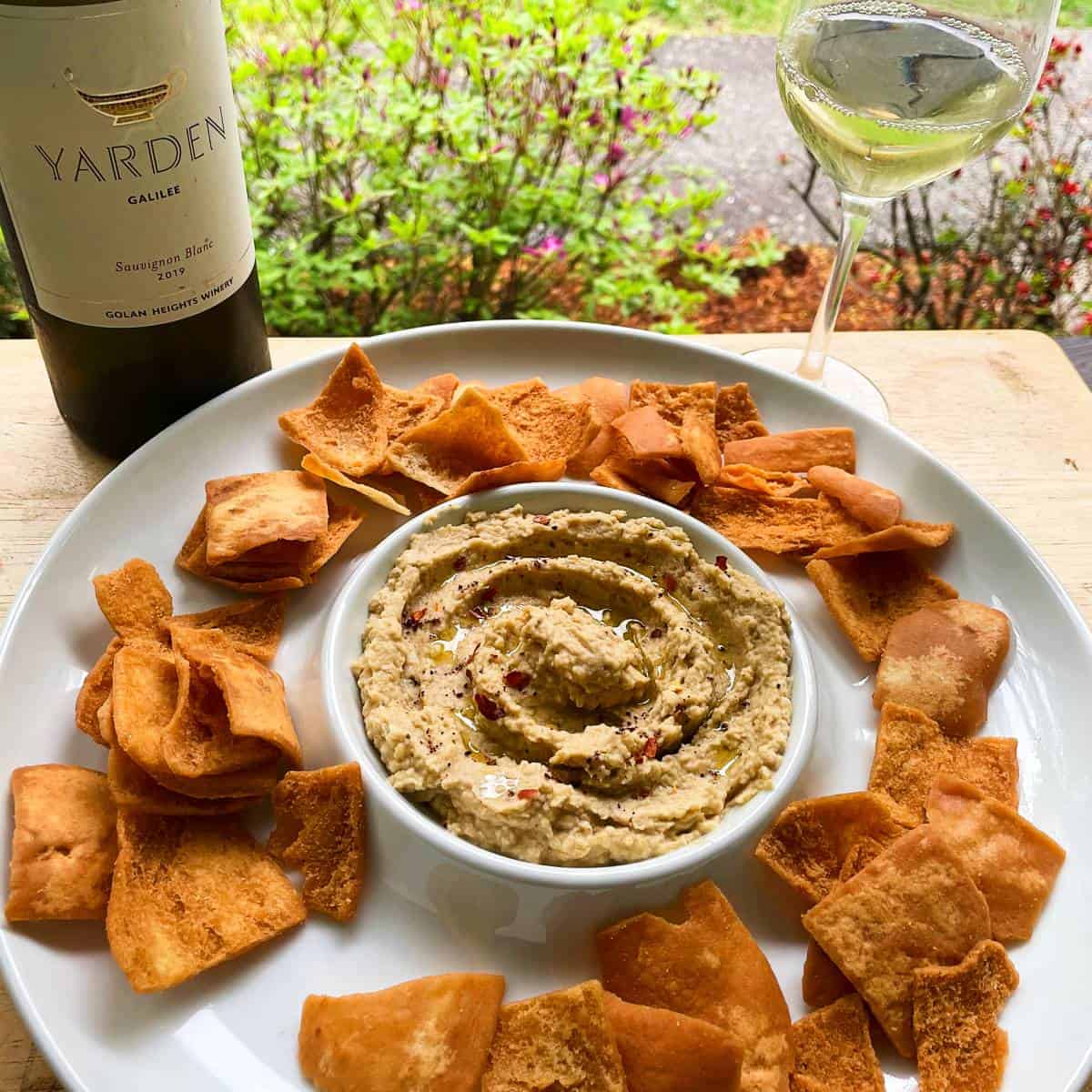 The Sauv Blanc is a plate straw color in the glass. Lively citrus nose with a bit of petrol. On the palate, I get grapefruit and notes of lychee. There's a tartness to it, a bit similar to a New Zealand Sauvignon Blanc, but a bit more restrained. Fairly light bodied wine. Definitely a solid pairing for the hummus.
We actually did a pairing with Yarden wines for Wine Pairing Weekend, and included hummus in our pairings. I also had a chance to learn about Yarden at a wines of Israel tasting a couple years back — my notes from remind me to suggest that you try their Blanc de Blancs if you get a chance!
A white blend from Lebanon
We then turned to the 2017 Massaya Blanc ($17, 13% ABV) from Lebanon. This is a white wine blend of Obeidi, Rolle (Vermentino), Clairette, Sauvignon Blanc and Chardonnay – 20% of each of these grapes. The grapes come from Mount Lebanon and the Beqaa Valley.
Obeidi, also known as Obaideh, is a new one for me! Obeidi is one of two white wine grapes native to Lebanon. This grape brings nice aromatics to a blend.
The Massaya has a golden hue in the glass, with traces of jasmine. On the palate, the wine has Meyer lemon fruit and floral notes, with a touch of oak. Medium bodied, and some interesting complexity — which paired up very nicely with the lively flavors of the sesame free hummus!
The Massaya winery has an interesting backstory, as I learned from the Grape Collective interview with owner Sami Ghosn. His family acquired the Beqaa Valley property in the 1970s, but they were forced to flee during the civil war. He returned and founded the winery in the 90s, starting with the native Obeidi grape.
I don't see organic or other such certification on the label, but Ghosn indicates in the interview that they don't use pesticides or fertilizer, nor do they irrigate their vines.
If you are looking for the Masaya Blanc in the Boston area, I found it at Berman's in Lexington.
This was my second experience with wine from Lebanon. Awhile back, I paired a beef and lamb tagine with a very good red wine from Chateau Musar.
Print
Recipe card
Sesame Free Hummus with Wine from the Middle East #winePW
Delicious sesame free hummus has all the flavor of the classic spread without the tahini. Perfect for those with food allergies or if you simply don't have tahini available.
Author: Cooking Chat
Prep Time:

10 mins

Total Time:

10 mins

Yield:

5

servings

1

x
Category:

appetizer

Method:

food processor

Cuisine:

Middle Eastern

Diet:

Vegan
1

clove garlic

1

14.5 oz can chickpeas, drained and rinsed

2 tbsp

plus 2 teaspoon extra virgin olive oil

½ tsp

cumin

¼ tsp

sumac (optional) with additional for dusting at end

2 tbsp

lemon juice (about

½

a medium lemon)

3 tbsp

water (or more to get desired consistency)

1 tsp

sun butter (optional)
pita chips and/or sliced bell peppers or other veggies for serving. 
Instructions
Mince the garlic: Start the hummus by adding the clove of garlic to the food processor, and pulse to mince.
Add remaining ingredients: add the chickpeas, 2 tablespoon + 1 teaspoon extra virgin olive oil (1 teaspoon is for the finishing), cumin, optional sumac, lemon juice, water and optional sun butter. Puree in the food processor until it achieves the desired consistency. You can add a little bit of water if necessary.
Serve: Scoop the hummus onto a plate or into a dip serving bowl. Use a spatula to create swirls in the hummus. Drizzle the remaining teaspoon of olive oil, and sprinkle with a bit of red pepper flakes and/or sumac for a nice presentation and extra flavor! Serve along with pita chips and/or slices of raw vegetables. I especially like red bell peppers for serving with hummus! 
Notes
Sun butter is one recommended substitute for tahini I came across, and I liked the hummus using it. I have made this hummus without the sun butter, so you can skip if you like.
Hummus tends to be thicker than most other dips I make. But you do want to add enough liquid so that you can scoop it easy enough. Start with the quantities given, then add a bit more water if you want to make it smoother in consistency. You could use a bit of extra lemon juice instead of water if you like.
You can use a spatula to create swirls in the finished hummus for a nice presentation.
Keywords: hummus without tahini, sesame free recipes, hummus with wine pairing
Recipe Card powered by
More Middle Eastern Wine Pairings