What to serve with enchiladas? We've got you covered with this collection of side dish recipes for enchiladas. This roundup of tasty ideas is broken into beans & rice; salad, slaw and other veggies; and of course, we have chips, salsa and guacamole. We also link you to some good enchilada recipes and tips for wine pairing for enchiladas.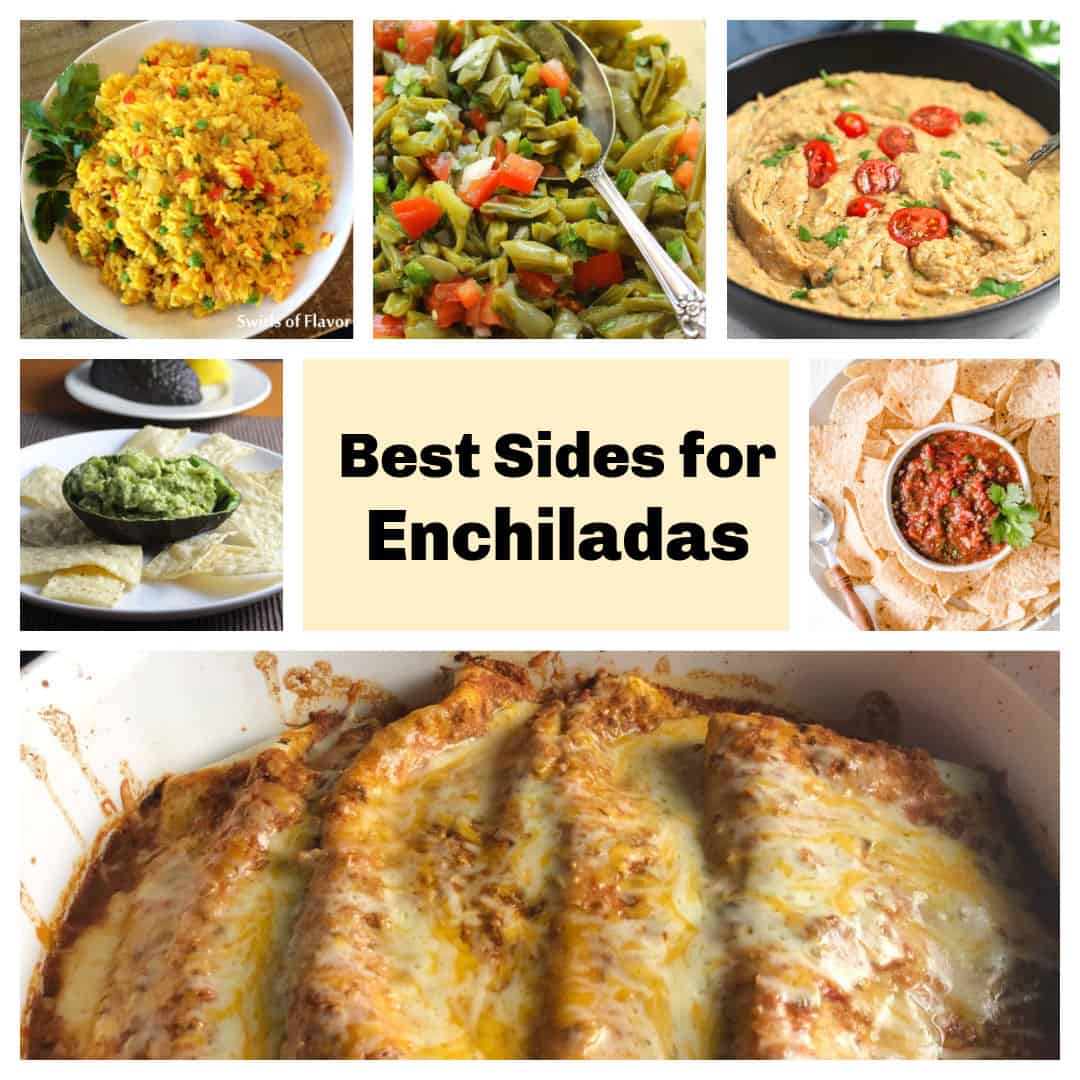 We are big fans of enchiladas, so as Cinco de Mayo approaches we wanted to help you put together a delicious Mexican meal featuring homemade enchiladas. The best sides to go with your enchiladas will bring great flavor to the table and make the meal complete.
I'm guessing you might already have an enchilada recipe in mind. But in case you don't, I will share a few quick links to some good enchilada recipes, before getting into our enchilada side dish collection.
Jump to:
Enchilada recipe links
Here are some tasty enchilada recipes from Cooking Chat and around the web. You can generally go with corn tortillas or wheat tortillas for these recipes.
OK, now that you have some basic recipes for the main course, it's time to get into answering the question, What to serve with enchiladas?
Chips, Salsa & Guacamole
I have to have some chips on the side when eating any kind of Mexican food! And where there are chips, salsa and guacamole can't be far behind!
Beans and Rice
I love beans and rice on the side with enchiladas! Of course, beans and rice can be a meal on their own, but today we focus on how they can round out an enchiladas dinner.
Salads, Slaw and Other Veggies
Enchiladas are definitely a hearty main course! So it's a good idea to include some veggies on the side. We've selected some great salads, slaw and other veggies for you to serve along with your enchiladas.
More Mexican Recipes
In case you are interested in some other Mexican main dish recipes, here are a few of our favorites.
What to serve with enchiladas — do you have other favorite sides to share? Leave your suggestions in the comments!