Bring the flavors of Southern France to your Thanksgiving table! Our Garrigue Roasted Turkey Breast with Wine from the Languedoc region features juicy turkey breast flavored with fresh herbs, with a great wine pairing. Read on for details on the recipe and our suggested wine pairing, or click here to jump down to the recipe.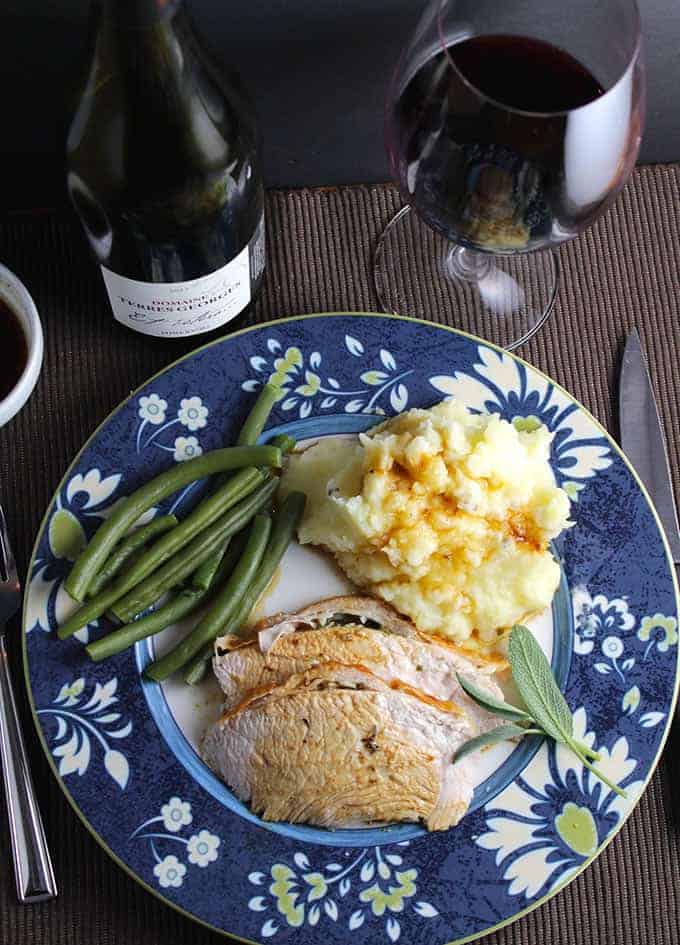 Imagine yourself driving through the French countryside, windows rolled down on a warm, sun drenched day. Smells of lavender, thyme and rosemary waft in. That fresh herb aroma can be captured in the character of a wine, and that quality is called garrigue.
When I was contacted to see if I'd be interested in trying a potential Thanksgiving wine pairing involving the garrigue herbs and some Languedoc AOP wine, I was all in! While I do often fall back to Pinot Noir with the fairly traditional turkey we eat on Thanksgiving, I like to experiment, too. And I especially like food and wine pairings where both elements grow together in the same region. That concept worked very nicely in this Garrigue Roasted Turkey Breast with a Wine from Languedoc pairing we came up with for the Creative Wine Pairings for Thanksgiving #winePW.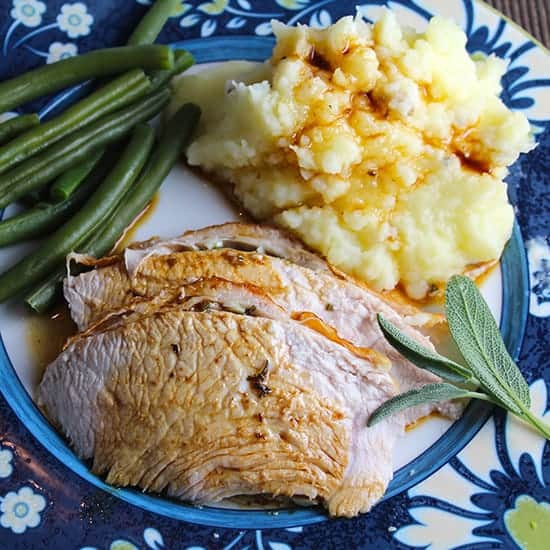 Before I get further into the food and wine, let me pause for a moment to offer support to the French people who experienced the terrible terrorist attack last night in France. My thoughts and prayers go out to all the victims and their families, and the entire country that had their casual Friday evening shattered by the horrible acts of violence. Of course, this post has been planned for a few weeks. From what I know of the French people, I think they would want us to proceed with the celebration of French food and wine as part of this Wine Pairing Weekend. So on we shall go.
OK, let's talk about the food. I decided to make roasted turkey breast, which can be a nice option if you are just cooking for your immediate family or a smaller gathering. I made an herb butter with sage, rosemary and thyme, classic garrigue herbs. I rubbed it all over the turkey before roasting, and the house smelled great for the next couple of hours.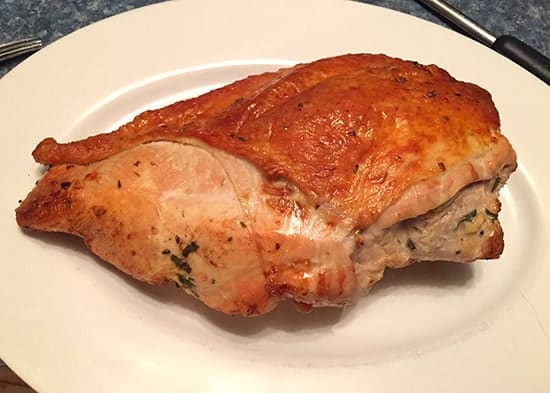 This was my first time using the convection bake feature on my new oven, and loved the nice golden brown color of the roasted turkey breast! Cooked just right, still moist with great flavor from the gravy. To simulate the Thanksgiving experience, I just had to serve the turkey along with some mashed potatoes.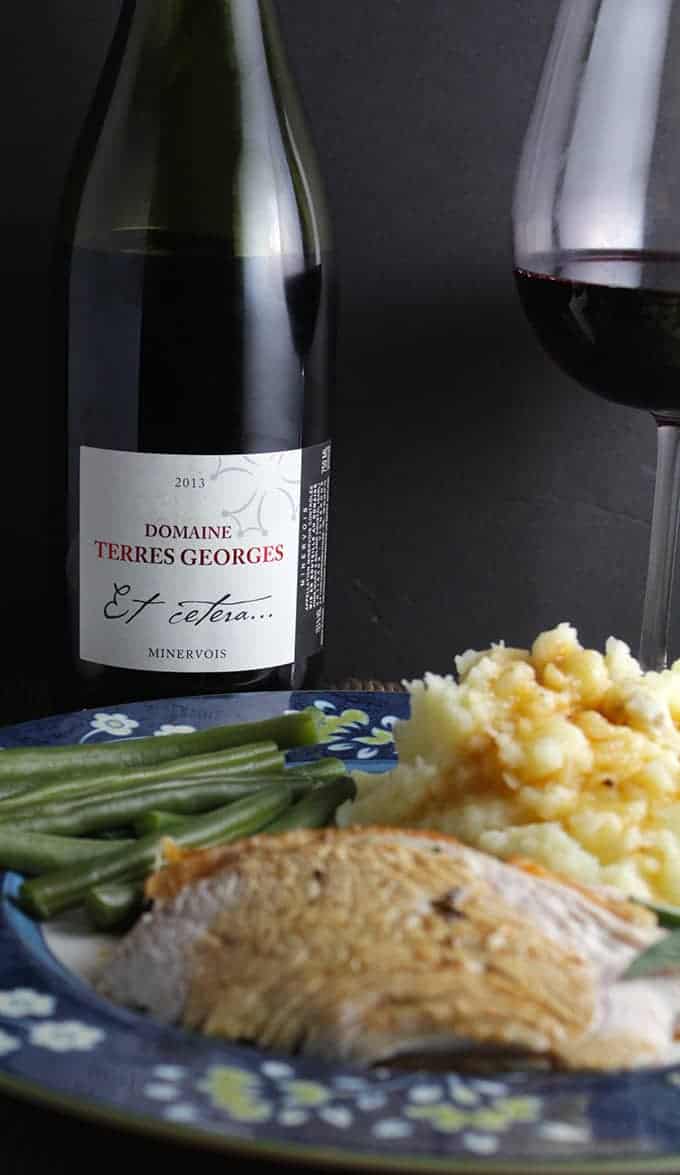 I decided to make a lighter gravy, using some chicken stock along with more garrigue herbs. I used fresh herbs for the butter, but for the gravy I used some wonderful dried herbs that were sent to me from Whole Spice to go with the wine pairings. I happened to have some liquid used to reconstitute some dried porcini mushrooms the previous night, and used 1/4 cup of that along with chicken stock. If you happen to have something rich like that on hand, I'd encourage you to use it!
Roasted Turkey Breast with Wine Pairing: I opened the 2013 Domaine Terres Georges Minervois Et Cetera ($14), a blend of Carrignan (40%), Grenache (40%) and Syrah (20 %). Minervois is an AOC in the Languedoc region of France.  Sure enough, I detected earthiness and fresh herbs on the nose. Taste of plum fruit, lavender and stone. Those garrigue herbs really come through, and make for a great pairing with the herb roasted turkey breast. This pairing is definitely a winner, and one I'd recommend to someone looking for something a little different for Thanksgiving.
Full Disclosure: I received a courtesy sample of the wine and dried herbs for this post. As always, I always give you my straightforward opinions that are entirely my own.

Print
Garrigue Roasted Turkey Breast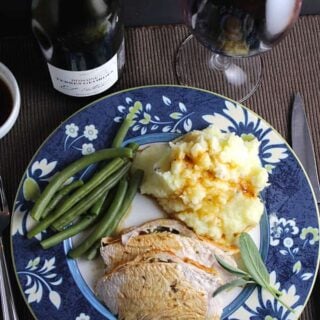 Turkey breast roasted with an herb butter, including sage, rosemary, thyme and lavender, herbs associated with the French term "garrigue". Served with a light herbed gravy.
Author: Cooking Chat
Prep Time:

15 mins

Cook Time:

110 mins

Total Time:

2 hours 5 mins

Yield:

10

servings

1

x
Category:

Main

Cuisine:

French
Scale
Ingredients
2

cloves garlic, minced and divided

5 tbsp

butter (

1

reserved), left out of fridge for 20 minutes or so to soften

1

sprig rosemary, finely chopped

4

sage leaves, chopped

1

sprig thyme, chopped
salt and pepper to taste

4

lbs boneless turkey breast

2 tbsp

shallot

1 3/4 cup

chicken stock (swap in

1/4 cup

reserved porcini liquid or other such rich broth if you have it)
sliver lemon peel
pinch thyme
pinch lavender

2

sage leaves
Instructions
Preheat oven to 325.
Make the herb butter: place 4 tablespoons of the softened butter in a small bowl. Add 1/2 of the minced garlic, the rosemary, 4 chopped sage leaves, the chopped thyme, and salt and pepper to taste. Stir to combine well, and set aside.
Rinse the turkey breast and pat dry. Set the turkey out on a clean work surface, and rub the butter all over the turkey. Put more on the skin side, work some under the skin if you can.
Place the turkey breast on a roasting rack, in a roasting pan. Place in the oven and roast. Roasting times vary based on your oven and the size of the turkey. Roasting times for a 3 to 5 lb turkey breast typically given as 90 to 120 minutes. Check at 90 minutes, temperature in middle should be 170 degrees. Ours took about 100 minutes in a convection oven to be ready. When done, remove the turkey breast from oven and let rest for 10 minutes on a large platter.
Begin making the light gravy after the turkey has been cooking for an 30 minutes or so. Heat the remaining tablespoon of butter in a sauce pan. Add the shallot, and cook 5 minutes until softened.
Add the chicken stock to the sauce pan, and bring to a boil. Then reduce heat to simmer.
Add the lemon peel, pinch of thyme, lavender and 2 sage leaves. Simmer the stock until it is reduced by about 1/2. Keep warm.
After you've put together the gravy ingredients and they are simmering together, pull out a quarter cup and use that to baste the turkey about halfway through the cooking time.
When the turkey is cooked, strain the broth through a sieve, with a bowl underneath to catch and reserve the liquid. Pour the liquid into the roasting pan. Place the pan on the stove top, and bring the liquid to a boil. Reduce to a simmer, and stir frequently, scraping the bottom of the pan to incorporate the bits of turkey fat that dropped to the bottom of the pan during the roasting. Simmer for a few minutes, then pour the liquid into a serving bowl.
Slice the the turkey, and plate a few pieces along with your side dishes. Serve with the light gravy and a bottle of red wine from the Languedoc!
Recipe Card powered by
Be sure to check out all these Creative Wine Pairings for Thanksgiving!
Culinary Adventures with Camilla will share Simple Elegance: Beurre Noisette-Braised Radishes + Sips from Languedoc
Rockin' Red Blog will Celebrate Thanksgiving Lodi Style
Cooking Chat will share Garrigue Roasted Turkey Breast with Wine from Languedoc #winePW [you are here!]
A Day in the Life on the Farm will pair Turkey Tetrazzini with a Michigan Wine
Curious Cuisiniere will share French Herb Roasted Turkey with Languedoc Wine
Confessions of a Culinary Diva is planning A Sud Ouest Thanksgiving
Pull That Cork will post #winePW Thanksgiving for Two: Storm Pinot Noir and Seared Duck Breast
Tasting Pour will Pick Picpoul, Choose Corbieres: Languedoc Wines and Thanksgiving
ENOFYLZ Wine Blog shared Pumpkin Gooey Butter Cake Paired With An Aussie Sticky
Grape Experiences posted Wine and Dine: Chateau Paul Mas Belluguette and Mediterranean Fish Stew
Dracaena Wines discusses How to Be Creative with Your Thanksgiving Table
Join our live Twitter chat on Saturday, November 14, from 11 a.m. to noon, Eastern Time. Just tune into the hashtag #winePW. This will be a great chance to ask your Thanksgiving wine pairing questions, and share what you know! If you've come to us after November 14, consider joining us for #winePW on December 12, focused on "Sparkling Wine and Festive Holiday Dishes", hosted by Cindy at Grape Experiences. You can get a full listing of past and upcoming Wine Pairing Weekend events here.