Tuscan Kale Pesto Risotto is a healthy and tasty version of the classic Italian rice dish. Enjoy as a vegetarian main course or a side dish for chicken or fish. Read on for details about this meal and wine pairing, or click here to jump down to the recipe.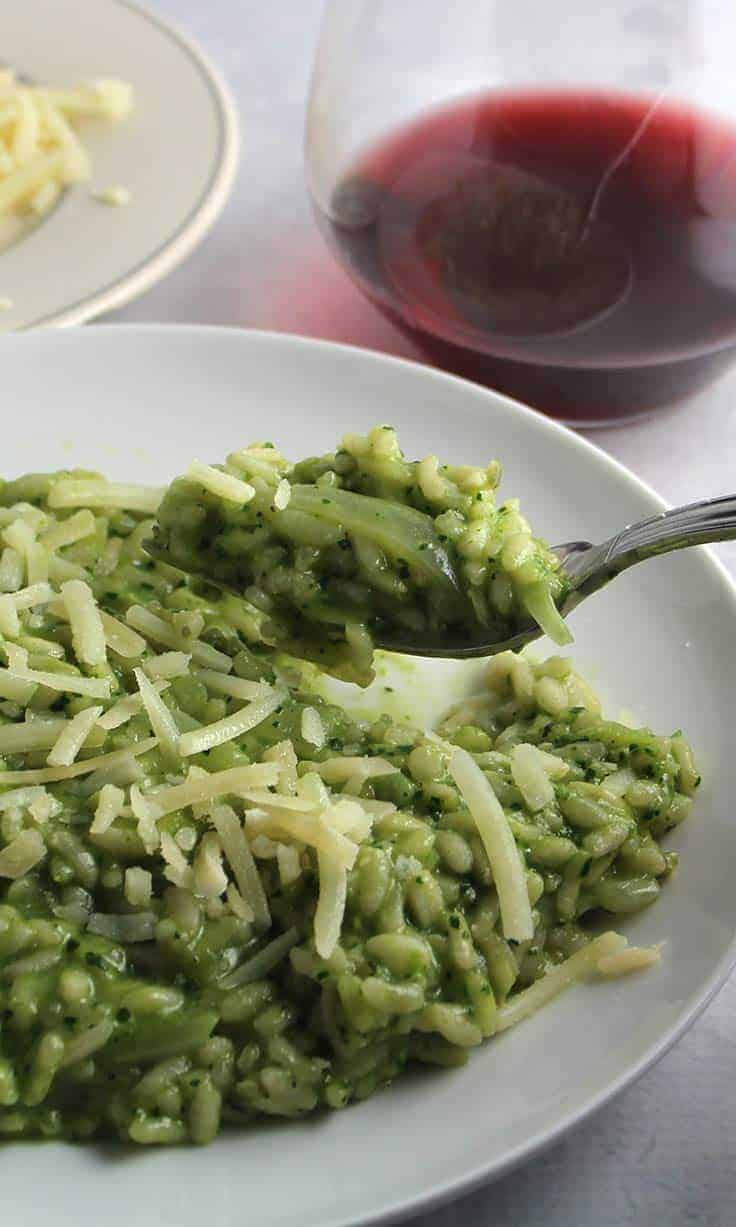 I enjoy cooking a variety of foods, but would have to say Italian is my favorite. I'd guess over half the recipes on Cooking Chat are Italian or at least Italian influenced. So what to make for the Sunday Supper Italian Fest today, hosted by Manu's Menu? I like a hearty meat sauce, pasta prepared all kinds of ways, Italian salad and interesting veggies like Roasted Romanesco.
I'd have to say pesto is my favorite Italian sauce. I love the bite of garlic combined with cheese and fresh greens. Though I'm a big fan of traditional basil pesto, lately I've been making kale pesto more and more. Kale pesto is healthy, and good kale is readily available year-round in supermarkets here. In contrast, basil is so much better during its summer season.
There are many ways I like to enjoy kale pesto, but I hadn't yet used it for a risotto. So despite my first inclination to serve up a pasta dish for this #SundaySupper, today I share Tuscan Kale Pesto Risotto. We enjoyed digging into this creamy, healthy risotto, and I bet you will too! We had this as our main dish, with a side salad. You could also enjoy Tuscan Kale Pesto Risotto as a side for chicken or fish.
What is Tuscan kale?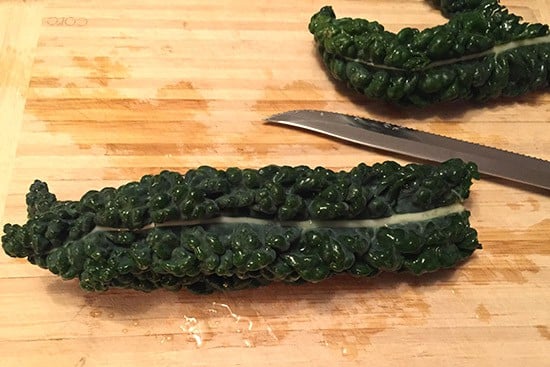 Tuscan kale goes by a few different names. You might see it referred to as lacinato kale, or dinosaur kale for its bumpy dark green leaves. I find Tuscan kale leaves are a bit less tough than leaves of regular green kale, so will sometimes get it when I want something that will cook faster.
Though I usually use basic green kale for pesto, I thought using Tuscan kale would would add an extra Italian dimension for today's fest. I didn't find any notable differences between the Tuscan kale pesto and other kale pesto I have made.
Be sure to heck out our podcast with Liz from I Heart Veggies to learn more about Tuscan kale — Liz is a big fan! 
Making this recipe
You'll want to start by making a batch of Tuscan kale pesto. My recipe below uses pumpkin seeds instead of pine nuts, due to a nut allergy in the house. You can certainly swap in nuts if you'd prefer. You won't need the entire batch of kale pesto for the risotto; reserve any extra for later use. Kale pesto makes a great topping for chicken or fish, or may this Potato Soup with Kale Pesto. For more tips for making the pesto, check out our kale pesto recipe.
I know some people are a bit daunted about making a risotto. It is a bit time consuming, but not terribly hard. Get some stock warm in one pot, then sauté an onion in the risotto pot.
Stir in the arborio rice, add a bit of wine, and then you begin the gradual process of ladling the stock into the risotto pot, letting the stock cook until absorbed, then repeating the process. Not terribly complicated, just takes some patience and a fair amount of stirring. Get all the recipe details below.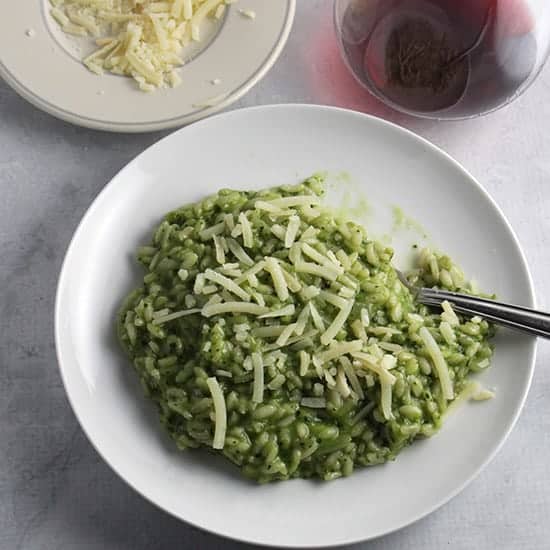 When the rice is cooked, the dish gets its big influx of flavor when you stir in the kale pesto you have waiting. You can pass extra kale pesto along with cheese at the table for people that want a bit extra pesto flavor. And of course, kale pesto risotto is best enjoyed with an Italian wine!
More recipes like this
Want another delicious risotto recipe?
And our Pesto Recipes Without Nuts article is a great source for more inspiration.
Wine pairing
I was in the mood for red wine, stirring the risotto pot on a chilly early spring evening. "Tuscan" being in the name of the dish had me think to serve a Chianti, but that was probably better suited for a tomato based dish.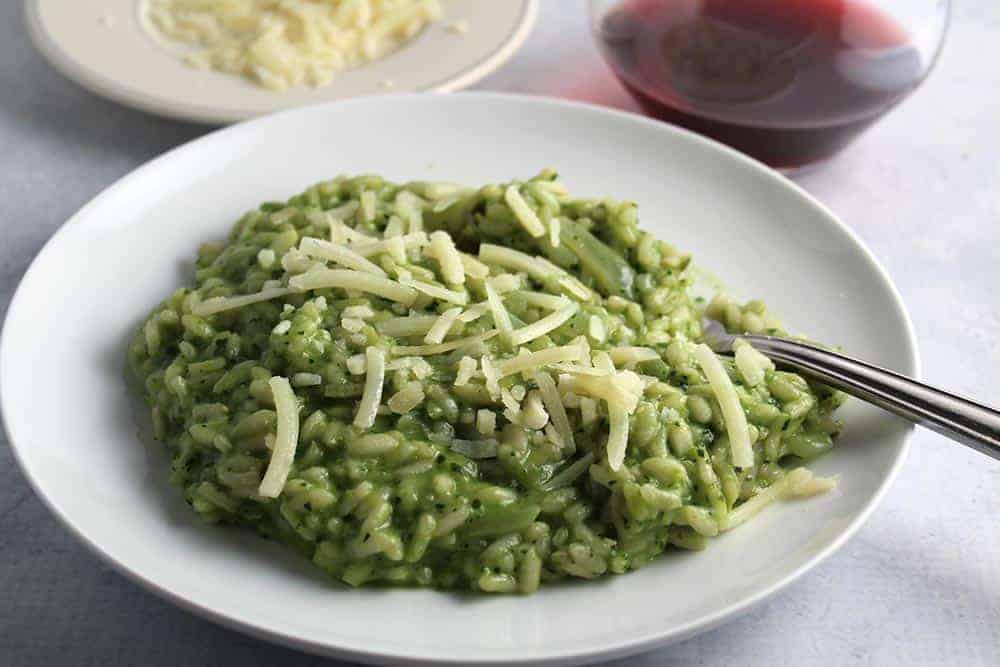 If you want to stick with red wine, you might try a Dolcetto, which I've enjoyed with other savory kale pesto dishes like lasagna.
Italy has many wonderful white wines that could work with the Tuscan Kale Pesto Risotto. You want a white with a bit of crispness, but enough body to stand up to the risotto. A Soave might work nicely, or perhaps a Pecorino–yes, that is also an Italian wine grape varietal! A new piece of knowledge for your next Italian fest, perhaps.
Print
Recipe card
Tuscan Kale Pesto Risotto
Savory risotto gets delicious, healthy flavor from Tuscan kale pesto. Serve as a vegetarian main or substantial side dish.
Author: Cooking Chat
Prep Time:

15 mins

Cook Time:

40 mins

Total Time:

55 mins

Yield:

6

servings

1

x
Category:

Main

Method:

stove top

Cuisine:

Italian

Diet:

Vegetarian
TUSCAN KALE PESTO
4 cups

tightly packed kale leaves, stems removed

3

garlic cloves

2 tbsp

pumpkin seeds, lightly toasted
generous pinch red pepper flakes
salt and pepper to taste

½ cup

grated parmesan cheese

⅔ cup

extra virgin olive oil
RISOTTO

1 tbsp

olive oil

1

medium onion, finely chopped

2 cups

arborio rice

7 cups

vegetable broth

⅓ cup

dry white wine

¾ cup

kale pesto risotto

¼ cup

freshly grated Parmigiano Reggiano, plus extra to pass at table
salt & pepper to taste
Instructions
Make the kale pesto: Add the kale and garlic to a food processor, coarsely chopping to create enough room for the other ingredients. Next add the pumpkin seeds, red pepper flakes, salt and pepper, cheese, and olive oil, and puree until it comes to a nice smooth consistency. Set the pesto aside.
Heat 1 tablespoon of the olive oil in sturdy pot for making the risotto. Add the onion and sauté in the olive oil on medium heat until it softens, about 5 minutes.
Pour in the rice, and stir to get it all well coated with the onions and oil. Cook for about one minute, then stir in the wine. Stir frequently, and cook until the wine is pretty well absorbed.
Once the wine has been absorbed, it's time to begin gradually adding the stock to to pot. Add one cup of stock to the rice, and stir frequently. I keep it around medium heat, but go a bit higher if things seem to be going very slow, then lower the heat if it starts boiling.
When the first cup of broth is absorbed, add another. This process continues until the stock is used or mostly used, and the rice is getting tender. You need to be stirring frequently (i.e. every couple of minutes). I find the rice takes about 40 minutes to get nice and tender.
Stir in ¾ cup of the kale pesto risotto, reserving any extra for future use. Stir in the ¼ cup of cheese, and pass additional cheese at the table for topping off the dish. Enjoy with a good glass of Italian wine!
Notes
Risotto stirring: while you don't need to stir the risotto constantly, it does take frequent stirring.
Broth: You can use 32 oz container of vegetable broth with 3 cups of water if you like. This will reduce the amount of sodium.
Keywords: Tuscan kale, kale pesto recipes, kale pesto risotto
Recipe Card powered by