Everyday Pasta Sauce with Ground Beef and Chickpeas has been a regular in our meal rotation for several years. We typically have some local ground beef in the freezer along with plenty of pasta, chickpeas and tomatoes in the kitchen. Those ingredients serve as the foundation for this easy, hearty recipe. You can also make this recipe with ground turkey. We've come back to update the recipe to feature it with an excellent Merlot from L'Ecole No. 41. Disclosure: the featured wine was provided as a complimentary sample by the winery as part of #MerlotMe month observances.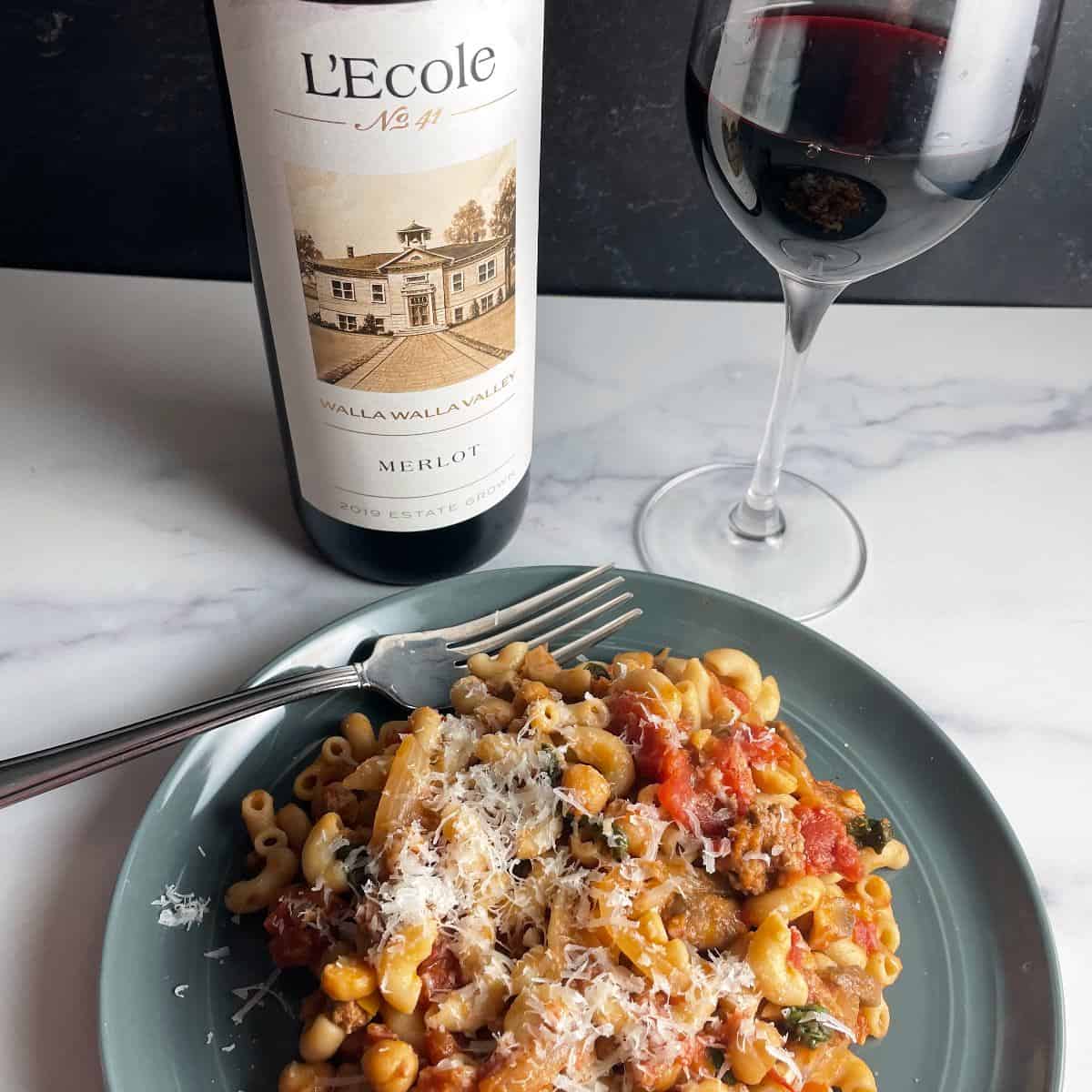 Combining ground beef and chickpeas in a pasta sauce is a great way to stretch a bit of meat. Plus, adding the chickpeas boosts the nutritional value of the meal, with the plant based protein plus fiber provided by this legume. This has the heartiness of a bolognese meat sauce, but is much quicker to make, with less meat than the traditional recipe.
With these benefits of combining chickpeas and ground beef (or mince, as our UK readers might say), this pasta dish became a go to meal for us as we hunkered down in our homes back in the spring of 2020. While some things were scarce, we managed to keep chickpeas and pasta stockpiled in the cellar, and grass fed ground beef in the freezer. Thus, the name Everyday Pasta Sauce.
Today, we are circling back to this ground beef with chickpeas based sauce to pair it with a Merlot as part of our annual "MerlotMe" month observance. While an Italian red wine is my first instinct to pair with a pasta dish like this, I have come to appreciate Merlot can be a good partner for a tomato-based sauce. Add a bit of beef to the sauce, and the pairing is all the better! See this Merlot Food Pairing for more about what makes for a good pairing with this versatile wine.
We will first cover more details on how to make this pasta sauce with ground beef and chickpeas, then share more about the wine pairing.
Jump to:
What makes this recipe work
"This recipe is a keeper!" writes one recent reader.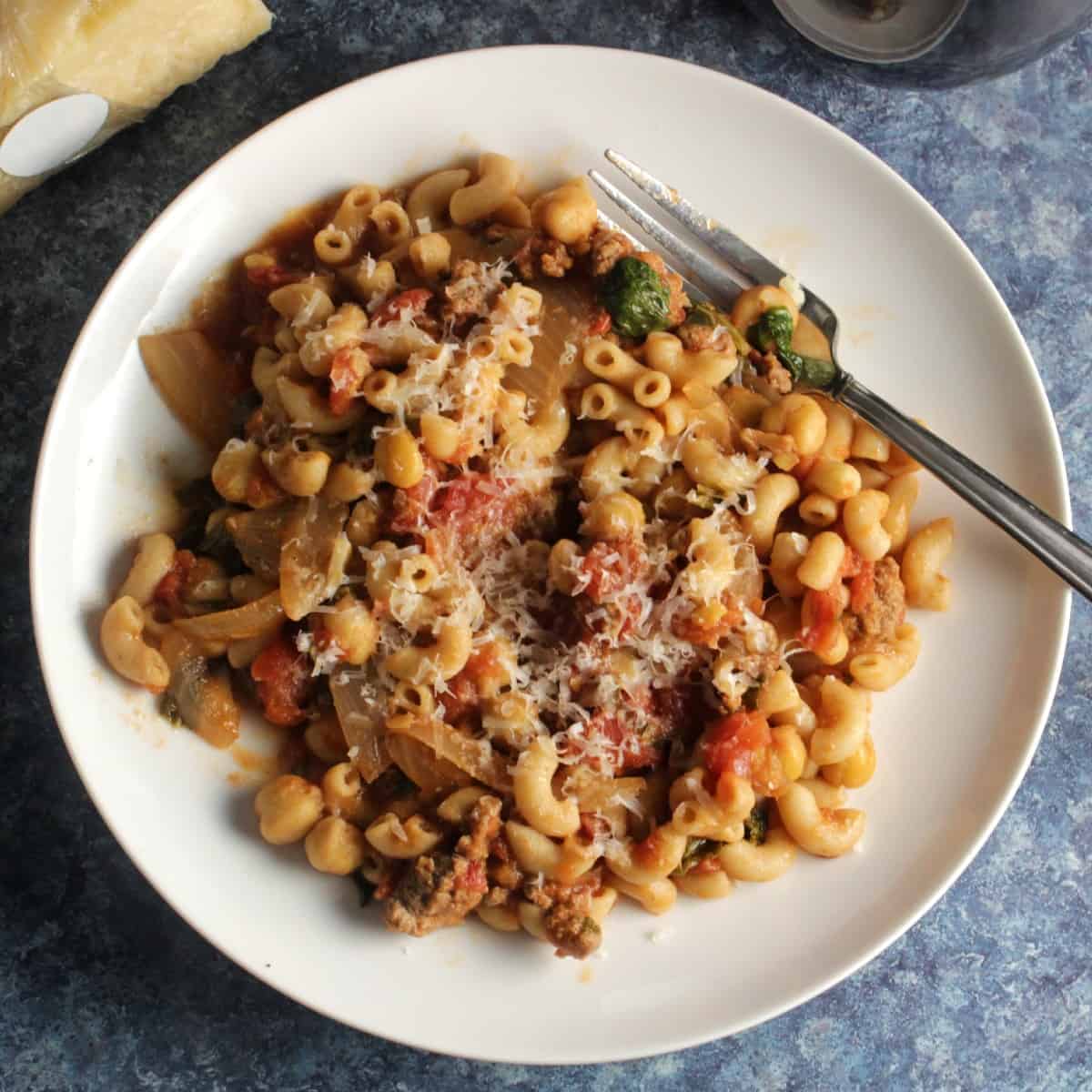 This pasta sauce with ground beef is very hearty despite having just one half pound of meat. Adding chickpeas definitely is a great way to add substance in a nutritious way. You can definitely substitute other beans here — cannellini beans or other such white beans would be my inclination.
I don't add mushrooms every time I make this dish, but I tend to add some when I have them on hand. Before this year, I generally only used fresh mushrooms or dried. But in 2020 I started valuing frozen items that could be ready when I needed them, and found that I liked a version of frozen fire roasted mushrooms that I get from Wegman's. Either fresh or frozen mushrooms works well in this recipe.
By using just half of a one pound package of ground beef, I wound up with another half pound that could be used for something else…tacos or a burger option for our teenage son most typically.
For another hearty ground beef recipe, check out our Mushroom Farro with Ground Beef recipe. For more ideas in this category, visit our collection of ground beef recipes.
Making the dish healthy
One might not think of pasta with meat sauce as a particularly healthy dish, but the way we prepare it, I'd definitely put this in the healthy column.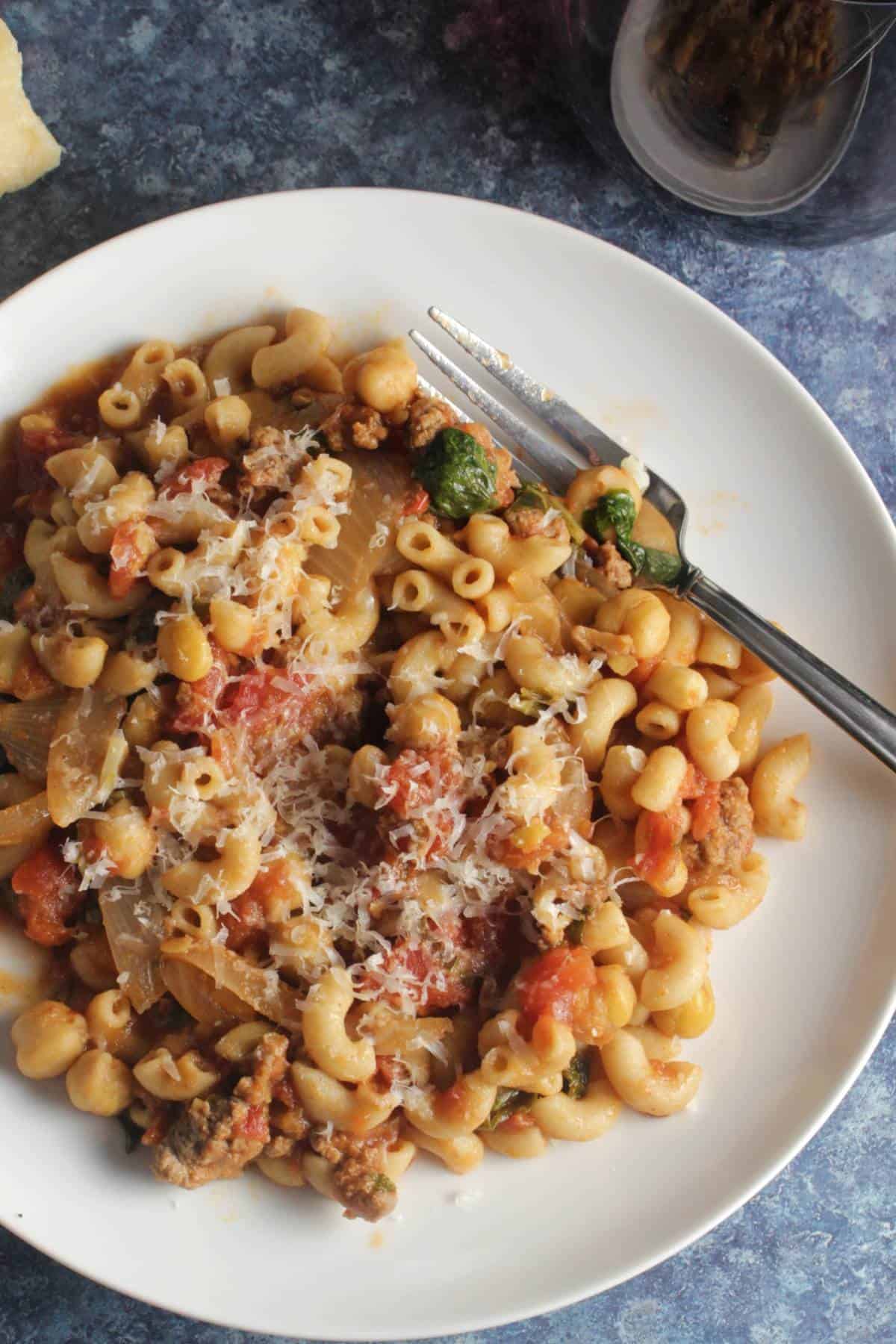 We use whole wheat pasta here — I've been going with whole wheat elbows from Delallo. I find their whole wheat pasta to have very good flavor, along with the health benefits of going for whole grain. I've ordering this pasta online via the Delallo website. (not an affiliate link, I'm just a fan!).
Also generally go for grass-fed ground beef for this recipe. This type of beef tends to be leaner and contains more beneficial omega 3 fat, although not approaching the amounts you'd find in a fish like salmon. This article from the Mayo Clinic summarizes the potential health benefits.
Whether grass-fed or typical beef is used in the dish, the modest quantity of meat along with plant based protein and fiber from the chickpeas help make for a healthy dish. You can also substitute ground turkey for the beef if you like.
Adding a handful of greens that you might happen to have on hand is another way to make this dish healthier.
You can definitely choose to make this with the pasta or beef you typically go for, and you will have a tasty and economical meal for your family. Serve it with a green salad to round out the healthy dinner.
Frequently Asked Questions – FAQ
What kind of pasta should I use?
We like to make this with elbow macaroni. Typically we go for the Delallo whole what elbows. But you could use other short pasta shapes such as ziti or shells.
Can I use chickpea pasta in this recipe?
Sure, you can use pasta made from chickpea flour in this recipe. We use regular pasta, or sometimes whole wheat. The "chickpeas" in our title refers to the garbanzo beans added to the sauce. But you could double up on healthy chickpeas by using pasta made with them.
What kind of wine should I use in this recipe?
The classic cooking tip is to use the same wine in the recipe as you plan to serve with the meal, for the best pairing results. However, I personally am not keen to use a $40 bottle of wine in my cooking. On those occasions I do have a bit of wine leftover, I save it for my next recipe calling for wine. I would go for a leftover or lower priced Merlot, or an Italian red wine, to add to the sauce.
Can you put chickpeas in bolognese?
A traditional bolognese sauce starts with some chopped onion, carrots and celery cooking up before adding meat and tomatoes. The sauce cooks slowly over a long period of time. Chickpeas or other legumes would not be added to a classic bolognese. That said, adding chickpeas to a pasta sauce like this one is a great way to add nutrition and use less meat.
Wine Pairing
As we noted earlier, we were ready to try our pasta sauce with ground beef with a Merlot, as we had several to sample for #MerlotMe month 2022.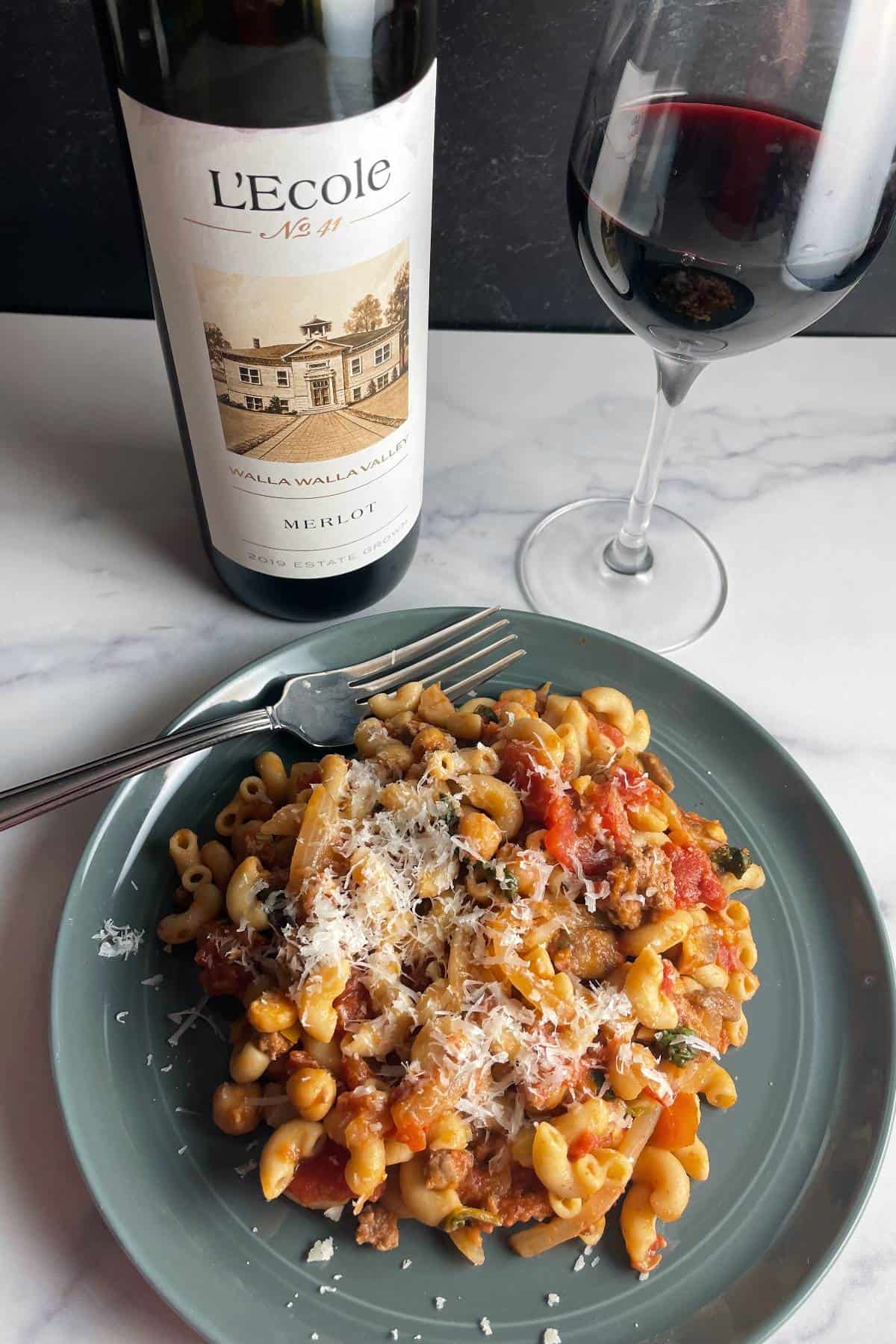 We decided to to with the 2019 L'Ecole No. 41 Estate Merlot ($40, 14.5% ABV) from Washington's Walla Walla Valley. I got cherry pie and baking spices on the nose. Cherry fruit on the nose along with savory herbs. Medium tannins.
This Merlot has enough acidity to go with the tomato based sauce, and the tannin structure to go with the meat. We definitely give the pairings a thumbs up!
The grapes for this wine are drawn equally from two of L'Ecole's Walla Walla estate vineyards – Ferguson and Seven Hills. Along with 84% Merlot, there is 12% Cabernet Franc and 4% Cabernet Sauvignon blended along with the Merlot.
Reading the notes about vintage, 2019 sounds like it was a tricky year! Things started with a cold winer ha delayed field pruning, but things caught up with a warm May. July saw moderate weather followed by typical August heat. September was warm and harvest started in a typical timeframe. But late September saw frost and freezing in the forecast, so it sounds like they had to hustle to complete the harvest. Glad they did, because this is some good wine!
While we certainly like this Merlot pairing for the recipe, you could also open any Sangiovese based Italian red wine to go with this tomato based pasta sauce with ground beef. We have also paired this ground beef pasta dish with the 2018 Perticaia Umbria Rosso (appx. $15 , 14% ABV) , a blend of 80% Sangiovese, 10% Colorino and 10% Merlot…yes, some Merlot once again!
For another delicious L'Ecole Merlot pairing, check out our Bottom Round Roast with Mushrooms recipe! We paired it with the 2020 Columbia Valley Merlot.
About the winery
L'Ecole No. 41 is a third-generation family owned winery founded in 1983. The winery is located in the historic Frenchtown School building seen on the wine labels. They have earned their reputation as one of the top producers of quality wines in Washington state.
L'Ecole manages to produce very high quality wines at reasonable price points, while being involved in growing and making 100% of their wines. They have a great lineup of wines that range from entry level wines up to very small production, special releases.
More #MerlotMe month pairings
We also had the 2020 J. Lohr Paso Robles Merlot as part of our 2022 #MerlotMe month fun. This Merlot was served with a simple oven roasted sirloin alongside a plate of spaghetti with spaghetti squash and sautéed chard.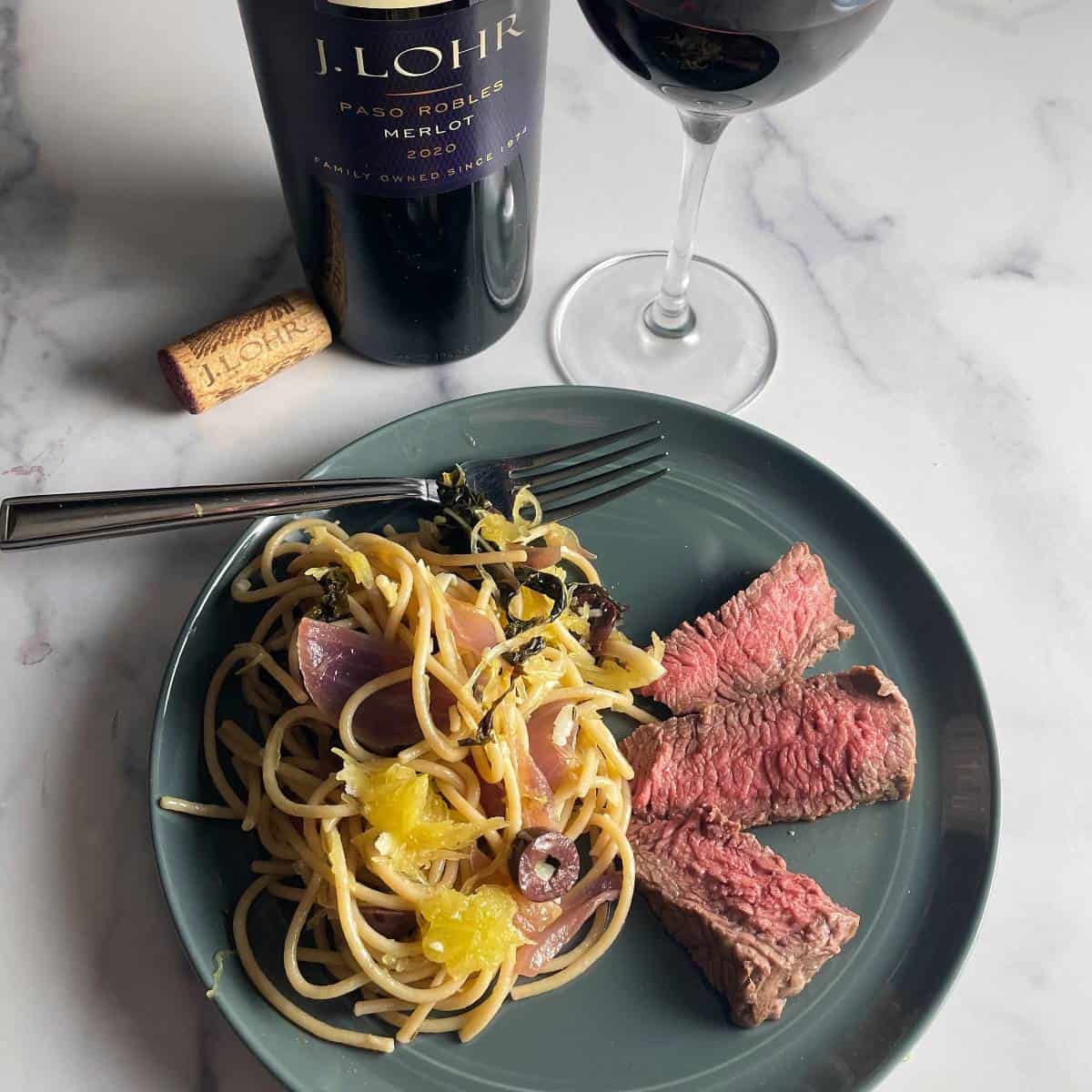 This pairing nice example of the versatility of a good Merlot, enough heft for beef but food friendly aspects that make it a good match for many veggie based dishes, including squash.
I also have a bottle of the Decoy Merlot ready to open. I've previously enjoyed that Merlot with our Roasted Beet Dip.
We went back to a steak pairing with the 2019 Seavey Napa Valley Merlot ($75, 14.5% ABV).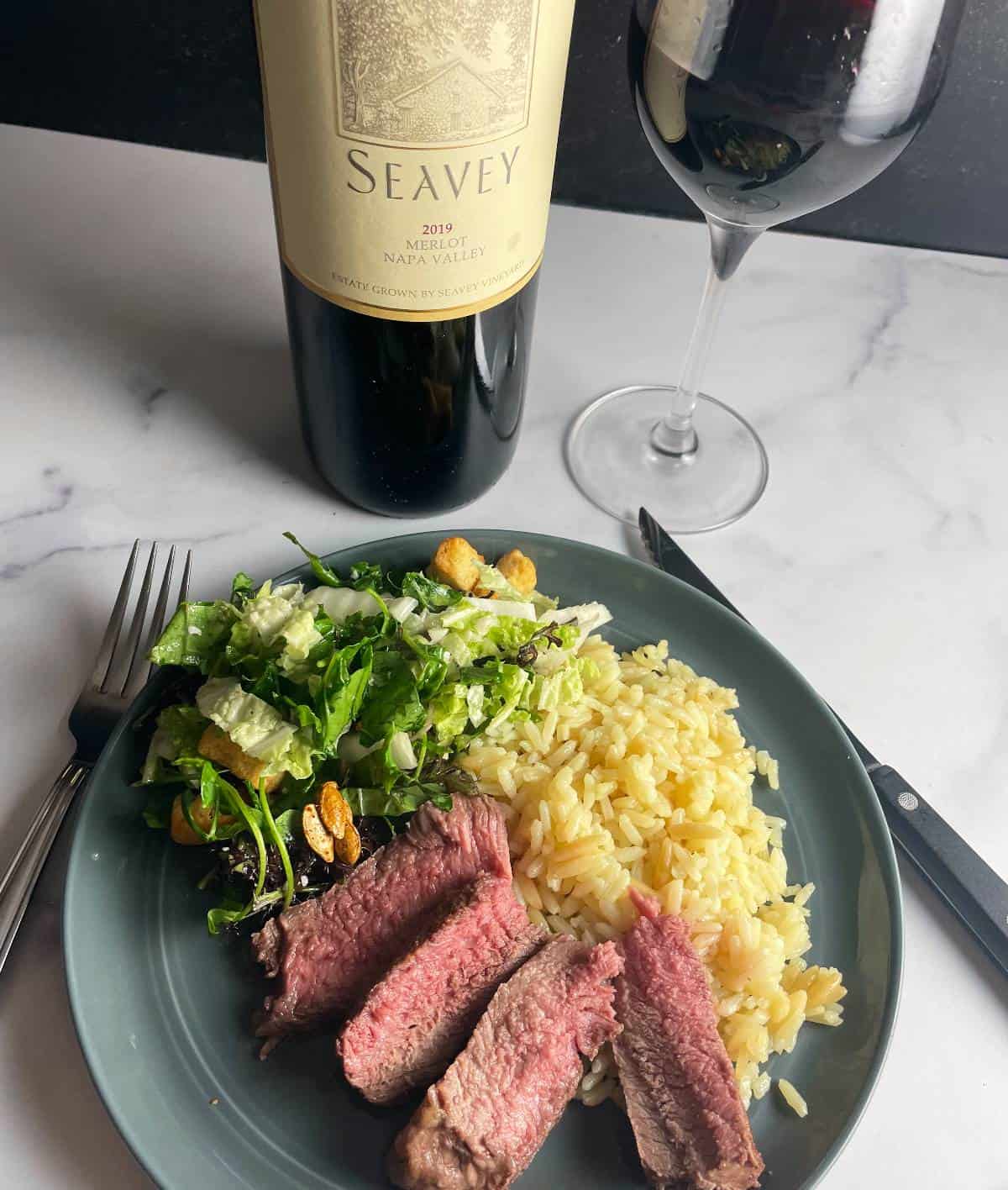 The Seavey Merlot has boysenberry and oak chest notes on the nose. Black cherry & vanilla on palate. Firm tannins that opened up a bit after letting the wine breath. Definitely a good steak wine!
This Merlot Food Pairings article has more ideas for you, and so do my Wine Pairing Weekend Colleagues…
▪Wendy from A Day in the Life on the Farm shares "Merlot: Smooth, Savory and Sustainable"
▪Cindy at Grape Experiences shares "Comfort Food and Wines for Fall: Savory Slow Cooker Chicken and Classic Merlot"
▪Camilla at Culinary Adventures with Camilla shares "Celebrating #MerlotMe with Mushrooms, Truffles, and a Wine from a Cal Alumna"
▪David at Cooking Chat shares "Everyday Pasta Sauce with Ground Beef and Chickpeas"
▪Jane at Always Ravenous shares "Fall Food Pairings with Merlot"
▪Robin at Crushed Grape Chronicles shares "#MerlotMe with figs, cherries and a nice grilled steak"
▪Linda at My Full Wine Glass shares "Kicking off #MerlotMe month with Napa Valley wine and lasagna soup"
▪Jennifer at Vino Travels shares "Warm up with Merlot and Pappardelle Bolognese"
▪Gwendolyn at Wine Predator…Gwendolyn Alley shares "Smoked Lamb/Beef Meatloaf Says #MerlotMe with Sonoma's Decoy and Washington's Pedastal"
▪Susannah at Avvinare shares "Forever A Devoted Merlot Fan"
▪Liz at What's in that Bottle shares "Three Family-Owned Merlots for Fall"
▪Terri at Our Good Life shares "Provencal Eggplant Stew + Decoy Merlot for #MerlotMe"
▪Jeff at Food Wine Click! shares "Merlot and 40 Cloves of Garlic"
Print
Recipe card
Everyday Pasta Sauce with Ground Beef and Chickpeas
This pasta sauce recipe with ground beef and chickpeas has been a go to meal these days. Great way to stretch ground beef and use ingredients on hand.
Author: Cooking Chat
Prep Time:

10 mins

Cook Time:

30 mins

Total Time:

40 mins

Yield:

6

servings

1

x
Category:

Main

Method:

stove top

Cuisine:

Italian
1 tbsp

extra virgin olive oil

1

onion, chopped

½

lb ground beef (aka "mince" meat)

¼ cup

red wine

3

cloves garlic, minced

¼

to

½

cup sliced mushrooms (optional)

28 oz

can diced tomatoes

1 tsp

dried oregano

1 tsp

dried basil or

1 tbsp

fresh basil

14.5 oz

can of chickpeas, drained and rinsed
handful of greens such as kale, chopped (optional)

12

ozs elbow macaroni or other short pasta shape
shredded Parmesan cheese to pass at table
Instructions
Heat the olive oil in a large skillet on medium heat. Add the onion, sauté until it begins to soften, about 5 minutes.
Add the ground beef, breaking up with a heavy spoon. Cook until it begins to brown, about 5 minutes.
Stir in the red wine and garlic. Simmer on medium low for a few minutes until the wine has been mostly absorbed.
Add the diced tomatoes, stirring to combine with the beef. Add the oregano and dried basil. (if using fresh basil, save that until you are almost done cooking the sauce). Stir in greens at this time, too, if you are using them.
Start cooking the pasta according to package instructions as the tomatoes and beef simmer.
After the tomatoes have cooked for about 10 minutes, stir in the chickpeas. Break up a few against the side of the skillet with a heavy spoon, to thicken the sauce. Add the fresh basil at this time if using.
Drain the pasta when cooked to your liking. Gradually stir the pasta into the skillet, so that the pasta and sauce are well combined.
Plate the pasta, and top with grated Parmesan cheese. Enjoy!
Notes
My large cast iron skillet just fits the pasta with sauce. If you have a smaller skillet for the sauce, and don't think the pasta will fit, you can combine the pasta and sauce in the pasta pan or a separate bowl.
You can substitute ground turkey for the beef if you like.
Mushrooms can be added to this dish if you would like. Add the slices mushrooms after the ground beef begins to brown, before adding the red wine.
I often have a bit of kale around, leftover from making kale pesto or some other use. I like to use the rest of it in this pasta sauce. You can use other greens, too. Greens such as kale, collards or chard need more cooking time. If using baby spinach, add closer to the end of cooking.
One reader notes she used "diluted red wine vinegar" instead of the red wine called for here, and it worked well.
Keywords: pasta with ground beef, ground beef and chickpeas, pasta sauce with ground beef, mince and chickpea bolognese
Recipe Card powered by
More Easy Pasta Recipes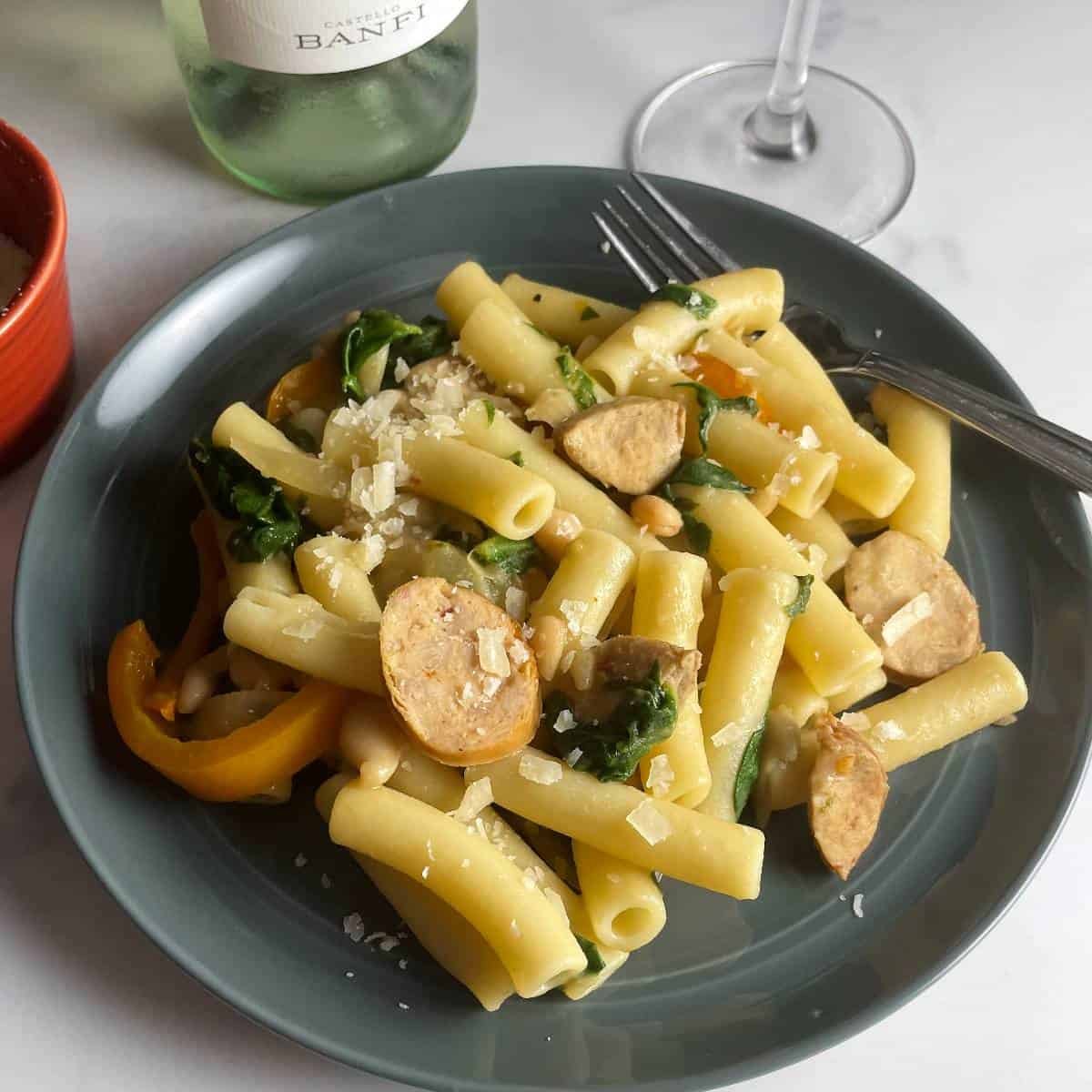 Here are more of our favorite pasta recipes that can easily be made on a busy weeknight: