These 10 tasty and healthy recipes are a great way to stick to healthy eating goals. Want more ideas? We rounded up over 30 of the tastiest healthy recipes to start 2017!
Happy New Year! I'm excited to start another year making and sharing great food here on Cooking Chat.  Eating healthy is often on our minds as we start a new year, but the results sticking with healthy eating goals and resolutions tend to be mixed at bet. My belief is that to stick to a healthy eating plan, you've got to have a nice variety of TASTY food. Draconian regimes featuring heavy doses of wheat germ and zucchini fettuccine aren't going to cut it here. Well, zucchini fettuccine doesn't sound that bad, but I think you get the idea.
Today I serve up for you my 10 Tastiest Healthy Recipes for 2015 to get your year off to a good start. In no particular order, I've got a couple appetizers, some pasta dishes and seafood of course. You can get a quick glimpse at them in the collage below; keep on scrolling to get links to all 10 Tastiest Healthy Recipes.

Yes, I do have a beef recipe on here too! A modest amount of lean beef can be a part of a healthy diet in my opinion. And sure, some folks might not include pasta as the eschew the carbs. But pasta, typically whole wheat, is featured pretty regularly here, served up with plenty of veggies. Our waistlines don't seem to suffer from it. Which leads to another point about healthy eating–we each need to set our priorities for what healthy means. Regardless of your take on it, give some of these tasty, healthy recipes a try and you'll be on your way to a healthy 2015! Most of these are pretty easy to make, too, which also helps get that tasty and healthy food on your table.
Asian Greens with Pan Seared Salmon I thought this salmon and greens dish would be a good place to start. We like to eat a lot of healthy salmon here, so it was a bit hard to choose the recipe. I picked this because you also get some super-healthy greens with the lean protein, plus I think the photo is pretty nice!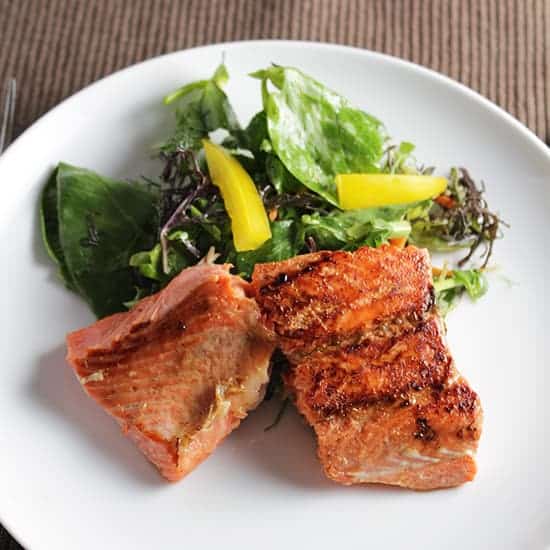 Muhammara Spicy Red Pepper Dip This tasty dip is a go to recipe for me when I need to bring something to a gathering. It's vegan, without any dairy, so it's a good healthy alternative to many things you'll find on a party table spread. If you're not a big spice person, don't be scared off by the title, it's more flavorful than super-spicy.
Linguine with Kale Pesto I've been finding more ways to incorporate nutrient-dense kale into our diet. If you haven't warmed up to this green yet, this tasty pesto is a great place to start! Fans of my classic basil pesto like this as much as the traditional version.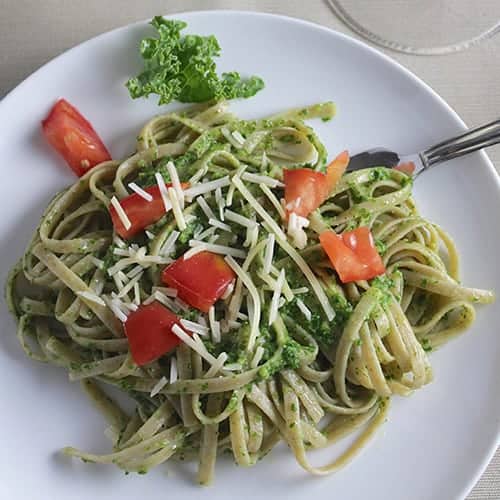 Spicy Eggplant Dip Another dip that gets you some healthy veggies, this was inspired by the influx of eggplant into our home via the fall farmshare we did. By the way, if you haven't done a farmshare or CSA (community supported agriculture) yet, consider adding that to your 2015 plans. There's nothing like getting a box full of fresh, local veggies every week to get you going on a plant strong diet!
Rigatoni with Chicken Sausage and Greens I do a lot of variations on the pasta, sausage and veggie theme here. Increasingly I go with chicken or turkey sausage, for a significantly lower fat content. Prepared as I do in this recipe, you don't have to sacrifice taste!
Awesome Avocado Steak Tacos Yes, this beef recipe makes the list! Steak tacos feature a modest amount of lean beef along with tasty and healthy avocado. Want a New Year's resolution you can keep? Resolve to make this avocado sauce early in the new year! I guarantee you'll be going back to it again. The avocado sauce is also nice in bean burritos.
Grilled Tuna, Eggplant and Peppers I'm not including many from the grill given that I'm posting this in January. But this was one of my most creative as well as healthy recipes of the year, so I wanted to include it. If your grill is away for the winter, save this for warmer weather!
Penne with Red Lentils and Ginger Hey, you could even make this tonight to get some lucky lentils on the table for the new year! Of the recipes in this roundup, this is the one we make the most here. It's fast, inexpensive and very tasty! No surprise we probably have it about once a month. You can replace dairy butter with Earth Balance spread or something like it to make this a vegan dish.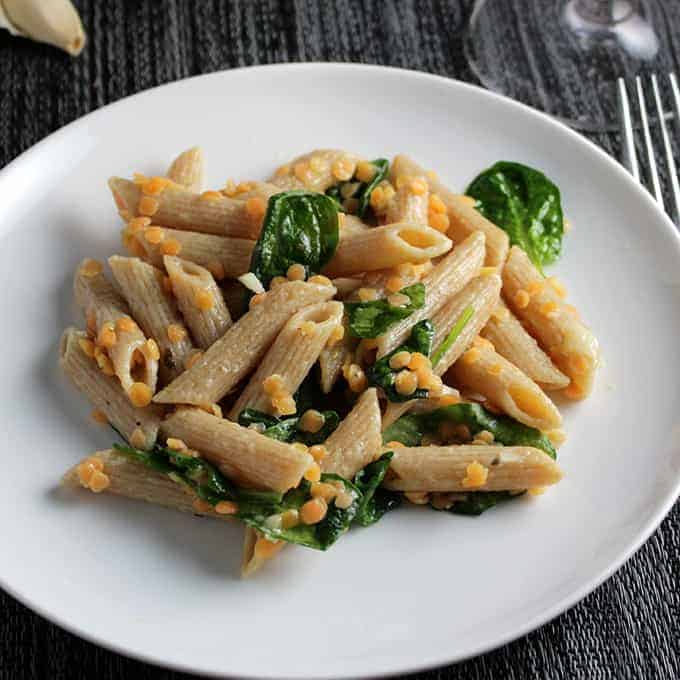 Roast Turkey with Garlic Herb Butter My first attempt roasting turkey came out great! So it makes the list here. Serve it with the Mashed Sweet Potatoes with Garlic Herb Butter for  a tasty side with good nutritional value.
Butternut Squash Soup with Sage and Sautéed Mushrooms I've been making a lot of great soups since the cooler weather set in this fall. Most would qualify for the healthy theme, but I 'd pick this one out as the tastiest! A bit on the fancy side with the sautéed mushroom topping, this could be a nice starter to a multi-course meal or a main course.
OK, there you have it. My 10 Tastiest Healthy Recipes to get you started on a healthy new year! Do you have a favorite healthy recipe? Please share!